Businesses That Pay Well Above Minimum Wage
The debate continues about increasing the minimum wage at the state and federal level. In December of last year, fast food and other minimum wage workers in 100 cities walked off the job. Fast food workers in New York chanted, "We can't live off of $7.25." Los Angeles workers often cited the imbalance between minimum wage and the rental market.
But, the debate remains split. Supporters claim that the increase will create more jobs. Economists and business owners claim the increase will ruin the economy, causing businesses to either increase prices for goods or to lay off workers.
It's no surprise that 76% of Americans are in favor of the increase. And various cities have already taken to a vote. Chicago has voted to up the minimum wage. San Francisco has already begun to implement the change, with positive results. Even President Obama is pushing to raise the Federal minimum wage to $10.10 an hour.
But what about the companies who were already on board with paying a higher than average wage? As a matter of fact, there are major retail and fast food chains that have made a point to pay above the national average years prior to the minimum wage debate hitting the front page.
For these businesses, there are four key factors at work:
1. Simplicity
The staff at Trader Joe's is smiling for a reason. Originally called Pronto Markets until 1967, Trader Joe's starts employees off at $10 an hour — higher than most grocery stores. Perhaps this has something to do with the grocery chain's main interest: stocking and selling almost exclusively Trader Joe's products.
Another company paying more than its competitors is the regional West Coast burger staple, In-N-Out. The simple menu keeps the drive-thru busy and overhead down. The high starting pay, at $10.10 an hour, also keeps employees loyal. In-N-Out has the lowest employee turnover rate in the fast food industry.
2. Incentive
H&M seemed to pop up overnight in the United States, but the Swedish based company has been around since 1947. Forbes named the popular mall destination one of the most valuable brands. And the H&M brand is highly sought after in the entry-level job market. Employees start at $10.10 an hour, beating out Forever 21 by nearly two dollars an hour. The high pay and flexible hours is major incentive for first time job seekers to not only apply, but to maintain employment with H&M.
Bloomingdale sales employees, including hourly and commissions, make an average of $13 per hour. The commission sales model encourages employees to sell and establish ongoing business relationships with return customers. Top sellers at high traffic retail locations, like The Beverly Center in Los Angeles or its New York City SoHo location can take home impressive annual salaries.
3. Loyalty
Why does Costco pay more? Some say because of the limited number of stores. Some say the low number of employees. USA Today says it's because they can. The average Costco employee in 2011 took an annual salary of nearly $40,000. The leaves Sam's Club (owned by Walmart) in the dust with an average take home annual salary under $20,000.
So, it was no surprise when, as soon as minimum wage became a hot topic, Costco was right there in the headlines. In 2013, Costco CEO and President Craig Jelinek spoke openly in support of the Fair Minimum Wage Act of 2013.
4. Trial and Error
Moo Cluck Moo, a Michigan establishment, turned heads with its recent wage raise. Originally paying $12 an hour in a state where minimum wage is $7.40, the owners made slight changes to their fast food business model in order to conduct an experiment. They spent no money on advertising and were paying cheap rent in order to raise the hourly wage to $15 an hour.
The risk paid off. Not only is the model successful, the profits made from the flagship store are being used to expand their business.
Overall, the key to success for these business models has been investing in their employees. And a well-paid staff, for these companies, has been good for business.
Are you for or against the minimum wage increase? Join the debate on Facebook and Twitter.
Related Stories:
Will the Minimum Wage Increase Help Americans?
5 Jobs That Provide Rent-Free Living
5 Financial Factors to Consider Before Quitting Your Job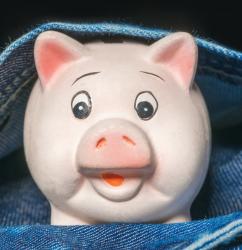 Destiny is a staff writer and social media manager for MyBankTracker.com. Her columns focus on money management and consumer spending.
Ask a Question