Review Your Bank for a Chance to Win a $100!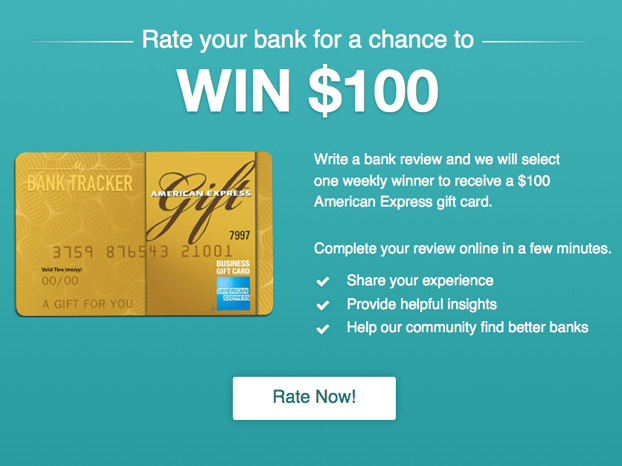 As part of our effort to help consumers make informed banking decisions and save money, consumer reviews of banks and credit cards on our site are not only greatly appreciated, but a vital part of MyBankTracker.
To say thank you, MyBankTracker is giving away a $100 American Express e-gift card, weekly! Readers simply need to complete a bank or credit card review at MyBankTracker in order to enter.
"Our reviews section gives users a forum to post their experiences, including frustrations with dozens of banks," said Alex Matjanec, CEO at MyBankTracker. "Consumers need our information to help guide them to the best banks that fit their specific needs."
As MyBankTracker analyst Simon wrote about previously, "Banks are responsible for safeguarding one's hard-earned money, but yet consumers are more likely to read online reviews for their next restaurant than their bank." Why is this? One reason is because there is a lack of consumer research. Help others make more informed financial decisions, and submit a review of your experience!
Already submitted a review? No worries. It's OK if you have posted a review before the sweepstakes; we encourage you to enter and update your past review. If you've changed banks, make sure to post a new review. Together, we can help our community make smarter banking decisions.
The editorial team regularly reads through reviews, and if we feel your review is compelling enough to write about, we may just reach out to you for an interview!
Spare a few minutes to complete a bank or credit card review now — you may come be $100 richer.
To stay updated with the latest MyBankTracker reviews, articles and other weekly contests, follow us on Facebook, Twitter and Pinterest.
Ask a Question