Hollywood CAN Teach Us Something! Secrets to a Perfect City Hall Nuptial That Can Save You Thousands
Are city hall weddings making a comeback? Well, if you must know, they never left.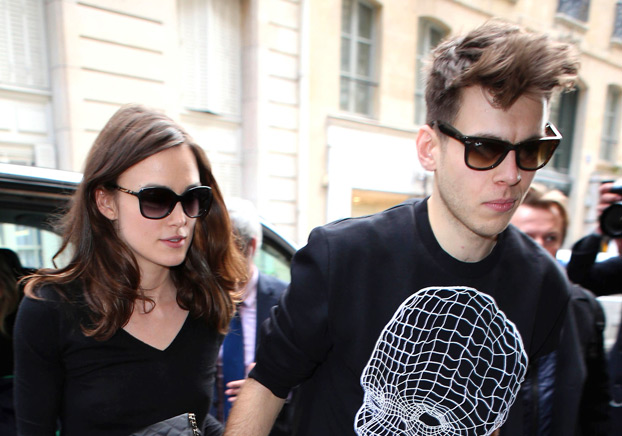 All those princess-themed 250-person weddings aside, the city hall and civil ceremony wedding have always been part of the modern wedding fabric. And there's no wonder why. City Hall weddings are gorgeous, simple, chic, and very budget friendly.
Does trimming the guest list seem impossible? Afraid that you will be missing out if you don't have a wedding with all the bells and whistles? If you and your partner are suffering from the wedding budget blues, civil ceremony and city hall weddings are full of budget hacks that will ensure a stress-free, yet unforgettably special day.
Still skeptical? Have all those reality shows and celebrity weddings have clouded your frugal judgement?
Don't pay attention to the upcoming Kimye wedding coverage. And keep your "My Fair Wedding" viewings to a minimum. Celebrity weddings are now part of the culture more than ever before. With all those lavish weddings splashed across magazine covers, it's easy to lose sight of what's most important, sending your budget spinning out of control. Just keep in mind that not all celebrity weddings were over the top. And there are money-saving lessons to learn from that fact.
Here are budget hacks learned from 4 Hollywood City Hall weddings.
Small weddings can be kept secret, just like Orson Welles & Rita Hayworth did.
One of Hollywood's most famous romances was between Orson Welles and Rita Hayworth. He, the boy genius that directed Citizen Kane at 25. She, an accomplished dancer and actress forever remembered as "Gilda."
Their wedding ceremony took place in front of a judge in Los Angeles, with fellow actors Joseph Cotten and Jackson Leighter as witnesses. Their wedding plans were kept secret. Even with Rita Hayworth filming "Cover Girl" at the time, the studio didn't find out about her nuptials until the news was printed in next day's paper.
This is a decision that should be made right after the engagement. Once the wedding bell news gets out, making exclusions and necessary budget cuts may be difficult if one or both parties have a large family.
Keeping an engagement and wedding plans a secret means less guests, less excess spending and is a sure way to make sure that they day is all about the happy couple.
Also, costs for wedding guests and the bridal party can start to add up fast. Having a more surprise wedding and announcing it after the fact is not only budget friendly for the newlyweds, but also cuts costs for your invited guests. Cut the pre-wedding engagements and send out a marriage announcement with your registry information included. Family and friends will be more than happy to splurge on a gift since there were no other excess costs on their part.
Take it from Monroe & Dimaggio: simple can go a long way.
The union between Marilyn Monroe and Joe DiMaggio at San Francisco City Hall in 1954 was one for the history books. It is, by far, one of the most memorable and cited celebrity weddings in pop culture.
While the couple had more attendees than normal (most were photographers) the ceremony was simple and quick. Not to mention their choice of attire was the opposite of what you would expect for a city hall wedding, even by today's standards. Marilyn's brown dress suit with the fur collar made its lasting mark on wedding fashion. Not too shabby for the Dimaggios.
A city hall wedding does not mean a less memorable wedding. While a gang of paparazzi may not be waiting in the bushes to snap your photo, you can still have your faithful entourage. And with all the money saved by ditching the expensive venue and catering, put that money towards a professional photographer and videographer to capture the moment.
Salma Hayek & Francois Pinault saved the big party for later.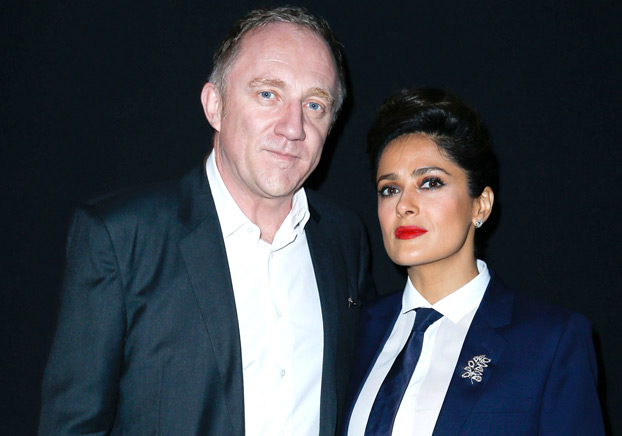 Talk about power couples, Hayek is an Academy Award nominated actress. Pinault is the multi-billionaire chairman of Kering. So, it's fair to say that money was not an issue. However, on Valentine's Day of 2009, the couple went the simple route and tied the knot at Sixth Arrondissement Town Hall in Paris. They celebrated two months later with family and friends.
Just because you already signed on the dotted line, does not mean you can't include your family and friends.
Having a reception following your city hall wedding, whether hours or weeks after, allows for more variety in location and wiggle room for price negotiating. When you don't add the term "wedding" to an event, you'll be surprised how catering, venue, transportation and cakes will drop in price.
Have a cocktail hour at an offbeat location, such as an art gallery. Or, if your ceremony is in the morning, grab brunch at a local restaurant afterwards with family and friends.
Make plans, let go and feel young, wild and free like Keira Knightley & James Righton.
Keira Knightley and beau James Righton have the most adorable wedding photo that has made its way across the internet. Both are running through Paris after just having ties the knot at a town hall. Keira wore a short dress with a shrug. James wore a simple slim cut suit with a skinny tie.
Follow in their young, wild and free footsteps by asking yourself these questions when planning a city hall wedding: What's your style as a couple? What's the budget? Will the wedding take place at local or destination city hall? And, how may guests will be invited to attend, if any? Never forget that's your wedding, and a city hall ceremony should be treated as such. So, talk it over, make decisions, plan a budget and stick to it.
For modern examples of city hall weddings, A Practical Wedding's Pinterest boards are visual heaven with great DIY projects and affordable fashion inspirations. See everything from couples getting married in a gown and tux amongst family and friends at their local city hall, to couples eloping to a Parisian town hall in multi-colored fashions.
So, at the end of the day, don't knock a city hall wedding. It may be the solution to your budgeting woes.
Related Articles:
Getting Married Soon? 10 Smarter Ways to Spend the Average Wedding Budget
5 Budgeting Lessons Learned From Frugal Weddings
Learn from My Wedding Blunders: 10 Ways I Overspent
Ask a Question