If you're lucky enough to receive a tax refund this year, you're probably eager to receive it. The IRS says it should take 21 days to issue a refund once it has been processed. If it has been longer than this, several factors may be holding it up. Before you start to panic, take into consideration the process and what is going on with your paperwork.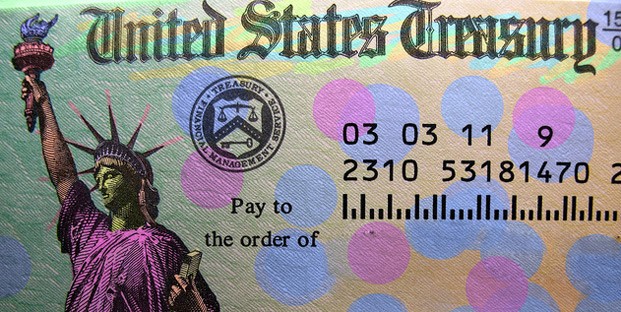 1. Check on your refund status
Before you panic, find out the IRS status of your refund. If it's been at least 24 hours since the IRS received your e-filed tax return, or four weeks after mailing a paper return, you can visit IRS.gov and click on the "Where's My Refund?" link.
You can also call the IRS Refund Hotline six weeks after mailing a return or 21 days after e-filing to find out the status of your refund: 1-800-829-1954.
If your refund status shows that your refund has been sent, but you haven't received it there are some additional steps you'll need to take depending on the method you were to receive your tax refund to locate and receive the money:
Tax Refund By Check
If you were getting your refund by check, it's possible the check was lost or stolen in the mail. You will need the IRS to trace the refund for you. If your tax filing status is married filing jointly, complete IRS Form 3911 (Taxpayer Statement Regarding Refund) and mail it to the same IRS service center that you would file your paper return. If your tax filing status is single, head of household, or married filing separate, call the IRS Refund Hotline (1-800-829-1954) and report your refund as lost via the automated system or while speaking to an IRS representative, or use the Where's My Refund? link on the IRS website, or the IRS2Go mobile app to request a trace for a paper check refund that has not been received.
Tax Refund By Direct Deposit
If you were supposed to get your refund via direct deposit and have not after 21 days, you could have made a mistake when entering your bank account number and routing number. If you've made errors on your return the IRS does not have to fix them for you, so you will need to call your bank to find out what to do in this situation. If your bank is unwilling to help, file IRS Form 3911, (Taxpayer Statement Regarding Refund) with the IRS for help getting the funds returned to you.
The other situation which could prevent receiving a tax refund via direct deposit is if the bank account information was changed after you approved your return. This could be fraud and mean your tax preparer is attempting to collect your tax refund. If you think your tax preparer has changed your direct deposit information to receive your refund, file a police report and name the tax preparer as the suspect. Then, fill out IRS Form 14157-A, (Tax Return Preparer Fraud or Misconduct Affidavit), and follow the instructions for additional forms and documents you will need to submit to the IRS to have your refund situation investigated and resolved.
2. Review shows errors
If a review of your tax return shows errors, your tax refund could be delayed. Doing it the old fashioned way (a paper return) leads to the possibility that the IRS scanner has trouble deciphering your writing. If this is the case, your taxes must be reviewed by an actual person, and this can take several days, particularly with fewer professionals working at the IRS due to budget cuts. Tax information is then entered into a computer and put into a raw data file. An editing program checks it for mistakes, like extra zeros on income or a wrong Social Security number.
3. Victim of Fraud
Aside from errors or being partially complete, the return may, unfortunately, be affected by fraud or identity theft. If someone else attempts to file taxes using your Social Security Number, or your tax preparer changes your direct deposit information, you could be the victim of fraud. Getting your refund will take longer while the situation is investigated and resolved.
4. Incorrect information
If any of your information is entered with an error, your tax refund can be delayed. If your employer wrote down different information than what you recorded, it might be another source of the holdup.
5. Form 8379
If you file a joint tax return and all or some of your tax refund was applied to your spouses' past-due federal or state tax, child or spousal support debts, or student loans, your own refund can be delayed. Fill out Form 8379, Injured Spouse Allocation, to resolve the situation but note that it can take two and a half months to process.
6. Budget cuts
CNN Money reported that the IRS Commissioner John Koskinen, indicated recent budget cuts could result in longer delays for people filing paper tax returns. In a memo to employees in January, he stated that paper filers might wait an extra week "or possibly longer" for their refund.
7. Death of a spouse
If your spouse has passed away before filing your tax refund and he or she is due a refund, your refund may be delayed if you failed to file IRS Form 1310, (Statement of a Person Claiming Refund Due to a Deceased Taxpayer).
The IRS asks that you do not contact them in an effort to get your refund faster. They recommend you use their "Where's My Refund?" tool to track it yourself. Every 24 hours, the site is updated, usually in the evening. You can start checking it 24 hours after e-filing or 4 weeks after it is mailed in. Putting in some personal information will let you know if it's been approved, and when it's been sent.
The IRS may need some additional information at times. If they do, they will get in touch with you, usually by mail. Remember, the IRS never sends emails, nor will they ever reach you by phone. There are a number of tax scams that will target unsuspecting people this way.
If you are still unsure where your refund is, contact the IRS Tax Help Line for Individuals – 1-800-829-1040 (TTY/TDD 1-800-829-4059).