Apple Pay Just Added More Cards, Is Yours One of Them?
If you've been staying on top of tech news lately, you know that Apple Pay faced a couple hiccups. However, Apple continues to tread along as more banks enable support for their cards on Apple Pay starting this week.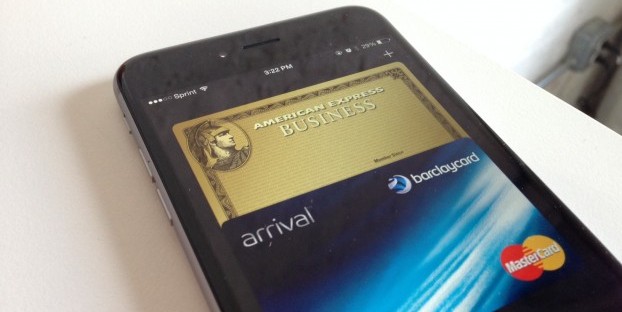 When Apple Pay launched in October, Apple said that more than 200 banks have "signed on" to have their cards work on the mobile payment system. It doesn't mean that the cards from these banks are already supported.
On Monday, the biggest names that launched Apple Pay support were Barclaycard, U.S. Bank and Navy Federal Credit Union. Others included PNC Bank, USAA and M&T Bank.
Knowing that more banks are activating their cards with the Apple Pay system is reassuring, at a time when the mobile payment feature struggles with a few hurdles to smooth its adoption.
Feeding the critics
A day after the launch, some Bank of America customers experienced a glitch where they were double-charged when using Apple Pay. The issue was patched up quickly but it can spook some Apple Pay users — it would lead me to think twice the next time I used Apple Pay for anything too.
Then, there's the major setback introduced by several large retail chains that have decided to not accept Apple Pay. The group includes Rite Aid, CVS Pharmacy, Walmart, Kmart, Lowe's, The Gap, Target and more.
Let me remind you that Apple Pay is just supported by roughly 220,000 out of the 9 million U.S. merchants — only 2.4 percent of the locations at which you can shop.
So, if these big retailers refuse to accept Apple Pay, the growth of Apple Pay is stunted drastically. You and I, both, are probably frequent shoppers at many of these stores that won't accept Apple Pay.
In fact, if you have a debit or credit card that has the Visa payWave or MasterCard PayPass symbol, you can still "tap" your card at compatible payment terminal to make a purchase. These are the same terminals that should be able to accept Apple Pay but they've just been coded to deny Apple Pay transactions!
The collective decision to opt out of Apple Pay was part of an agenda for a merchant-owned mobile payment competitor called CurrentC, which is currently in its pilot stages. Interestingly enough, CurrentC was actually hacked recently — not a good first impression if you're trying to knock down Apple. Fortunately, these merchants reportedly said they're only going to lock out Apple Pay temporarily.
So now, Apple Pay seems to be back on track to continue its journey towards adoption. Since Apple is extremely prone to media scrutiny, I can almost guarantee that there will be another instance when news on Apple Pay will pose another hurdle.
But, don't let that stop you from trying out what could be a new, convenient way for you to shop. If you're a customer of a bank that just activated cards on Apple Pay, read on to see what you have to do to get started.
Using Apple Pay for the first time
Got an iPhone 6 or iPhone 6 Plus with the latest operating software? Then, you have the equipment ready to make Apple Pay purchases.
Adding a supported card to Apple Pay is surprisingly easy: just scan the card into your Passbook app with the iPhone's camera. You can also pull existing information from cards that are already linked to your iTunes account.
Now, where can you use Apple Pay? Many participating stores have already slapped Apple Pay stickers on doors and checkout counters to let people know that the mobile payment system is accepted. But, any payment terminal with the below symbol should be able to accept Apple Pay (except for the retailers that purposely blocked Apple Pay):

From sleep mode, without having to open any app or wake up your display, hold your iPhone with your thumb on the home button and hover the phone over the payment terminal. A slight vibration will confirm the transactions. It's actually amazingly simple — not as clunky and tedious as you might expect.
Understandably, you're worried if your rewards credit cards will continue to earn cash back, points and miles when purchases are made through Apple Pay. Rest assured that the purchases will be categorized as they normally would!
So, if your bank just set up your card with Apple Pay now and try it out! Let us know what you think and how you'll use it in the future in the comments section below.
Ask a Question