4 Apple Watch Apps Can Help You Manage Your Finances Better
The impending arrival of Apple Watch is expected to introduce a new era of wearable gadgets. Having tracked the effect of mobile technology on consumer banking, I'm very much interested in the Apple Watch's impact on how we manage our finances. Apparently, financial institutions and other companies are already prepared to make appearances on our wrists.
The iPhone led the way for smartphones to become must-have devices that have completely changed how we live. With finances in particular, I've come to love the ability to view all my account balances in one app (thanks to Mint), to make stock trades and to deposit checks without going to the bank.
So, what will Apple Watch — for sale starting April 24 with a price range of $349 to $17,000 — bring to the table?
Lets take a look at how four companies are already going to have apps on Apple Watch to help you manage your finances:
1. Apple
Apple Pay, the mobile payment feature that is already available for iPhone 6 customers, will also be available on the Apple Watch. After you've set up Apple Pay on your iPhone, you can use Apple Watch to pay for your purchases — instead of waving your phone in front of a payment terminal, you wave your Apple Watch.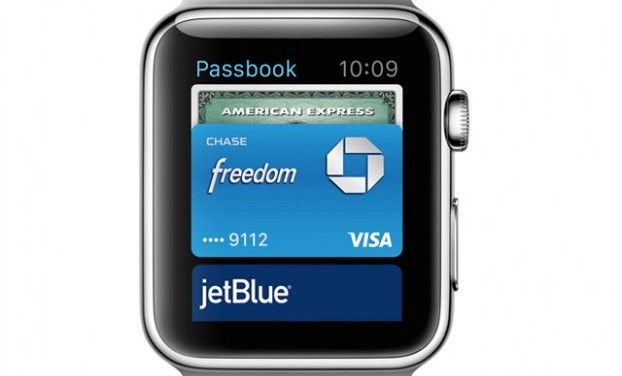 The feature I really like is the ability to just flip through my cards on Apple Watch and select the one I want before the purchase. I think it improves the entire Apple Pay experience because I don't have to pull out my iPhone when the Apple Watch is right there on my wrist.
How is it different from the mobile app? You can't add debit or credit cards to Apple Pay through the Apple Watch — it can only be done on the iPhone.
2. Citi
Citi is the first major U.S. bank to announce a banking app for the Apple Watch. Called Citi Mobile Lite, the app will allow Citi debit and credit card customers to check their account balances, recent activity and to receive alerts to credit card transactions — without having to log in.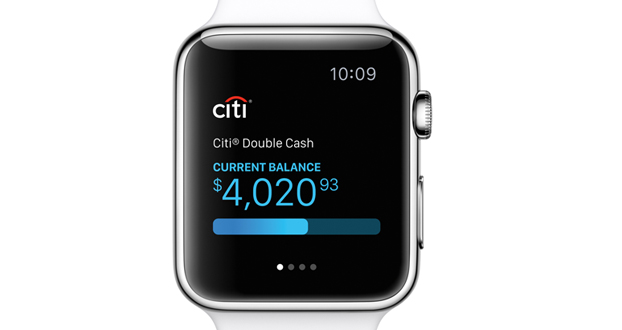 This feature, called Citi Mobile Snapshot, is already available on iPhone as well, and you are also given the option to glance at your account balances without logging in.
It's almost a guarantee that most big banks will follow in Citi's footsteps with similar apps that simply let customers check their account balances and receive alerts through Apple Watch without logging in.
How is it different from the mobile app? The Citi iPhone app has a long list of functions that the Apple Watch app doesn't have, which mostly consists of transactional capabilities including bill payments, fund transfers, mobile check deposits and more.
3. Fidelity
Fidelity is one of the biggest mutual fund companies in the U.S. and it has tailored its Apple Watch to customers who want to keep a close eye on their investments. They'll be able to track global markets, check stock quotes and receive real-time alerts on their investments.
Furthermore, the app is connected to the Fidelity mobile app on the iPhone so that you can go from looking at stock information on your Apple Watch to making a trade on that stock on your iPhone within seconds.
"Our Fidelity mobile app for Apple Watch will help our customers keep their finger on the pulse of the markets through our most creative distinctive design yet," said Richard Blunck, chief marketing officer and executive vice president of digital distribution at Fidelity, in a prepared remarks.
How is it different from the mobile app? The Fidelity iPhone app offers a much more comprehensive suite of features including the ability to transfer funds, deposit checks, pay bills, initiate trades and research market news.
4. Mint
The main allure of Mint is the ability to view the balances and activity of all your financial accounts in one place — though there's much more that you can do. There's no need to log in to each and every account to see your entire financial situation. I've always been a big fan of Mint for simply this purpose and, with Apple Watch, Mint is making it even easier for us to do that.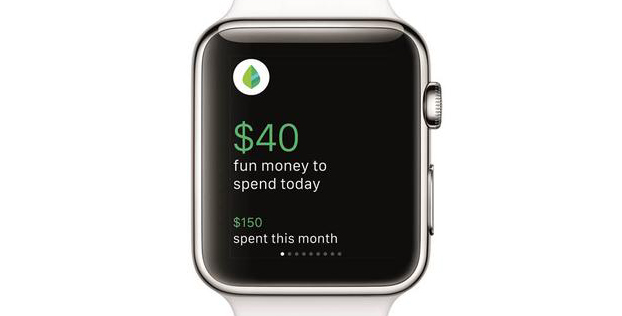 The new Mint app for Apple Watch will let users view their finances as they already do on web and mobile devices. They'll also be able to review their monthly spending goals to see if they'll mean them. Then, set up weekly notifications to stay updated on any progress.
Tip: Instead of having multiple banking apps for Apple Watch, you might consider just getting the Mint app to see everything at once.
"We can't wait for people to start wearing Apple Watch to easily access information that matters, to interact with the world, and to live a better day by being more aware of their daily activity than ever before," said Tim Cook, CEO of Apple, in a press statement.
How is it different from the mobile app? The Mint iPhone app offers more analytical information that shows your past spending, income and cash flow. You can also use the mobile app to categorize your transactions manually. Furthermore, you can create budgets and set goals on the Mint mobile app.
Nothing revolutionary, yet
It's still early and understandably, I think that the ways that Apple Watch can help you manage your finances is nothing new or innovative. It does, however, simply make everything easier to access — Apple Watch won't pose a major change to your financial habits, at least not yet.
In 2013, I was able to try out the Mint app on Google Glass, a high-tech pair of glasses, and it pretty much offered the same features as what you'd expect from the Mint app on Apple Watch. Sadly, Google Glass still hasn't become a must-have wearable device. Apple Watch, on the other hand, is likely to become an instant hit among consumers.
I wish Apple Watch had…
Beyond Apple Pay and the ability to remain aware of your financial situation, there are a few functions that I would like to see with Apple Watch.
– Make it easier to find bank branches and ATMs.
Mobile banking apps already integrate with GPS navigation systems to help bank customers locate nearby branches and ATMs. Similar GPS capabilities on the Apple Watch will, once again, make it easier to access and use the branch and ATM locator.
– Act as a sidekick to other financial innovations.
Thinking about all-in-one smart cards like Coin and Plastc, I can see how the Apple Watch can make it easier for me to manage my accounts on these smart cards. If I wanted to switch the account linked to a smart card, I'd like to be able to do it swiftly from the Apple Watch.
Although I'm a big fan of watches, I don't think I'll pick up an Apple Watch just yet — possibly after I get a better idea of how I would use it from day to day.
What financial features would you like to see on Apple Watch?
Ask a Question