5 Money-Saving Bank Account Perks You're Not Taking Advantage Of
Your bank doesn't want you to know about these tips. Check out these 5 bank account perks to get the most out of your checking or savings accounts.
Opening a new checking or savings account usually involves a certain amount of paperwork and if you're like most people, you probably don't take time to read through all of it. I readily admit that I've skimmed over things like fee schedules and disclosure statements more than once.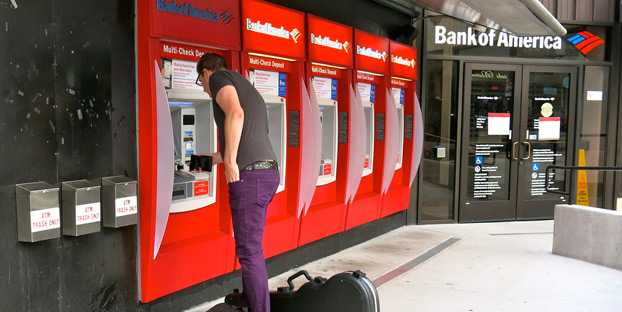 The problem is that when you're not reading the fine print or asking questions, it's easy to overlook some of the extra benefits your account offers. Instead of just being a place to park your cash, your bank could help you to save money in other ways. Here are five bank account perks you may not know you had.
1. Debit rewards deals
Rewards like cash back or points that can be redeemed towards future purchases are typically associated with credit cards, but you may also be able to snag them with your debit card. A lot of the larger banks, with the exception of Bank of America, have eliminated their debit rewards programs because of the cost involved but if you've got an account with smaller bank or credit union, your bonuses could just be sitting there unused.
First Citizens Bank, the bank I do business with, for example, only has branches in a handful of states but it offers cash back debit deals that change from week to week. Anytime I log in to my account, I just have to glance at the right side of the screen to see what's on tap. This week, I can earn 18 percent back on anything I buy at ProFlowers, 2 percent back on bookings through Travelocity and 1 percent on purchases made at Best Buy. All I have to do is use my debit card at the merchant offering the deal and the cash back is credited to my account.
2. Sign-on and referral bonuses
One of the ways that credit card companies attract new customers is by offering bonuses for opening an account and banks are catching on to the trend. If you're proactive about scouting out deals, you might be able to earn anywhere from $50 to $300, just for opening a new account. Not too long ago, I got $150 for setting up another checking account with my current bank and all it took was a few minutes of my time to fill out the online application.
Your bank also wants you to spread the word about how happy you are with your services and they use referral bonuses as an incentive to get people to do so. The bonuses can be $25 to $50 in cash, which is what my bank offers, reward points if you've also got a credit card with the bank, or in the case of HSBC, a $150 Amazon gift card. There are usually some requirements to be met, like completing a certain number of purchases or signing up for direct deposit but if you're clear on what the rules are, it's an easy way to cash in on some extra bonuses.
3. Free credit scores
Keeping an eye on your credit score is important, especially if you're planning to buy a car or apply for a mortgage loan. While you can get your credit report from each of the three credit bureaus for free once a year, you'll have to pay extra to take a look at your score. That is, of course, unless your bank offers to give it to you for free.
Discover, First Bankcard, U.S. Bank and Barclaycard are just a few of the bigger banks that allow you to check your score once a month for free if you've got a credit card, in addition to your checking or savings. When you're checking your score, the one thing to keep in mind is that different banks use different scoring models. Even though they all fall under the FICO umbrella, there's not just one FICO score to choose from. If you've got accounts with more than one bank that offers this service, your score could vary greatly, so it's best to use it as a guideline when evaluating the state of your credit.
4. Life insurance
Banking and insurance are two things you probably think don't have anything to do with each other but you'd be surprised at how many banks are offering insurance products these days. Whether you need to insure your home, vehicle or pets, the odds are good that your bank has got you covered. When it comes to certain kinds of policies, the bank may even be willing to pay the premiums for you.
My last bank frequently sent out mailers offering me $1,000 of life insurance at no cost, with the ability to buy more coverage at a reduced price. I never followed up because I already had a sizable term life policy in place but if you're looking for a little peace of mind without spending a lot, it's definitely an option worth considering.
5. Discounts on purchases
Everybody wants to save money and banks are making it easier than ever when you shop with your debit card. In place of those reward programs that are becoming increasingly rare, a number of financial institutions are letting their account holders earn discounts on the things they buy instead, including travel, entertainment and shopping.
TD Bank, for example, offers rotating deals for things like car rentals, hotel stays and purchases made at selected retailers. If you've got a Citi Debit MasterCard, you can take advantage of the Private Pass program
, which features deals on tickets to things like concerts, Broadway shows, sporting events and festivals. The program offers access to advance purchases, preferred seating and VIP packages just for using your card.
Getting more out of your bank is sometimes just a matter of doing your homework. A quick call to your local branch of a visit to their website should tell you if you're able to claim any of these bank account perks.