Bank of America vs. Chase: Who Has the Better Mobile Banking App?
Bank of America recently updated its mobile banking app to make managing your accounts a little easier. Today, I take a look at what the changes are and how it compares overall to Chase's mobile banking app. If you're thinking of switching to either one of these big banks, here's a look at what you can expect from your mobile banking experience.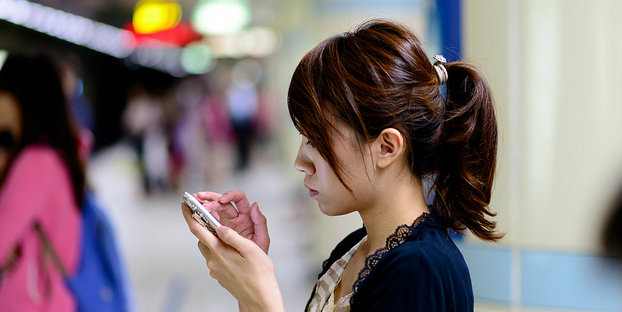 Getting started with Bank of America's mobile banking app
Bank of America customers can download the mobile app on their Android or Apple device for free through the Google Play store or iTunes. Earlier this year, Bank of America discontinued the app for Windows phone users, so if you've got this kind of device, you're out of luck.
Once you've got it installed, all you need to do to sign is accept the license agreement then enter your Online Banking ID and passcode to start managing your accounts. As far as the basics go, you can do everything on the mobile app that you can on your PC. That includes checking balances for your checking, savings and credit card accounts or investment accounts you have through Merrill Lynch, setting up alerts, ordering a replacement debit card and scheduling bill payments.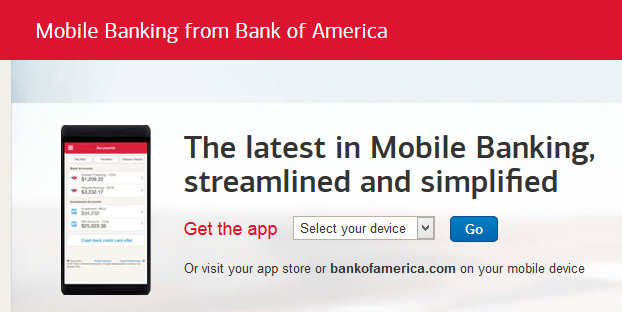 Depositing checks through the app is fairly simple. You'll need to sign the back of the check. Then, you tap the "Deposit Checks" button. You'll use your phone to take a picture of the front and back of the check, then tap the "Deposit To" button to pick the account you want to add the money to. Once you've done that, you enter the amount, hit "Continue" to review your information and then select "Make Deposit" to complete the transaction.
Sending money to just about anyone right from your phone is also a snap, as long as they're set up as an Email/Mobile Transfer recipient. You can enter their name and email address manually or set the app's permissions to pull the details straight out of your contacts list.
If you want to receive money from other people, you'll have to add your email address or mobile number and verify your account using a secure Enrollment Code that's sent via text message.
Two new features with Bank of America's app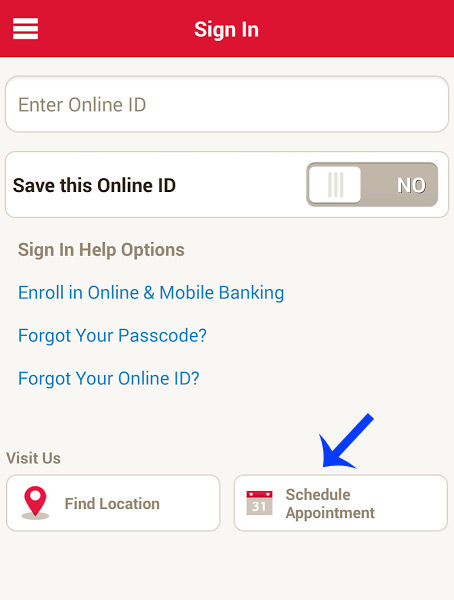 Two subtle but important changes have been made to the Bank of America app at the end of March. The first is the introduction of a scheduling feature on the app's landing page. This feature was available on the app previously but it's been moved to the home page to make accessing it easier.
If you're interested in discussing mortgage rates for a refinance deal or setting up an IRA CD for your retirement savings, you just tap the box that says "Schedule Appointment." From there, you can choose your account type, select the branch you want to visit and enter your contact information. Once you've got all that in, you click the "Make Appointment" button and the app sets it up automatically. All you have to do is show up, and if you can't keep track of the date, the app will send you a text reminder if you request it.
The other change is designed to make traveling easier on customers who are concerned about having transactions flagged as suspicious. Mobile app users can now set up a notification which tells Bank of America that they're traveling so they don't run into trouble when trying to use their debit cards outside their home area. This feature was already available for online banking customers.
How the Chase mobile banking app compares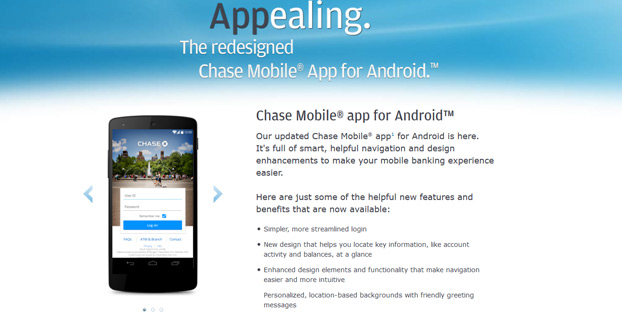 Chase's mobile banking app is currently supported by Apple and Android; access for Windows phone users was also dropped earlier this year. It's available for download through the respective app stores or by texting "Mobile" to 24273.
In terms of the features, Chase's app covers the same ground as Bank of America's version. You can do all the day-to-day tasks, from checking balances to scheduling transfers to setting up account alerts.
If you're worried about getting hit with overdraft fees, you can also opt to receive Instant Account Alerts via text message. When you get an alert that your balance is low, you can initiate a transfer from your phone by responding with a "T" and the dollar amount.
If you want to be able to deposit checks, pay bills or transfer money to another person through the app, you'll have to sign up for Chase QuickDeposit and Chase QuickPay. With the QuickDeposit feature, all you have to do is read the legal agreement to start using it. QuickPay requires you to register your email address and phone number, then verify your account using a special code.
Which one's the winner?
If you're shopping around for a new checking or savings account and you plan on doing a lot of your banking on the go, I like Chase because it offers a wider range of mobile banking services compared to Bank of America.
Although there's a lot you can do with the Bank of America app, it has some limitations. For example, you'd still need use online banking or visit a branch to do any of the following:
– Initiate a wire transfer
– Set up a transfer to an external bank account
– Enroll in Bill Pay services
– View details for mortgage or personal loans
– Enroll in SafePass for added security when shopping online
– Turn on ShopSafe, which creates a temporary account number for online transactions
By comparison, the Chase app allows you to do pretty much everything through your phone that you could do online. That includes establishing payees for bill payments or scheduling wire transfers.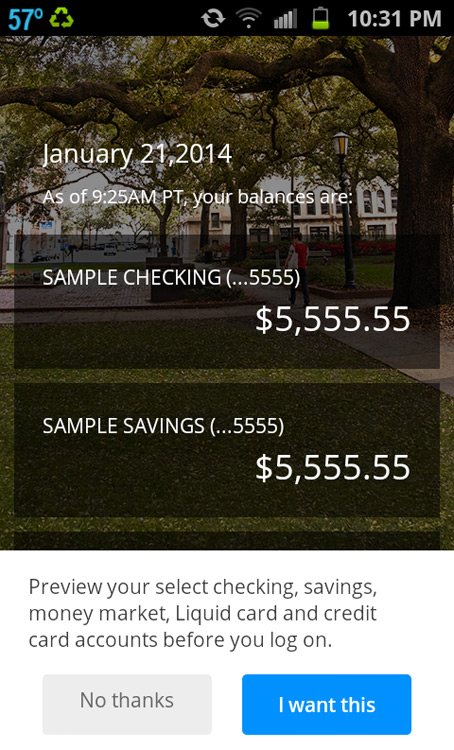 Another advantage is that you have the option of viewing your account balances simply by swiping your screen. You have to opt in to use the feature but if you routinely check your balances several times a day, it'll save you the trouble of having to enter your user ID and password every time.
If you're a current Bank of America or Chase customer who uses mobile banking, tell us what you love (or hate) about the apps in the comments.
Ask a Question