Story highlights important features to consider for smart cards:
Plastc has the ability to store 20 cards
Plastc is the only one that promises to support both NFC and EMV chips at launch
Stratos and Coin have non-rechargeable batteries that last for 2 years
Today, I break down all-in-one smart cards Coin, Plastc and Stratos and rate them according to card design, card interactions, payment technology, battery life and pricing to find the best one of the three.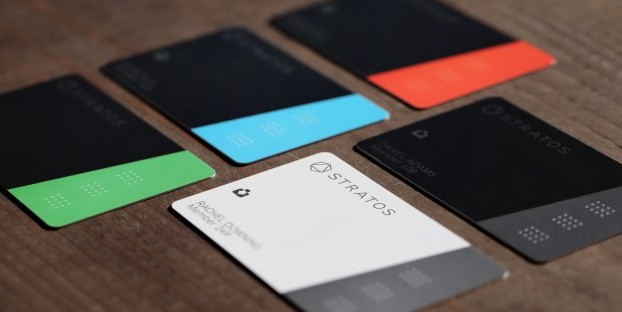 Pricing is definitely a major concern when considering a smart card, but it's also important to look at their features before deciding if Stratos or any of these smart cards are right for you:
| Card | Stratos | Coin | Plastc |
| --- | --- | --- | --- |
| Info displayed on card | None | Last 4 digits of the card, card network and expiration date | 16-digit card number, expiration date, issuing bank, card network and your name |
| Card interaction | Single tap on any card surface and press one of three preset buttons on the card before swiping | Enter unique tapping sequence (must be enabled) and press button to cycle to desired card before swiping | Enter PIN, pick card category and then select card before swiping |
| # of accounts supported on the card | 3 | 8 | 20 |
| EMV | No (future upgrade) | No (future upgrade) | Yes |
| NFC | No (future upgrade) | Yes | Yes |
| Battery life | 2 years (non-rechargeable) | 2 years (non-rechargeable) | 30 days (re-chargeable) |
| Pricing | $95 every year or $149 every 2 years | $100 per card | $155 per card |
| When is it available | April 2015 | November 2014 | Summer 2015 |
What they do?
Smart cards offer convenience and some extra security, at a price. They do not offer extra rewards of any kind. Instead, you'll have a much smaller wallet (or none at all) while still having access to all your cards. Some people are willing to pay for this, while others won't.
At its most basic level, an all-in-one smart card is capable of storing the information from all your other cards, so that you can just carry the single smart card instead of a wallet full of different cards.
Stratos, Coin and Plastc will support nearly every single card that has a magnetic stripe, including: debit cards, credit cards, gift cards, loyalty cards, membership cards and more. Each of them have smartphone apps on iOS and Android devices to let you manage the accounts that are synced to your smart card.
You can argue that mobile wallets like Apple Pay are already doing this, but mobile wallets are accepted in only 2.4 percent of the 9 million U.S. stores that accept debit and credit cards — these smart cards are accepted in 100 percent of these stores.
Your smartphone acts as the remote control to your smart card. You can switch the cards that are synced the smart card and disable the smart card entirely if you ever had to. In fact, these smart cards will automatically lock themselves when they're not within proximity of your smartphone. Unlike your credit card or debit card numbers, which are printed on the card, ready for thieves to use if those cards are stolen.
Card interaction
Today, paying with a credit card is extremely hassle-free — just take it out of your wallet and swipe. There's no button-pressing or fiddling with your smartphone. This is the everyday card interaction that smart cards are competing against. So, the key question you should ask yourself before buying a smart card is, "How do I use it in everyday life and it better than how I use a card now?"
I like the card interaction from Stratos the most, after reviewing how each smart card would work. You just have to tap the card on any surface, press one of three card indicators and swipe. The video below gives you look of how it'll work:
Coin is great in that you can assign a "default" card, but you'd have to tap the card multiple times to cycle through your group of cards. Plastc requires that you enter your PIN and go through a process of finding your card before it can be used — it's safer but more tedious.
To some people, however, Plastc's ability to store 20 cards may be more attractive. From an everyday usage perspective, I think Stratos is just better.
WINNER (Card interaction): Stratos
Payment technology
The introduction of mobile payments, like Apple Pay, is leading to the awareness of paying for things with near-field communications (NFC) technology. Mobile phones and plastic cards have this technology to let you "tap and pay" — no swiping needed.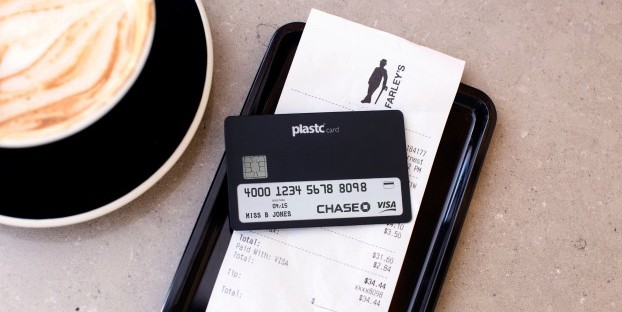 On another note, a card technology called EMV chips is expected to be embedded in most credit cards by October 2015. EMV chips help protect your card information by scrambling the data when you make a purchase. There is a growing list of U.S. credit cards that have EMV chips.
Both of these technologies play a role in convenience and security so it is imperative that these smart cards adapt to the changing card technology. Of the three cards, Plastc is the only one that promises to support NFC and EMV chips at launch. Stratos and Coin do not, but will support them in future upgrades. As we pointed out previously, the lack of EMV compliance could mean the fall of smart cards like Coin.
UPDATE: In late August 2015, Coin announced that it started to replace old Coin cards with the Coin 2.0, which offers NFC technology with future EMV compliance capabilities.
WINNER (Payment technology): Plastc
Battery life
Active smartphone users can relate to the frustrations of a device with terrible battery life. With a smart card, we're injecting these possible frustrations into the way that we manage our money, so battery life should be a major concern.
Stratos and Coin have non-rechargeable batteries that last for 2 years, which is a pretty long time (once the battery dies, you'll need to pay for a new card). Plastc, on the other hand, has a battery that lasts only 30 days, but it is rechargeable through a wireless charging station that you receive when you first get the card.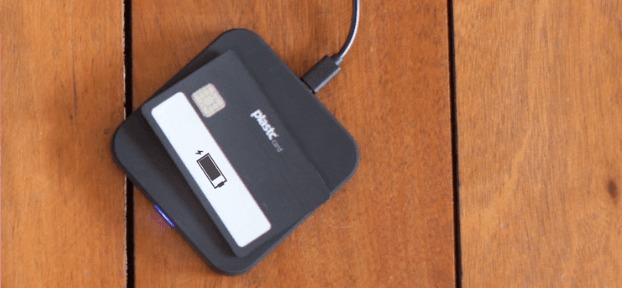 While it may seem like I have to deal with another device to charge, I think Plastc has the upper hand because the battery is likely to last more than 2 years, before I need to replace it. This will matter when we move onto the next section: pricing.
WINNER (Battery life): Plastc
Pricing
If you want the convenience offered by these smart cards, you're going to have to pay for it. Each one of these cards are priced differently.
Stratos uses a subscription model that requires you to pay every year ($95) or every two years ($149). Coin just charges $100 whenever you need a new card (e.g., when the card's battery dies). Meanwhile, Plastc charges $155 per card.
Right off the bat, the Stratos card appears the most expensive as you have to pay on a regular basis. The company says that the subscription pricing helps to cover regular card upgrades for members and it'll pay for upcoming cloud features that include card activity tracking, insights, instant card downloads and more. For this price, you could afford the annual fee of some of the best travel rewards credit cards. Is the convenience of Stratos more valuable than a top-notch travel credit card?
The cost of Coin and Plastc will depend on how long your battery lasts. Piggybacking on the battery life section, I think Plastc will end up being the cheapest of the group because your card's rechargeable battery could last very long before you'll need to replace the card.
WINNER (Pricing): Plastc
Card design
The designs of the smart cards from Stratos, Coin and Plastc all evoke a sense of luxury and prestige with their use of dark color tones (Stratos also has a white-colored card). Without a doubt, the use of the darker colors is an homage to the notoriety established by the American Express Black Card, a rarely seen card that is obtainable only by the super rich. I expect each of three smart cards to garner the same level of curiosity from strangers as they all look great.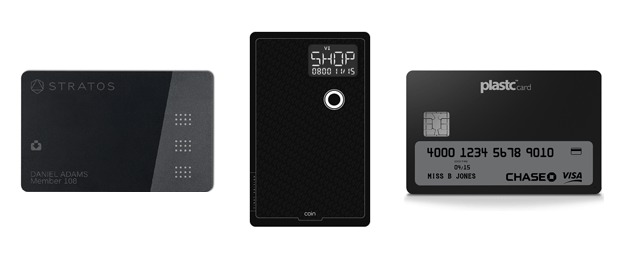 However, I'm going to hand it to Stratos for offering several color schemes and for being the smart card that has no display of any sort. I like the minimalistic approach to the design — it is simple and clean with no screen or card information shown whatsoever. Coin and Plastc have displays that make it very obvious that they're gadgets, while Stratos appears very low-key.
WINNER (Card design): Stratos
Overall winner: Plastc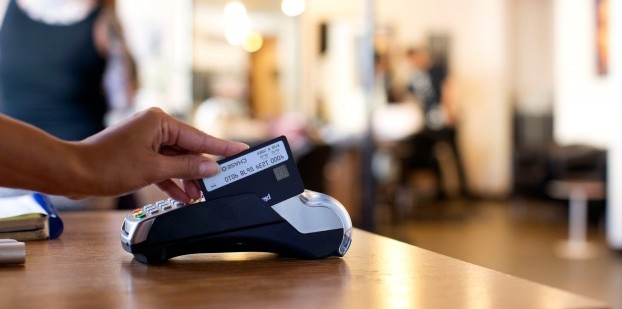 Although Stratos stands out for its sleek look and user experience, Plastc is the champion in the end for its better technology, battery life and pricing.
I'm actually keeping an eye out for Plastc for myself because I keep several cards in the sock drawer in an effort to maintain a thin wallet. There have been plenty of times that I wish I had one of those cards on me — like when Chase Freedom® offers 5% cash back at department stores and I don't have it with me when I'm about to check out at Bloomingdales.
Runner-up: Stratos
Stratos really takes the cake in the looks department and I really like the simple card interaction. The pricing, however, is a major turnoff. The subscription model just seems rather expensive, especially when smart cards don't provide any value, in my opinion, other than convenience.
It is very possible that the cost of Coin and Plastc could end up being more if their card doesn't last at least 2 years — the Stratos would end up being better. But, I don't yet know how long the batteries will actually last. So, for now, I'll say that Stratos is a good second option for a smart card — it is just more costly than the others.
Ask a Question