The Best Second Chance Checking Accounts Found at Big Banks
Getting a regular checking account can be difficult when you have previous problems with banks. In this article, I analyze the best checking accounts from the nation's largest banks that give you a "second chance." I review each account's monthly fees and features before selecting the best overall second chance checking account that's worth your consideration.
Nearly 10 million American households do not have a regular checking or savings account, according to the FDIC. It is partially due to bad banking history (such as writing bad checks or unpaid overdrafts) that is recorded under someone's ChexSystems report.
Banks have different ways to address this issue. Some banks may stop relying heavily on ChexSystems reports to determine if someone is eligible to get a checking account. Other banks offer second chance checking accounts that cater to customers with negative ChexSystems reports.
Before diving into the accounts, here's a brief refresher on ChexSystems:
A guide to ChexSystems
In the same way that credit reports track your history with loans and lines of credit, a ChexSystems report records your history with banks accounts, specifically negative activity
Common examples of negative activity include constant overdrafts, returned checks, account abuse, check fraud, and more. Each record stays on file for five years unless you dispute inaccurate information.
You can obtain a free ChexSystems report every year from ConsumerDebit.com.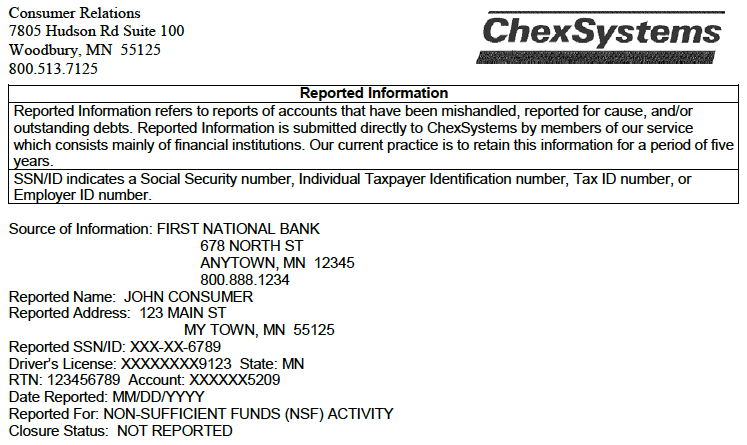 Second Chance Checking Accounts
Of the top 10 banks in the U.S. by deposits, only one of them (Wells Fargo) provide actual second chance checking accounts. Three other banks (Chase, PNC Bank, BB&T) offer prepaid debit card accounts in lieu of second chance checking accounts.
Now, here's the interesting tidbit. Another three banks (Capital One, Citibank, and U.S. Bank) said it won't deny your checking account application solely based on a negative ChexSystems report. Essentially, you can apply for any account at one of these banks and your ChexSystems report won't have a major effect on the account-opening decision unless there is a very obvious case of fraud on your part.
Since it doesn't make sense for someone with a bad banking history to go for a more expensive checking account, let's focus on the basic checking accounts from these banks.
The following accounts were listed because they are ideal for people with bad ChexSystems reports. The banks may still choose to pull your reports for review.
Here are the accounts from the top 10 banks that I analyzed:
Bank of America®, TD Bank, and SunTrust — the three remaining big banks — do not offer second-chance checking accounts or similar alternatives.
Checking Accounts Fees & Features
Wells Fargo Opportunity Checking
A second chance checking account that has a $10 monthly fee (add $2 per month for paper statements). The fee is waived in the months that you make 10 debit card purchases, or keep a $2,000 daily balance, or post a total of $750 in direct deposits.
All in all, it is everything that you'd expect from any other basic checking accounts except for one thing: you cannot make deposits at an ATM — you must visit a Wells Fargo teller or initiate the deposit electronically. Also, the account can only be opened by visiting a branch.
PNC SmartAccess Prepaid Visa
A prepaid card account that has a $5 monthly fee. The fee cannot be waived.
This is prepaid card account that performs very much like a checking account — except you cannot write checks. You'll still be able to pay bills through online bill pay. You have a prepaid card that lets you make purchases. However, you will never be allowed to overdraw your account. Any transactions that will lead to a negative balance will be rejected.
Chase Liquid
A prepaid card account with a $4.95 monthly fee. It can be avoided only when linked to a Chase checking account.
Although it is advertised as a prepaid card account, it bears great resemblance to Chase's basic checking account. The account's fee summary lists out the services that are not available with Chase Liquid. They include: check-writing, online bill pay, Chase QuickPay (person-to-person payments) and wire transfers. As a Chase customer, I can vouch for those great features. Not having access to them would be a major inconvenience.
BB&T MoneyAccount
A prepaid card account with a $5 monthly fee. The fee drops to $3 if you deposit or load at least $1,000 during the previous month. There's an additional $3 for paper statements.
It's a prepaid account that lacks check-writing capabilities. And, cardmembers cannot use the ATM to make deposits — you must go to a BB&T teller to conduct deposit transactions. However, you do get to use online bill pay.
Capital One 360 Checking
An online checking account with no monthly fee.
You can write checks, pay bills online and make person-to-person payments. In addition to free access to all Capital One ATMs, you also get free access to 38,000 ATMs under the Allpoint ATM network. To top it off, your deposits earn interest (see other interest checking accounts out there). The biggest caveat to the account is that you cannot use a Capital One teller to perform transactions. For the perks and no monthly fees, I think it's a very acceptable tradeoff.
Citibank Basic Checking
A regular checking account that has a $12 monthly fee. It can be avoided with one direct deposit plus one bill payment per month, or with an average $1,500 balance in the checking account or a linked Citibank savings account.
A typical basic checking account that lets you write checks, make online bill payments and offers free access to all Citibank branches and ATM.