Every now and then, Chase offers lucrative cash bonuses on their checking or savings accounts. A little while back, they offered one that gave new customers up to $400 in cash. An enticing deal like this was too good to pass up, so people signed up, and without any notice, Chase closed the deal.
Sometimes banks will shut down a bonus offer deal like this before the printed expiration date, simply because they are flooded with new customers.
The offer expired on Apr. 15, 2015. If you're interested in a good bank deal, find out how to cash in on Chase bonus offers. Or, read up on why banks sometimes make it so difficult to get these types of bank deals.
After this deal, Chase offered other deals (although not as big as the $400 bonus). Here's a $150 bonus deal that they offered a short while after the $400 one.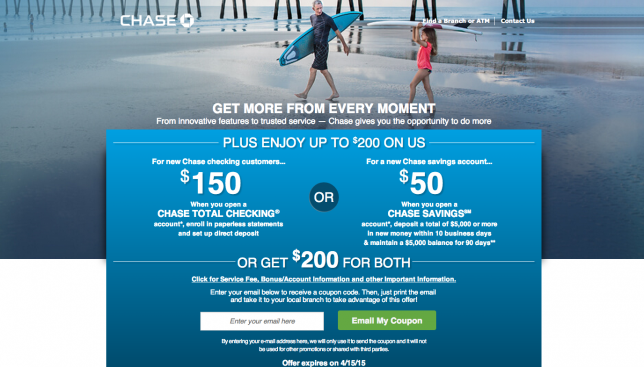 In general, to qualify for a Chase Bank deal, you must first obtain a printable coupon from their promotional page under the "Print" link. You must print the page and present the coupon to the banker before the account is open at your local branch.
To qualify for the $150 checking bonus, you must:
Deposit $25 or more at account opening.
Log in to Chase.com and enroll in Chase Checking Paperless Statements within 60 days of account opening.
Have your direct deposit made to this account within 60 days of account opening. (Your direct deposit needs to be an electronic deposit of your paycheck, pension or government benefits (such as Social Security) from your employer or the government.)
After you have completed all the above checking requirements, we'll deposit the bonus in your new account within 10 business days.
To receive the $50 savings bonus, you must:
Open a new Chase Savings account, which is subject to approval.
Deposit a total of $5,000 or more in new money into the new savings account within 10 business days of account opening.
Maintain at least a $5,000 balance for 90 days from the date of deposit. The new money cannot be funds held by Chase or its affiliates.