Chase Freedom® Changes How You Earn Bonus Points: Keep It or Toss It?
Well, that didn't take long. Earlier this month, I covered some of the major changes that were coming to the Chase Sapphire Preferred®card, one of the more popular travel rewards credit cards. Recently, I got an email notice that my Chase Freedom® card will be experiencing some changes as well… and they're not good changes.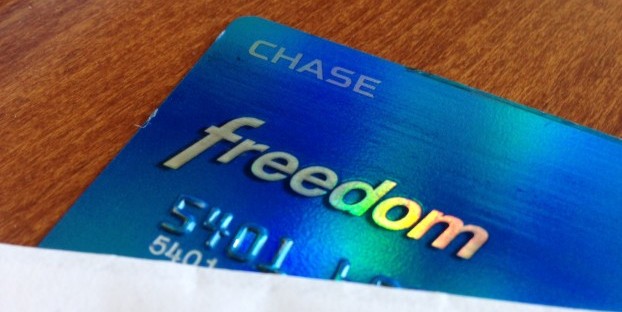 Here are the Chase Freedom® changes and the effects that they'll have on cardholders' accounts:
No more Chase checking bonus
One of the cool benefits of having a Chase checking account along with the Chase Freedom® card is the extra 10% Ultimate Rewards points that I get every year on all my points earnings, including the points earned on 5x points categories.
Previously, Chase checking customers earned 10% extra points on base spending (effectively, 0.1x points per dollar spent) plus 10 points per purchase — I stopped getting this bonus in August 2013. I think the current 10% bonus is actually better since I do take advantage of the 5x points categories.
Unfortunately, starting Jan. 1, 2016, Chase checking customers will no longer earn the 10% bonus points on their Chase Freedom® points.
What I think about it: Without a doubt, this is a significant downgrade on the cash back-earnings potential for loyal Chase customers who have a Chase checking account linked to their Chase Freedom® cards.
If I'm accumulating 20,000 in Ultimate Rewards points per year, I'd be losing out on the extra 2,000 points. As cash back, that's worth $20. In the grand scheme of things, it's not much, but I'd rather have it than not.
I'm definitely unhappy that this perk is going away since I signed up for my Chase Freedom® card years ago knowing that this was one of the benefits of giving Chase more of my business. Otherwise, I could have went with the Discover it® card, which has a similar cash back program but with better perks. This Chase checking bonus helped sway my decision back then. You might think about switching cards if this bonus was a major reason for signing up with Chase Freedom®.

No more paper check cashouts
The Ultimate Rewards program offers a few ways for cardmembers to redeem their points as cash back, but it's about to have one less.
Starting Nov. 16, 2014, cardmembers will no longer be able to redeem their cash back through paper checks.
Don't worry, you'll still be able to get that cash back as statement credits or deposits into a checking or savings account (doesn't have to be with Chase).
What I think about it: It's not a big deal. I think Chase just wants to cut out the costs of dealing with paper checks (it's probably the least popular cash redemption method anyway). You have to wait for it to be mailed to you and then you have to wait a few more days for the check to clear. It's slow and inconvenient.
I've always deposited the cash back into my Chase checking account so this change has no major effect on me. You probably won't notice much of a change, as well. If you use your Chase Freedom® card regularly, then the statement credit is a great cash redemption option for you since you'll have a balance that can be reduced with the statement credit.

Less points on Ultimate Rewards travel
The incentive for Chase cardmembers to use the Ultimate Rewards travel-booking portal is the extra 1 point per dollar that you receive on the booking.
But, beginning Jan. 1, 2016, that bonus is going away. After that date, you're just receiving the base 1 point per dollar spent. "We may periodically offer you ways to earn bonus points through the program," Chase says.
What I think about it: Another blow to Chase cardmembers. The bonus, even though it is not much, makes a case for me to use the Ultimate Rewards booking portal over other online travel sites (e.g., Expedia, Travelocity, Priceline, etc.), some of which may have their own loyalty programs.
Once this bonus disappears, I would be more inclined to actually book travel through the Ultimate Rewards shopping portal, which offers extra points at Chase's travel partners. You're probably thinking the same thing already. For instance, you could book airfare through Expedia (1 points/dollar bonus) and hotel stays through Hotwire (3 points/dollar bonus) instead.
Phone booked round-trip ticket redemption
Under the current Ultimate Rewards terms and conditions for Chase Freedom®, Chase Freedom® customers may redeem 25,000 points for one round-trip flight valued at up to $335 when booked through Chases's toll-free number (1-866-951-6592). This puts each Ultimate Rewards point at a value of 1.34 cents if you redeem for a flight worth exactly $335. You'd have the front the cost difference if the ticket value is greater than $335.
But, beginning Oct. 26, 2014, airline tickets will no longer redeemable for a fixed number of points through this method. Instead, all travel redemptions will be calculated based on the actual cost.
What I think about it: This is one of those lesser-known perks that you may not have heard of. It is an easy way to stretch your Ultimate Rewards points if you're about to book a round-trip flight that is worth $335 or less.
I don't see myself using it enough to get upset about this loss. But, any Chase Freedom® cardmember who has used this perk before is obviously not happy about it. That's the equivalent of losing 8,500 free points for every time you book a flight.
Final thoughts
Overall, these changes are disappointing. I know, it doesn't have an annual fee. But, the Chase Freedom® changes still diminish the value of the card — they make me want to use the card less.
At least with the Chase Sapphire Preferred®card, there were positive changes that came alongside the negative changes. What are we Chase Freedom® users getting in return for the changes? Nothing.
At the moment, there are no announcements that the Chase Freedom® is getting upgrades in other areas to make up for these loss of benefits. So, I'm really hoping that Chase will make up for the benefits cuts in the future.
Chase says that the Ultimate Rewards website relaunch with a new design will make it easy to access and manage our rewards. But, I'm really looking for more (or better) ways to earn those rewards.
Am I going to close this card? Probably not now. After all, my Chase Freedom® is one of my oldest credit cards so I'm hanging onto it to maintain my credit scores.
But, these changes are really going to have an effect on how everyone will look at the Discover it® card, a close competitor to Chase Freedom® because both cards have a very similar 5% cash back program after you sign up. If I didn't already have Chase Freedom®, an I was deciding between the two cards, I'd strongly consider the Discover it® card.
Here's a list of the major card benefits that Discover it® has that is not offered by Chase Freedom®:
No penalty APR
No first-time late payment fee
No foreign transaction fees
Free FICO® Credit Score online and on monthly statements
Don't let it stop there. Discover it® has a lower APR range (10.99% – 22.99%) compared to Chase Freedom® (13.99% to 22.99%). I'd also say that Discover's online shopping portal provides much more bonus cash back than Chase's Ultimate Rewards portal.
If you're considering between Chase Freedom® and Discover it®, go with Discover it®.
Ask a Question