Chase to Raise Monthly Fees In Certain States
Higher monthly fees are incoming for many Chase customers with basic checking and savings accounts. It's another round of fee hikes that are sure to anger customers who struggle to avoid those fees. Fortunately, the fee waiver requirements are not changing. I've got a couple of neat tips to help you waive these monthly fees easily.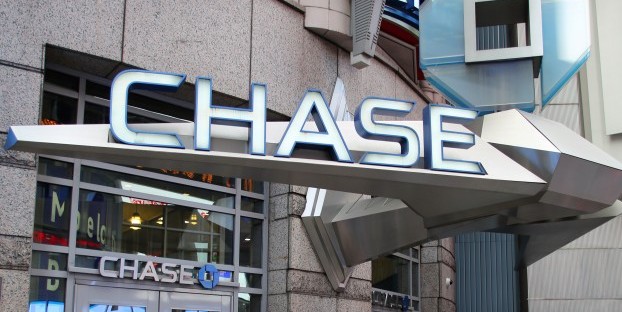 In an effort to charge the same fees throughout the country, Chase customers will experience higher monthly fees on certain accounts, according to the Chicago Tribune. Currently, the accounts have different fees depending on the state that the account was opened.
The two fee changes are:
– Chase Total Checking: The monthly fee will increase from $10 to $12 for customers in California, Oregon and Washington.
– Chase Savings: The monthly fee will increase from $4 to $5 for customers in Arizona, Colorado, Illinois, Indiana, Kentucky, Louisiana, Michigan, New Jersey, New York, Ohio, Oklahoma, Texas, Utah, Wisconsin and West Virginia.
These changes will take effect with statement periods starting after June 17, 2015. (Just so you know, these fee hikes are nothing like what happened in 2011, when checking fees went up in response to new regulations.) Remember, the fee waivers for these accounts remain unaffected.
Tips to help avoid monthly fees
Generally, I know that many Chase customers are able to meet the fee waiver requirements for these two accounts. Each of them offers a few ways to waive the monthly fees. Some of these requirements, however, are much easier to fulfill than the rest. There's one suggest method for each account:
– Chase Total Checking. One way to waive the $12 monthly fee is to post direct deposits that total at least $500.
Most people think that their paycheck is the only way to post a direct deposit to their accounts. However, many other types of income will be considered to be valid direct deposits as well — including government benefits, PayPal income, Amazon earnings and more. You just have to make sure that you post a combined $500 per month in these direct deposits.
These direct deposit sources are also helpful for things like cashing in on new account bonuses.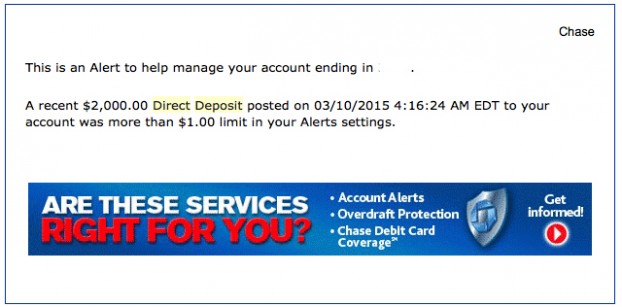 If you're not sure if a certain income source is considered a direct deposit, just set up a Chase account alert to notify you when you receive a direct deposit. If you get an alert, you know that it'll help you meet the fee-waiver requirement.
– Chase Savings. One way to waive the $5 monthly fee is to set up a $25 automatic transfer from your checking account to the savings account.
I feel that it's a very easy way to waive the monthly fee when you don't yet have the minimum $300 balance. Once you do build up the $300 balance (takes one year of monthly $25 transfers), you can halt those transfers.
My take on the fee changes
Nobody likes it when fees go up. However, despite these negative changes to millions of Chase accounts, I don't see them having an impact for a majority of Chase customers. More likely than not, you're already meeting the fee waiver requirements for these account, which means these fee hikes won't really affect you.
If you are paying the monthly fees for Chase Total Checking or Chase Savings on a regular basis, then this is the push you need to go looking for better alternatives.
As a big fan of online banking, I'd suggest turning to online checking and savings accounts because they don't tend to charge monthly fees and they will offer plenty of interest earnings on your money. (Check out this story that compares Chase Total Checking against some of the best online checking accounts.)
Ally Bank is the top choice, if you're thinking about a new bank, because it's checking account offers unlimited free access to any U.S. ATM while its savings account offers a very competitive APY.
A new online bank, MyCBB, also happens to offer a great all-in-one package in its free checking account with an incredible interest rate that beats most savings accounts.
Meanwhile, Chase has a B rating on MyBankTracker, due to great financial health and mobile banking technology, but it is known for high fees.
Is your Chase account going to experience any of these fee changes? Does it affect the way you bank and would you considering switching banks because of the higher fees? Share your thoughts in the comments below.
Ask a Question