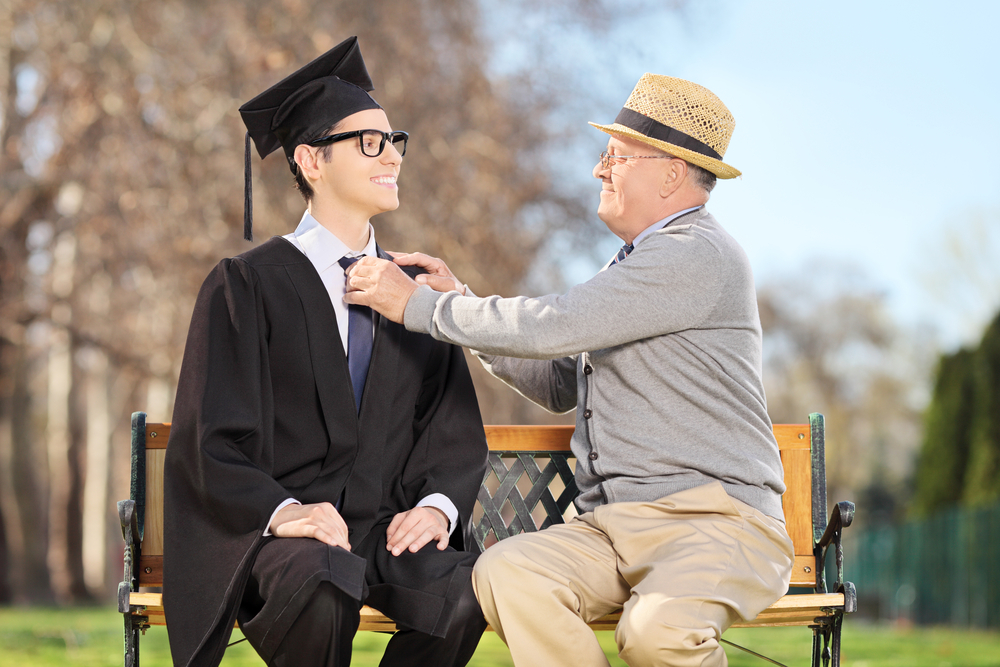 Before the high school class of 2014 heads off to college, parents need to think about getting their kids prepared financially. One essential financial account is a checking account, which will become the financial hub for almost every college student. Compare the average monthly fee for student checking accounts at the 10 largest banks in America and the requirements you need to fulfill to have them waived.
Not surprisingly, parents are likely to turn to the nation's largest banks in the search for student checking accounts for their college-bound children. With vast branch and ATM networks, big banks are able to provide convenience to this young demographic.
At the 10 largest U.S. banks, the average monthly fee for a student checking account is $3.20. But, seven of these banks will waive monthly fees for eligible students — making it extremely easy for students to get a free checking account with a big bank.
In addition to friendlier fee policies, some banks offer perks to students. Citibank and U.S. Bank will waive some or all the fees when college students use an out-of-network ATM (the ATM owner may charge its own fee). Capital One's 360 Checking account offers free ATM access at any Allpoint ATM.
| Bank/Account | Monthly Fee | Fee Waiver | Date of Expiration | Transition Account |
| --- | --- | --- | --- | --- |
| Chase: College Checking | $6 | Enrolled in college, or have a monthly direct deposit, or a $5,000 avg. daily balance | 5 years after account opening | Total Checking |
| Bank of America: MyAccess Checking | $12 | Enrolled in college and under 23, or a monthly direct deposit of $250, or $1,500 avg. daily balance | 23rd birthday | -- |
| Wells Fargo: College Checking | $3 | Open a Way2Save account, plus $25 direct deposit or $500 min. daily balance | 5 years after account opening | Value Checking |
| Citibank: Student Account | $0 | -- | Graduation | *Choice of account |
| U.S. Bank: Student Checking | $0 | -- | Graduation | *Choice of account |
| Capital One: 360 Checking | $0 | -- | -- | -- |
| PNC Bank: Virtual Wallet | $7 | Enrolled in college, or $500 direct deposit, or $500 avg. daily balance, or avoid using a PNC branch | 6 years after account opening | -- |
| TD Bank: Student Checking | $0 | -- | 24th birthday or 5 years after account opening (whichever is first) | Convenience Checking |
| SunTrust: Student Checking | $4 | $100 direct deposit, $300 collected balance, or link to parent's PNC checking account | Graduation or 5 years after account opening (whichever is first) | Everyday Checking |
| BB&T: Student Banking | $0 | -- | 60 days after graduation or 24th birthday (whichever is last) | Bright Banking |
What happens after graduation
When students graduate and are no longer considered "students," they may have to worry about what happens to their accounts. Fortunately, most of the big banks have generous transition policies that allow recent graduates to maintain a free checking account for longer than the traditional four years that it takes to get a college degree.
The extra time allows graduates to secure a stable source of income that would help them meet fee waiver requirements of regular checking accounts, which typically include direct deposit or minimum balances.
Other options
Other places for low-cost student checking options include community banks, local credit unions, online banks and even some brokerage firms.
One concern for students that use community banks and credit unions is branch and ATM access. Since smaller financial institutions have fewer locations, there may not be enough convenience for financial lifestyles of college students. Regular use of out-of-network ATMs can be a major source of fees. Some small financial institutions will partner with other institutions or ATM networks to expand access for customers.
Online banks and brokerage firms offer checking accounts that tend to be free, regardless of whether or not a customer is a college student. Additionally, they usually have plenty of perks. For example, Ally Bank's online checking account offers unlimited ATM fee rebates — a handy benefit whenever a student needs cash.
Picking the right student checking account
Two major factors go into the decision of picking a student checking account: access to cash and convenience of parental deposits.
Ideally, there should be a branch or ATM on or close to campus, where students can access cash at a moment's notice.
Furthermore, it should be easy for parents to deposit money into a student's checking account. A branch or ATM near home would enable parents to add funds to their children's accounts. Or, parents can transfer funds electronically to their kids' accounts. Some banks, like Chase, may require parents to become an authorized user on a student's checking account to deposit funds.
After students know which college they'll be attending, they should look up the bank locations near campus and see what options they have. Then, select the bank that fits that above criteria.