Will Payment Terminal Poynt Help Calm the Battle of Mobile Wallets?
We've all heard about the big battle between Apple and Walmart over how you'll pay with your smartphone. The drama of Apple Pay vs. CurrentC is all very entertaining — today's version of Internet Explorer vs. Netscape, Betamax vs. VHS, LaserDisc vs. DVD.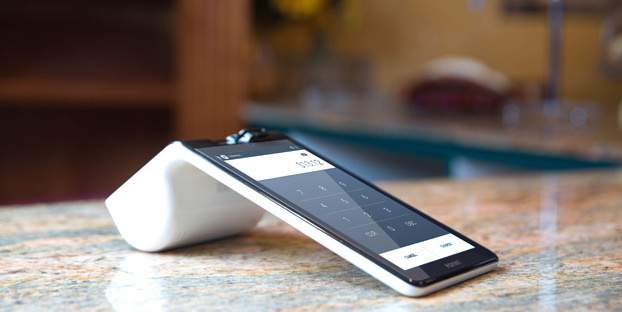 Just as those competitions played out — spoiler alert! — the decision on how you'll pay with your smartphone will be made by you and me, the consumer. In this battle of the mobile wallets, however, neither side is really playing to the consumer audience. Apple Pay is fronting for the banks and credit card companies, accepting a slice of each swipe transaction as a reward for keeping plastic in business. Walmart, with CurrentC, is trying to cut its expenses and control its customer data, not make things any easier or cheaper for the average shopper.
And, while this sniping and skirmishing is going on, Armageddon is looming for merchants all across the country. By October 2015, all magnetic stripe payment machines have to be replaced by machines that read chip and PIN-embedded cards. The new plastic is designed to be more secure, and if merchants don't adapt, they'll be liable for any card fraud. An estimated 16 million payment devices will have to be upgraded.
A Poynt of compromise?
Poised to deal with all these developments is a new technology called Poynt. Designed for traditional payment networks, Poynt could become the compromise solution for all wallets — mobile and traditional.
Poynt is entering a crowded field of more than 1,000 payment start ups and established companies that already provide payment terminals to merchants. It will appeal to the smallest retailers, those that run no more than a handful of stores and have little money to spend on new terminals or inclination to upgrade them.
To do so, Poynt designed an economical, multipurpose device in the Poynt Smart Terminal. Its engineering combines a merchant-facing touchscreen, a smaller, customer-facing touchscreen, printer, bar code scanner and wireless connectivity in one package.
The Smart Terminal works out-of-the-box with a retailer's existing setup. Merchants don't have to change cash boxes, replace printers or buy expensive new scanners. The terminal can integrate directly into existing systems allowing for a simple and seamless transition to the new, more powerful platform. The operating system is a version of Android. For now the device uses WiFi or 3G/4G connectivity. A dock with an ethernet port is to follow.
Best of all, the Poynt Smart Terminal speaks all payment languages. Be it traditional credit cards; chip and PIN cards — known as EMV; Apple Pay and Google Wallet — called NFC; Walmart's CurrentC — using QR code; or Bluetooth Beacon systems: one device reads all. And, long-standing relationships between banks and merchants are maintained by links to traditional payment processing services like First Data and Chase Paymentech.
Poynt plans to build a development community of financial and retail apps that can invent lots of customization on its terminal but still meet the strict security guidelines required by the banking industry. Five other developers have agreed to customize their apps for Poynt. They hope to attract a diverse set of apps ranging from online marketing tools and inventory trackers to the new breed of loyalty programs. The Poynt terminal has a point-of-sale application, but the company will offer other third-party POS apps.
App distribution is where Poynt plans to make its money, taking a percentage of software subscription fees to merchants. It won't take a percentage of the transaction, and it plans to sell its terminal at cost — $299 — and promises to ship the devices early in the New Year. With it, merchants will be ready to accept innovation without spending money on additional hardware, regardless of how consumers make payments in the future.
If Poynt contributes to the resolution of the Apple vs. Walmart competition, it may be as a compromise under which both payment methods can develop and co-exist.
Apple Pay, CurrentC and the consumer
From a consumer's point of view, Apple Pay's technology is superior to CurrentC's use of dated QR codes. Apple Pay is more secure and works even with your smartphone asleep and unlocked. It works with most credit cards and it doesn't share data with merchants.
But CurrentC's wallet app is more likely to save you money. It's a product of Merchant Customer Exchange (MCX), a joint venture of Walmart, Target, and Best Buy. If CurrentC follows the precedent of Target's REDcard, consumers will be offered 5 percent off all purchases as a reward for using a cheaper payment processor and giving the retailers information on what you buy.
CurrentC draws funds directly from users' bank accounts. This means retailers can avoid paying swipe fees (which usually cost 2-3 percent of the transaction amount) to credit card companies. Considering that Americans spent more than $2 trillion using credit cards last year (and nearly $2 trillion more with debit cards), a lot of money is at stake.
A mobile wallet will need wide acceptance and usage to take over. Since MCX includes several high-volume retailers with combined annual sales of more than $1 trillion, CurrentC will have a large captive audience. If more top retailers accept CurrentC — but not Apple Pay or other mobile wallets — the MCX platform has a better chance of succeeding.
In the meantime, Poynt's answer to the question of how you'll pay with your smartphone is unique: choose any evolution of the mobile wallet the future may offer, or, if you like, stick with your traditional wallet until you've decided.
Ask a Question