Checking account bonuses are nothing out of the ordinary from Chase. But recently, the bank started promoting a very enticing bonus offer: a $300 cash bonus when you open a Chase Total Checking account. (Normally, the bonus is around $150.) Thinking about signing up? I show you what you need to know first, and how to maximize the offer and other lucrative bank offers you may come across in the near future.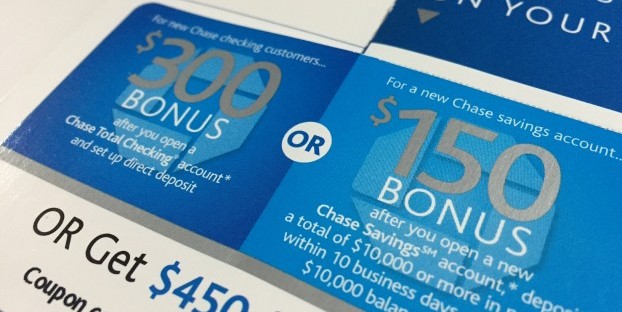 What's the deal?
Chase is giving $300 to new customers that sign up for a Chase Total Checking account and meet just two requirements — a small $25 opening deposit and post a direct deposit transaction on the account within 60 days of account opening.
Before you do anything, you must visit the promotional page to get a coupon code for the $300 bonus offer. Enter your email address and Chase will send a code, which you print out and bring with you to a Chase branch.
(UPDATE: This offer has expired and is no longer available – check the bottom of this story for the latest offers.)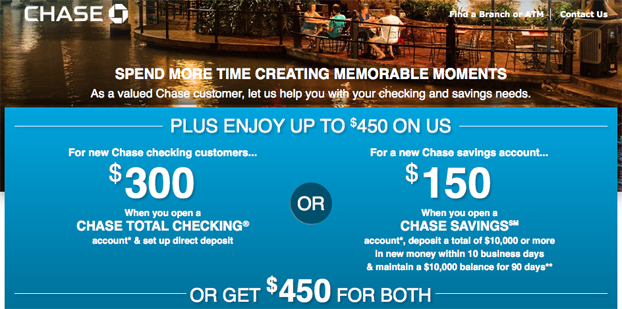 This offer expires on May 7, 2015. However, I wouldn't suggest that you wait too long to sign up because I've seen outrageous offers like these before, and Chase has a history of ending promotions early if they feel like it.
More ways to get direct deposits
For the two requirements, the $25 deposit is pretty straightforward. But, the direct deposit may be an issue for some people, especially if you don't want to reroute your direct deposit away from an existing checking account.
Luckily, there are other forms of income that are still considered valid direct deposits. For example, government benefits, earnings from selling on eBay and Amazon and other side income also qualify as direct deposits when deposited electronically to your Chase account.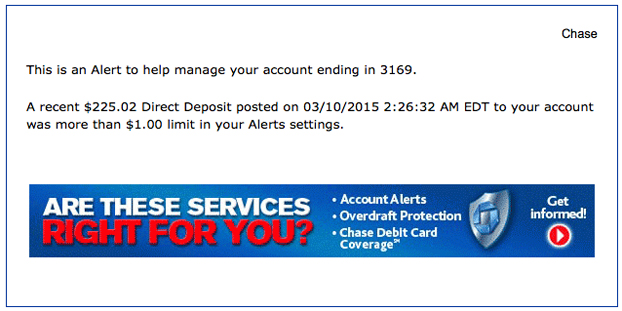 To ensure that a direct deposit was posted to your account, set up account alerts to notify you that your direct deposit has arrived. The $300 bonus should post within 10 business days of completing these requirements.
When you set up a direct deposit, Chase will waive the $12 monthly fee on the Chase Total Checking account. You just have to have a total of $500 in monthly direct deposits. In order to meet the requirements for the $300 bonus, however, any direct deposit amount will work.
Is it worth your time?
I've seen many people scoff at the idea of signing up for a bank account just for the bonus. But, $300 is not an amount to be taken lightly.
For this bonus, I estimate you will need approximately around two hours total to open the account and redirect your direct deposits — not too shabby for an extra $300 in your pocket. (For this particular deal, you'll have to visit a branch, which will take time.) Or think about it this way: you need $30,000 in a savings account paying 1.00 percent APY for a year to earn the equivalent of $300.
Did you know? Bonuses that you receive from opening a new bank account are subject to taxes. They are taxed the same way as interest earnings are taxed, so you'll receive a Form 1099-INT at the end of the year for the $300 bonus. While it will decrease your effective bonus, it is still a very attractive offer.
I wished that this new account bonus was available when I decided to open my Chase checking account, because I definitely think it's worth it.
Have you signed up for any Chase bonuses? What was your experience like? Tell us about it in the comments below!