Is TD Bank Closing on More Holidays Than Usual?
Has "America's Most Convenient Bank" become less convenient? TD Bank has long abided by their tagline by having the most consumer-friendly branch schedule. But, in the past year, the bank has opted to close on many U.S. holidays. In previous years, it was open on these days. Why is that changing?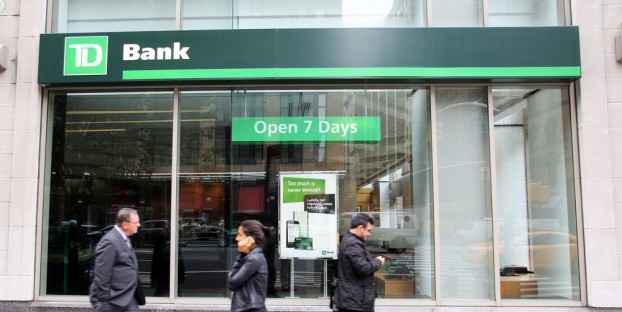 MyBankTracker makes a note of reminding our readers of holiday bank hours when a holiday is just around the corner. We've applauded TD Bank for being among the most customer-friendly when it comes to the holidays — they tend to be open when most other banks are closed. But, we noticed that TD Bank broke that trend by being closed more often than usual in 2014.
This year, TD Bank is open on just four U.S. holidays, compared to being open on seven U.S. holidays in 2013. The holiday schedule changed for Memorial Day, Independence Day and Labor Day, when branches were open previously, but for limited hours.
Just look at the below table to compare TD Bank's holiday schedules for 2013 and 2014:
| Holiday | 2013 | 2014 |
| --- | --- | --- |
| New Year's Day | Closed | Closed |
| Martin Luther King Jr. Day | Open | Open |
| Presidents Day | Open | Open |
| Easter Sunday* | Open | Closed |
| Memorial Day | Open | Closed |
| Independence Day | Open | Closed |
| Labor Day | Open | Closed |
| Columbus Day | Open | Open |
| Veterans Day | Open | Open |
| Thanksgiving Day | Closed | Closed |
| Christmas Day | Closed | Closed |
(*Easter Sunday is posted on the schedule because TD Bank is normally open on Sundays.)
Why is TD's holiday schedule changing?
TD customers who've become accustomed to the better-than-normal holiday schedule for their branches may be surprised when they find that the long-standing schedule has changed.
We contacted TD Bank to find out why they decided to close on more holidays this year than usual. However, the bank did not respond to a request for comment.
But, we can speculate about the reasons. The most likely explanation is that TD customers aren't actually visiting the branches on these holidays to justify keeping branches open. After all, remember that it costs money for TD Bank to operate these branches. If no one is coming in during the holidays while the branches are open, they're wasting money.
Most people are probably celebrating holidays and enjoying time off work as opposed to trekking to a bank to get things done. Meanwhile, online and mobile banking remains the preferred choice for U.S. consumers to manage their bank accounts. According a 2014 survey by the American Bankers Association, 41 percent of consumers most often use online and mobile banking versus the 21 percent of consumers who use branches most often to interact with their accounts.
Still 'America's Most Convenient Bank'
Even though TD Bank has started to close on more holidays, it still has a great holiday schedule — better than most of the nation's banks. (Chase and Wells Fargo may actually have been following in the footsteps of TD Bank because we've seen them open during many holidays now as well.)
What TD customers can rest easy about is the extended hours that TD Bank continues to offer during a typical week. "It is only fair that if I keep my money in a bank 7 days a week I should be able to walk into my bank 7 days a week, not like the other banks that close at 4 p.m.," said Mikael S. in a 5-star TD Bank review here on MyBankTracker.
In addition to opening earlier and closing later than other banks, TD is open on Sundays, which is uncommon for most bank branches. These extended normal business hours are what make up the foundation for TD Bank's bold statement of calling itself "America's Most Convenient Bank."
See how TD Bank's branch hours compare to Bank of America® and Chase:
| Days of the week | TD Bank | Bank of America | Chase |
| --- | --- | --- | --- |
| Monday - Friday | 7:30 a.m. to 7 p.m. | 8 a.m. to 6 p.m. | 8:30 a.m. to 6 p.m. |
| Saturday | 7:30 a.m. to 4 p.m. | 10 a.m. to 2 p.m. | 9 a.m. to 3 p.m. |
| Sunday | 11 a.m. to 3 p.m. | Closed | Closed |
So, it is safe to say that TD Bank continues to stay true to its motto.
Ask a Question