Tips to Maximize Your Citi Dividend Cash Back In 2015
Citi Dividend is one of the more popular cash back credit cards that is going to offer a new set of cash back opportunities in the new year. With no annual fee, the card lets you earn 5% cash back on certain categories that change every quarter, while all other purchases earn 1% cash back.
Citi recently released the quarterly categories for 2015 and since I have Citi Dividend, I like to review the categories for the year with the goal of finding the months that would generate the most cash back for me (like 12% cash back at certain department stores!). If you have the Citi Dividend card as well, check out the 5% cash back categories and the tips to help you maximize your cash back earnings in 2015.
The takeaway here is: wait to get the most cash back with your Citi Dividend card on your top spending categories, and use your other credit cards to make the purchases that don't earn 5% cash back.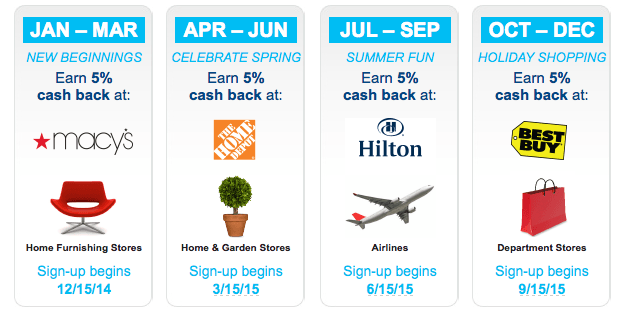 Enroll as soon as possible
One of the more tedious aspects of owning the Citi Dividend card is the enrollment requirement. Before you can start earning 5% cash back on certain purchases, you must enroll first.
As a cardmember of Citi Dividend for seven years, there have been several times when I enrolled late in the quarter several times already — missing out on plenty of cash back. That's why it is so crucial to enroll in the categories as early as possible. Even if you don't expect to make purchases in those 5% cash back categories, take a few seconds to sign up anyway. It can't hurt.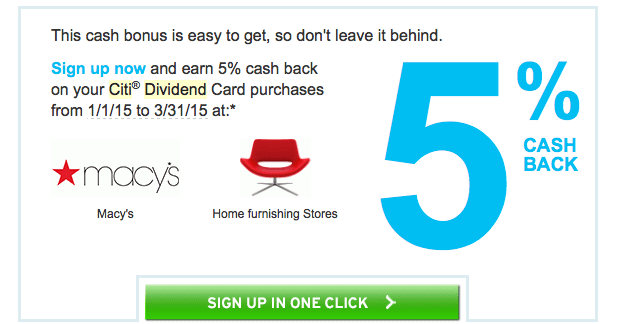 To me, the simplest way to enroll is through the one-click sign-up email that Citi sends me. It literally requires just a single click to sign up for the quarter's 5% cash back categories. You can also sign up by logging into your online account or by calling the phone number on the back of your card (1-800-950-5114). I'd suggest creating a reminder for the week before the end of each quarter so that you remember to sign up.
Save up your 5% cash back opportunities
The Citi Dividend has a very unique policy for its cash back limits. I can earn a maximum of $300 cash back per year — it doesn't matter if the cash back comes from 5% cash back categories or it comes from the general 1% cash back. If I were to use the Citi Dividend card only on 5% cash back categories, I would spend up to $6,000 to get the maximum annual cash back of $300.
What this means is that I can wait to maximize my cash back for the quarter in which I can generate the most cash back. For instance, I probably won't spend much on home furnishing and home improvement stores during the first two quarters. But, in Q3 of 2015, I could go a little crazy when I book airfare for summer travel. I might not spend $6,000 all on flights (although some of you might be able to do this), but don't forget about Q4, when I can earn 5% cash back at Best Buy and department stores — great for some holiday shopping.
Unlike Chase Freedom® or Discover it®, two other cards with quarterly rotating categories, Citi Dividend doesn't impose a quarterly spending limit on purchases that earn 5% cash back. Chase and Discover cap it on the first $1,500 spent on 5% cash back categories per quarter before it drops to the base 1% cash back.
Enhance cash back earnings with the Citi Bonus Cash Center
I know so many other Citi credit card customers that always forget to do this one thing when shopping online. It's using the Citi Bonus Cash Center, an online shopping portal that provides additional cash back at online stores that are partnered with Citi (almost the same as rebate sites such as FatWallet and Ebates).
When you visit the Citi Bonus Cash Center website, you'll find a long list of participating online stores along with the additional cash back that you can earn. All you have to do is log in to your Citi card account and click the link to a retailers website through Citi Bonus Cash Center. Afterwards, shop as you normally would and remember to use your Citi Dividend card at checkout.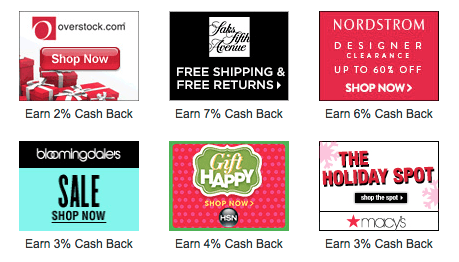 For instance, purchases at Saks.com when clicked through the Citi Bonus Cash Center will come with 7% additional cash back. If you're shopping at Saks.com (classified as a department store) during Q4 of 2015, you'll earn the 5% cash back from Citi Dividend plus the 7% additional cash back from Citi Bonus Cash Center for a total of 12% cash back.
Seeing how much extra savings you can get, you should make a note to always check Citi Bonus Cash Center before you shop online. In fact, it doesn't even matter if your Citi Dividend will give you the 5% cash back or the regular 1% cash back on the online purchase, you should visit Citi Bonus Cash Center for any additional cash back.
According to the terms of the Bonus Cash Center, there is no limit to the amount of additional bonus cash back you can earn through the Citi Bonus Cash Center. So, you don't have to worry about this additional cash back affecting your Citi Dividend's annual $300 cash back limit.
If you have an any other tips for boosting the amount of cash back earned through your Citi Dividend card, I'd like to hear them! Share them in the comments section below.
Ask a Question