Citi Price Rewind Review: Credit Card Benefit That Helps You Get Money Back
Credit cards offer many protection programs that are often overlooked by consumers. Recently, I took advantage of one of these programs called Citi Price Rewind, which is useful when a recently purchased item drops in price. Here is what happened. Also, if you have a Citi card, I will show you what you should do in order to get more money from Citi Price Rewind.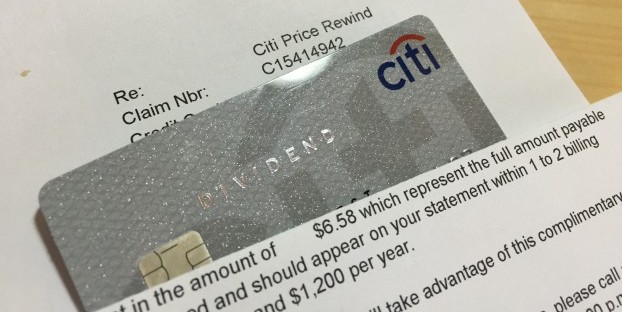 Launched in 2012, Citi Price Rewind was designed to be a better price protection program that is available to all Citi credit card customers. It looks online for price changes of the items that you recently purchased. If it finds a lower price, you can file a claim for a refund equal to the price difference.
In the two years it's been available I haven't paid it much notice, mostly because it was never on the top of my mind to use the program. During the past holiday shopping season, however, Citi marketed the Price Rewind program much more (especially on TV) — enough for me to realize that I should give it a try. I did use the program to get money back and it was surprisingly easy. Today, I share how the program works and what you can do to get the most money back from Citi Price Rewind.
How it works
Before I go into how Citi Price Rewind works, I just wanted to remind you that the program is available to all Citi credit card customers but you must use the Citi credit card to buy the item that you want to be tracked by Citi Price Rewind.
Log in to your Citi online account and find it under the "Card Benefits" tab (don't forget to check your free FICO score while you're at it). The easiest way, however, is to just visit CitiPriceRewind.com (used my regular Citi login credentials).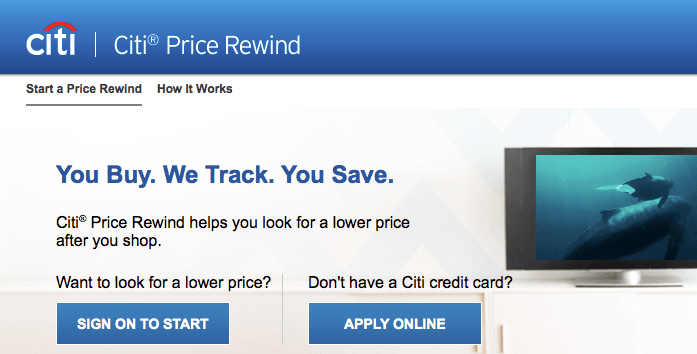 Once I'm logged in, I can start tracking the prices of your recent purchases. When I create each "Price Rewind," I am asked to look for the item to see if it is in the program's database. If so, I can just select that item and then I have to provide the date of the purchase, the price and where I bought the item.
In my case, it was just a couple of sweaters that were bought at Bloomingdales for $100 each.
The program tracked the price change of that item for 60 days. After that time period, it found a lower price of $93.42 for each of the sweaters at another online retailer. So, I was eligible for two Price Rewinds of $6.58 for a total of $13.16 — it's not much, but I'll take it.
Tip: Look out for different versions of an item. For example, if you are buying a shirt and there are regular-fit and slim-fit versions, make sure you are tracking the right one. It's very possible that one version of the item received a price drop while another version did not.
Any refund of under $25 is issued as a statement credit (essentially, your credit card balance is reduced). Refunds of $25 or more can be issued in the form of a check or statement credit. Claims for a refund must be made within 180 days after the purchase, which is actually 120 days from the time that Citi finds a lower price.
I chatted with a Citi representative and he said that larger Price Rewind refunds are more likely to require copies of the receipts.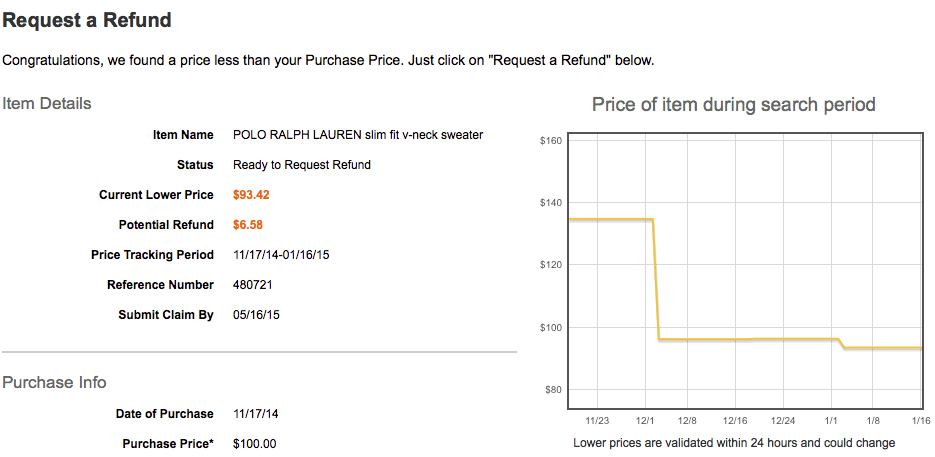 To claim the refund, Citi asks customers to keep their original receipt handy. But, in my case, I didn't have to provide a copy of the receipt for proof. With a few clicks of the mouse, Citi went ahead and processed my Price Rewinds. The two statement credits totaling $13.16 were posted in just 2 days. Remember, this was just for about two minutes of actual work.
Tip: Don't rely on the Citi Price Rewind findings. The Citi Price Rewind database doesn't include every retailer out there, so it might not always find the lowest prices. If you feel that it's worth your time, you can look on your own for a lower price on your item. This tip is most applicable during the times following major shopping seasons (like Christmas), when everything tends to go on sale.
Furthermore, if I can find a lower price on my own, I could submit a manual claim form (PDF).
For manual claims, you'll need a copy of the ad that shows the item at a lower price (within 60 days of the original purchase date) and a copy of the receipt for your purchase. You'll also have to fill out a claim form. All these documents must be mailed or faxed to Citi.
To me, it's a lot of work and worthwhile only for a big refund. Keep in mind, there's a long list of items that are not covered by Price Rewind.
Tip: Technology is on your side, so use it. Check out these shopping apps that help you find better prices. This might make it easier for you to find a lower price to submit for a Price Rewind.
What I think about the program
Given that the program is free and how easy it was to get refunds, Citi Price Rewind gave me a very good first impression. For the refunds where I don't have to send in any documents, I really like that the refund process was simple and hassle-free.
Other credit cards have price protection programs, from the Visa and MasterCard for instance, always require a manual claim form in order to get a refund. More often than not, it's tough to find a retailer advertisement that posts a lower price.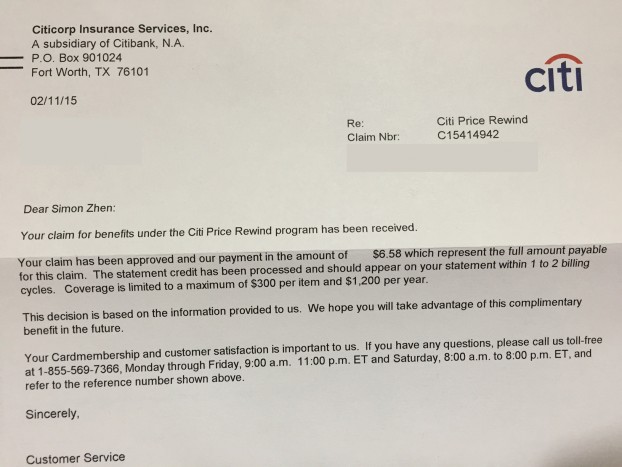 Citi Price Rewind is a better price protection program because it has a site that tracks the lower prices for you and it doesn't require claim forms for small dollar Price Rewinds. Since it is much more user-friendly, it would not surprise me if more people used Citi Price Rewind than other price protection programs.
From Jan. 2014 to Oct. 2014, Citi Price Rewind refunded more than $1 million to Citi credit card customers.
Does this mean that I'm more inclined to use my Citi credit card more often? Honestly, for purchases that could experience price drops (like many electronics), I would feel a little safer using my Citi credit card. This perk — and other price protection programs — could definitely be one of the factors that you consider when evaluating a credit card with an annual fee.
Currently, I have the Citi Dividend card, which offers the Citi Price Rewind benefit. If you were interested in a Citi card that has the benefits, I think the Citi® Double Cash Card would be a great option. The card has no annual fee and you can earn an effective 2% cash back on everything you buy.
Ask a Question