Visa's New Credit Card Security Feature Is a Must for Travelers
Visa recently unveiled a new credit card security feature, slated for an April launch, that's designed to help travelers protect their financial information. MyBankTracker breaks down how the feature works and what else you should do to safeguard your banking details when you're away from home.
Identity theft is one of the fastest-growing crimes in the U.S., impacting nearly 17 million Americans in 2012 according to the Bureau of Justice. Several high-profile incidents involving major retailers have put a spotlight on just how prevalent credit and debit card fraud are here at home, but travelers aren't immune from having their information stolen.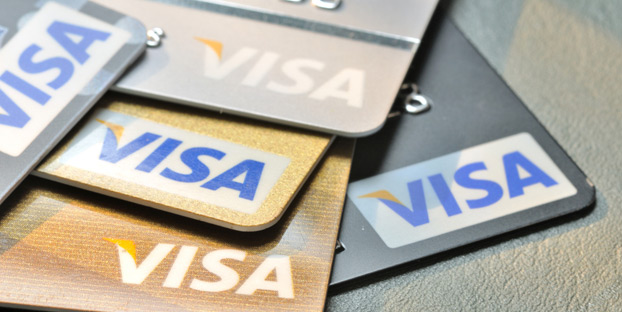 In an effort to cut down on credit card and debit fraud, Visa has partnered with your card issuer's mobile banking app to introduce a location-specific tracking feature. The Mobile Location Confirmation software allows your bank (or Visa issuer) to automatically verify a transaction made while you're outside your home area.
The new safety software mirrors what some other card issuers are doing to keep their customers' information safe. Also set to debut this spring is Safety Net from MasterCard, which would allow users to verify transactions using biometric identifiers like fingerprint or facial recognition. American Express and Discover currently offer a more limited range of security protections.
How to get Mobile Location Confirmation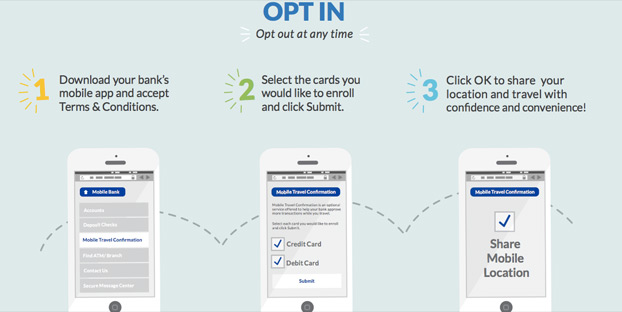 Beginning in April, banks that offer Visa debit or credit cards will be able to update their mobile banking apps with the mobile location software. To take advantage of the feature, you specifically have to opt-in to allow the program to view your mobile device's location information. Once you do, the software creates a 50-mile radius around your home area. Any transactions made in this area are considered low risk for fraud potential.
Also, keep in mind that this is not an actual app from Visa — it's a feature that will be available with your bank's mobile app, so whether it will be available for iPhones or Android depends on your bank.
If you travel outside of your designated range, the software automatically notifies Visa that you're on the move. The benefit to the customer is that the bank is less likely to flag transactions as potentially fraudulent if it knows where you are.
Potential disadvantages
The software is free to use but there are some potential pitfalls to keep in mind. It requires a cellular signal or WiFi connection to transmit information so if you're out of the country and your phone plan doesn't cover international service, your bank may not be able to track your activity.
The other issue is that if your phone and wallet were stolen, the bank wouldn't know someone else was using your card unless you were able to notify them.
Let your bank know you're traveling
If you prefer another card issuer to Visa, you won't be able to use the tracking software but you should still notify your bank that you're going to be out of town. You don't have to offer up a complete itinerary but you need to provide the dates of your trip and the locations where you plan to use the card.
Giving the bank a heads up can help you avoid problems when trying to use your card abroad. Some banks will automatically flag a transaction that doesn't fit your typical spending profile or decline your card altogether, which can be difficult to straighten out if you're in a foreign country. By letting the bank know where you're going, you reduce the odds of having an issue.
Tip: Be sure to verify that your bank has the correct contact information on file so they can easily get in touch via phone, text or email.
Choose a travel credit card with added security features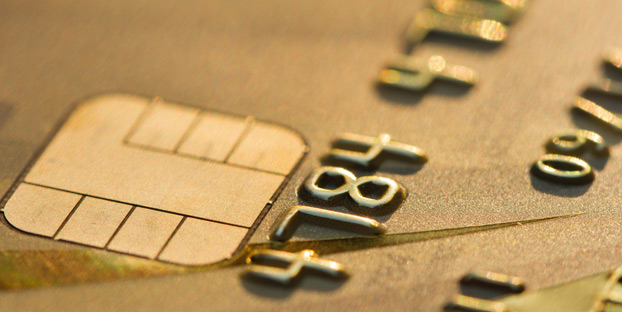 Using a travel rewards credit card to pay for your trip is an excellent way to earn points or cash back on your purchases but that's not the only factor to consider when you're comparing cards. You should also be looking at what type of fraud or identity theft protection each card issuer extends to its customers.
American Express, for example, has several security policies in place that are designed to keep your information safe. Pre-purchase verification may be requested for transactions that are outside your normal spending area and you'll also receive text alerts or push notifications through the American Express mobile app if any irregular account activity is reported.
Choosing a card with EMV chip technology is also a wise move. These cards embed your account information into a built-in microchip rather than the traditional magnetic strip. This prevents identity thieves from "skimming" or stealing your information using a card-reading device. Most major banks now offer smart chip credit cards, including American Express, Bank of America, Chase and Citi.
Tip: If you're not sure which one to choose, take a look at MyBankTracker's roundup of the best EMV cards for travel.
Monitor your accounts with Mint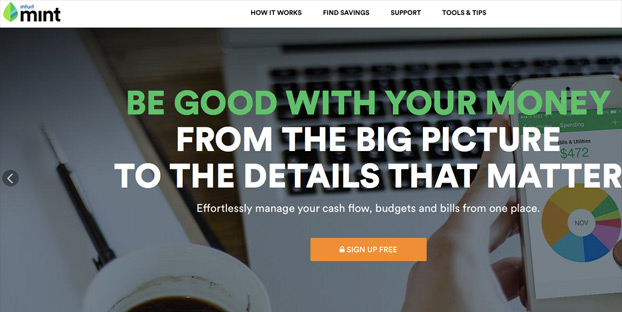 Keeping an eye on your accounts while you're traveling is a must and if you're using multiple cards, Mint is the answer. Designed as a budgeting app, Mint allows you to sync up all of your bank and credit accounts so you can view your activity using a single login. Mint is free to use and as long as you have an Internet connection, you can instantly see all of your transactions which makes spotting fraud much easier.
Only use your debit card to pull out cash
Using a credit card to cover all of your travel expenses is a wise choice if you're even slightly concerned about the possibility of fraud. Under federal law, your liability for unauthorized charges on a credit card tops out at $50. If you use a debit card, however, you may be on the hook for much more.
If you notify your bank that your debit card was stolen or lost right away, you won't be responsible for any subsequent fraudulent charges. Your liability goes up to $50 if you wait to report within two business days.
That number increases to $500 for notifications made between two and 60 days of having your card stolen. After that point, you'll be responsible for covering any unauthorized transactions. Be mindful of using your debit card. It might be a wise to only use it to pull out cash at the ATM.
Final thoughts
Whether you're going out of town for a few days or you're taking an extended vacation, making sure your finances are protected needs to be a top priority. The more proactive you are about keeping your information safe, the less you'll have to worry about your trip ending on a sour note.
Ask a Question