Banks make over $30 billion a year by charging overdraft fees and customers pay an average of just over $32 each time a transaction is returned. If you're tired of having frequent overdraft fees eat into your balance, it's time to look at some of the ways you can banish them permanently.

1. Separate your spending accounts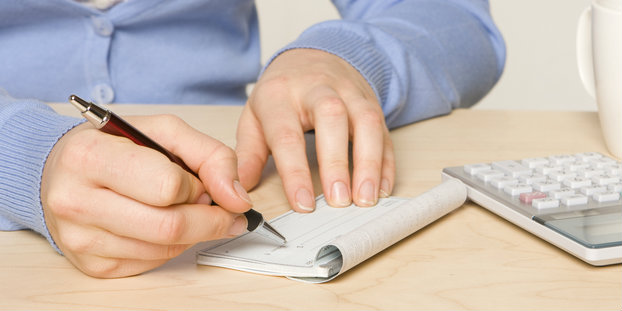 Having one bank account for your bills and everyday spending is convenient but it may increase the risk of ending up in overdraft if you're not keeping track of your transactions. It's particularly dangerous if you normally write checks to pay some of your bills. Spending money based on what your available balance is can lead to overdrafts if you have multiple check payments pending.
Parking your paycheck in a separate account and setting up automatic payments for your monthly bills ensures that all of your essentials are paid on time and as long as your deposits are enough to cover what's being drafted out, you won't need to worry about getting hit with an overdraft fee. You can link a separate account to use for discretionary spending and set up automatic transfers for each pay period.
When you don't need to visit a branch, an online bank is an excellent choice for establishing multiple checking accounts. Since their operating costs are usually lower than a traditional bank, they're less likely to charge overdraft fees to begin with. You could even earn a little money on your balance if you opt for an interest checking account.
Besides separate checking accounts, you can also set up an online savings account to begin building a buffer of cash. Interest rates for online accounts tend to be higher than what you'd find at a brick-and-mortar bank and you can easily link it to your checking for quick transfers.
Tip: Check out MyBankTracker's savings page to see which online banks are offering the best savings account rates.
2. Open an overdraft line of credit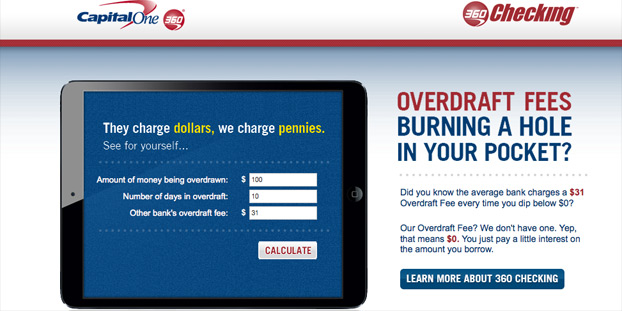 If you've had a bank account for any length of time, you've likely been offered the option to enroll in overdraft protection services. Typically, when you "opt in," you agree to let the bank transfer money from a linked savings account or credit card to your checking account to cover any transactions that would otherwise put you in the red. There is a fee for this service but it's usually less than the standard overdraft fee.
A safer option is to establish an overdraft line of credit. Any time you have a transaction that exceeds your account balance, the bank pays it from your line of credit. You'll pay interest on what you borrow against your credit line until you make a deposit that puts your account back in the positive. We've broken down how the rates and fees compare for overdraft lines of credit at the top banks below.
| Bank Name | APR | Fees |
| --- | --- | --- |
| Bank of America | N/A | N/A |
| BB&T | 18% | $0 for customer-initiated transfers, $12.50 for bank-initiated transfers |
| Capital One 360 | 11.25% | $0 |
| Chase | N/A | N/A |
| Citibank | 18.25% | $10 daily transfer fee |
| PNC Bank | Varies based on credit approval | $50 annually, waived for Performance Select Checking account holders |
| SunTrust | 13% to 16%, based on credit approval | $7 per month |
| TD Bank | 18% | $25 annual fee, $10 daily transfer fee |
| US Bank | 21.9% | $0 |
| Wells Fargo | Varies based on credit approval | $0 |
An overdraft line of credit is preferable to standard overdraft protection for a couple of reasons. First, you're paying interest based on what you borrow, not how many transactions you have. Most financial institutions, including all of the top 10 banks, charge multiple overdraft fees in one day so if you have three or four items returned, you could be looking at well over $100 in fees.
The other thing that makes an overdraft line of credit appealing is you have the ability to pay it off over time. If you run into trouble one month and max out your overdraft limit, you don't have to try and come up with the cash all at once. If you've got a Capital One 360 account, for example, the most you'd have to pay each month would be 3 percent of your balance.
Tip: You'll have to apply for an overdraft line with your bank and your credit and banking history are used to determine how high your limit is.
3. Opt for a checkless account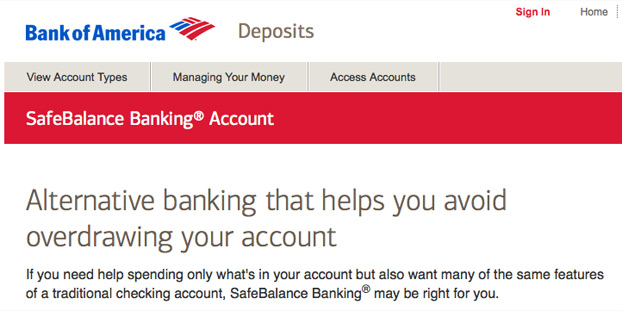 Checkless bank accounts are a relatively new phenomenon but they're catching on at big banks. Citibank recently rolled out its Access Checking account and the SafeBalance account from Bank of America debuted last spring. Both accounts are structured so that any transactions that would push your account into the negative are automatically declined, which means you won't have to worry about paying any additional overdraft fees.
Customers who sign up for either of these accounts pay a flat monthly service fee and forgo check-writing privileges.
A checkless account is a good choice if you don't normally write checks and you're not keen on the idea of paying the interest that goes along with having an overdraft line of credit. There are, however, some drawbacks to keep in mind.
The monthly fees, although not outrageously high, can be a nuisance if you're on a tight budget. While Citibank customers have several options for getting the $10 monthly fee waived, Bank of America customers are stuck paying a $4.95 charge each month. If you did need to write a check for something, you'd have to purchase a cashier's check or money order, both of which would mean paying an additional fee.
You can also run into problems with these accounts if you're counting on a bill payment to go through that ends up being declined. If you've scheduled a payment to your credit card, for example, it won't be sent if you don't have enough money in your account to cover it. Even though you're avoiding an overdraft fee, you're still looking at a late fee from the credit card company, not to mention a ding on your credit score.
Final thoughts
Overdraft is undoubtedly one of the most bothersome bank fees, but getting around it isn't that difficult if you have the right strategy for managing your money. Aside from making sure you've got enough money in your account to cover what you spend, you can head off those pesky fees by choosing banking products that come with built-in overdraft protection.