Winning Your Super Bowl Bet Means You'll Pay Taxes
As Super Bowl XLIX comes this Sunday, you may have made things more exciting by putting your money on the line by wagering a bet on who will win… or how long it will take Idina Menzel to sing the national anthem (a proposition bet, which is related to the event but does not affect the outcome of the game).
Historically, the Super Bowl is the U.S. sporting event that entails the most gambling. If your sports gambling takes a fortuitous turn and you win big, you'll have to cough up some of the earnings in the form of taxes, thanks to Uncle Sam.
According to the American Gaming Association (AGA), roughly $100 million is bet legally every year on recent Super Bowl events. It is nothing compared to the $3.8 billion worth of illegal bets on this year's Super Bowl, according to an estimate by the AGA.
However, we're focused on the legal bets that take place during the Super Bowl and what tax implications you'll face if you win. Under the U.S. tax laws, your income is taxable whether it is earned in the country, overseas or online.
The IRS expects you to report winnings
Currently, in the U.S., sports betting operations are allowed in Delaware, Montana, Nevada and Oregon and sports betting is legal only by residents in those states. Not surprisingly, most of the betting occurs in Las Vegas.
Despite the lack of legal sports betting entities in much of the U.S., Americans find ways to bet on the Super Bowl. It often means using offshore online betting sites and private betting pools. Private betting pools are considered illegal, while offshore online betting sites are not governed by U.S. betting laws (technically, they're legal).
Here are some examples of prop bets that are held by offshore sports betting sites for Sunday's game:
– Duration that the word "brave" is held by the singer of the national anthem
– Katy Perry's wardrobe at halftime (i.e., dress, skirt, pants, etc.)
– Color of the Gatorade poured over the winning coach
Did you know? The coin toss before the game has no correlation to which team wins the game, according to Matt Springer, a physicist who analyzed the coin tosses for the first 43 Super Bowls. So, don't place your bet based on the superstition that the team that wins the coin toss also wins the game.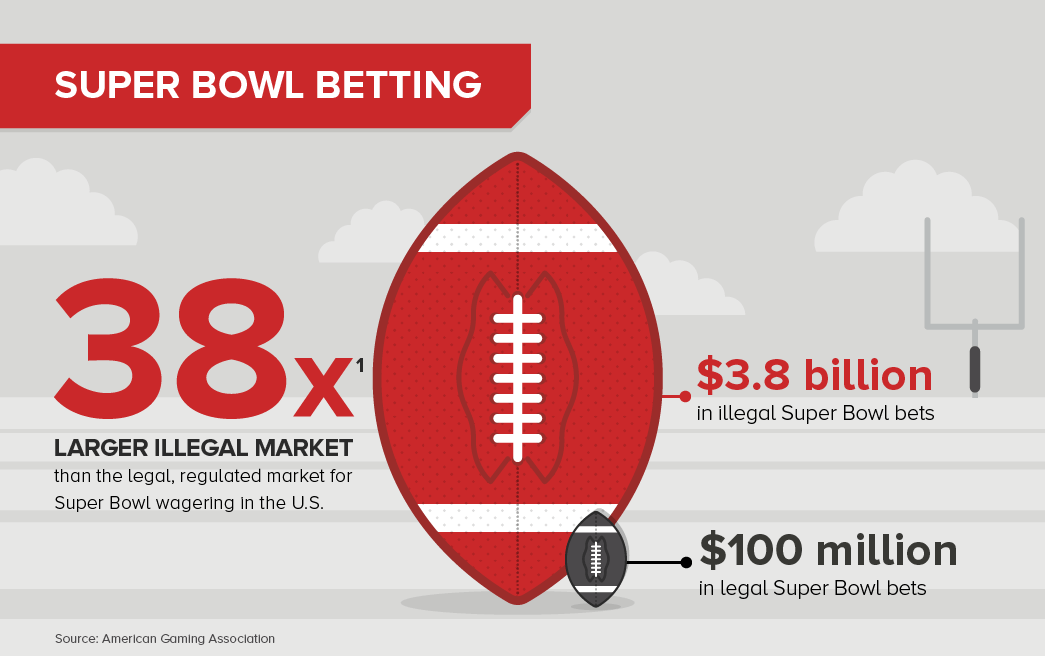 Typically, a legal gambling facility will report your winnings if you win 300 times your bet and the payout is $600 or more — your winnings may still be reported if it doesn't meet this criteria. Such information is sent to the IRS via Form W-2G and 25 percent of your winnings are withheld for taxes. The amount of taxes that you actually end up paying will vary based on your total income.
Even if you don't get a Form W-2G, you are still expected to report your winnings at the end of the year. For other types of gambling, such as poker, slot machines, bingo and others, the IRS still expects you to report your gambling winnings. The amount you win — before the gambling institution must report your winnings — varies based on the game. You can pay estimated taxes on your winnings now to avoid facing an extremely high tax bill when you file your 2016 tax return.
The IRS expects you to report winnings from all bets, including prop bets.
Like with any case of tax evasion, whether it is from gambling, offshore investments or sports betting, you may face fines and even imprisonment if the IRS finds out.
How to make your tax reporting easier
Taking on the role of a law-abiding tax-paying American isn't too hard if you're looking to profit from the Super Bowl, here are a couple tips to help you simplify your tax-reporting chores:
– Keep good records by logging how much you won or loss on each bet. It's best to document it and know where to find this information when tax-filing season comes. Or, just let your accountant know.
– Make estimated tax payments now. If you wait until the tax season to report the sport-betting winnings, you may be surprised by a tax bill that you cannot pay at once.
You can deduct losing bets on your taxes
When it comes to sports betting, you'll win some and you'll lose some. So, what can you do with your losses to minimize your tax burden?
The losses on your bets are deductible only to help reduce the taxes owed on the winning bets. You can report the losses as miscellaneous deductions on your tax return. The maximum deduction cannot exceed your winnings, in the event that you lost more than you won. For instance, if you won $5,000 from winning bets, but lost $6,000 in losing bets, you can only deduct $5,000.
Don't even fantasize about deducting the price of your Super Bowl ticket to negate your tax obligations for your winning bets. The ticket is deductible only if you conducted business operations during the event.
Did you know? The cheapest ticket price to Super Bowl XLIX on Friday Jan. 30 was $8,900 on the official NFL ticket exchange. If that money was invested, assuming an annual 8 percent return, it would double in 9 years. Tickets to the very first Super Bowl ranged from just $6 to $12.
While we wish you the best of luck on your bets, and don't forget to report them!
Ask a Question