BBVA Online Savings Account 2023 Review
Find out whether the interest rate, fees, and features of the BBVA Online Savings Account is able to compete with the top online savings accounts.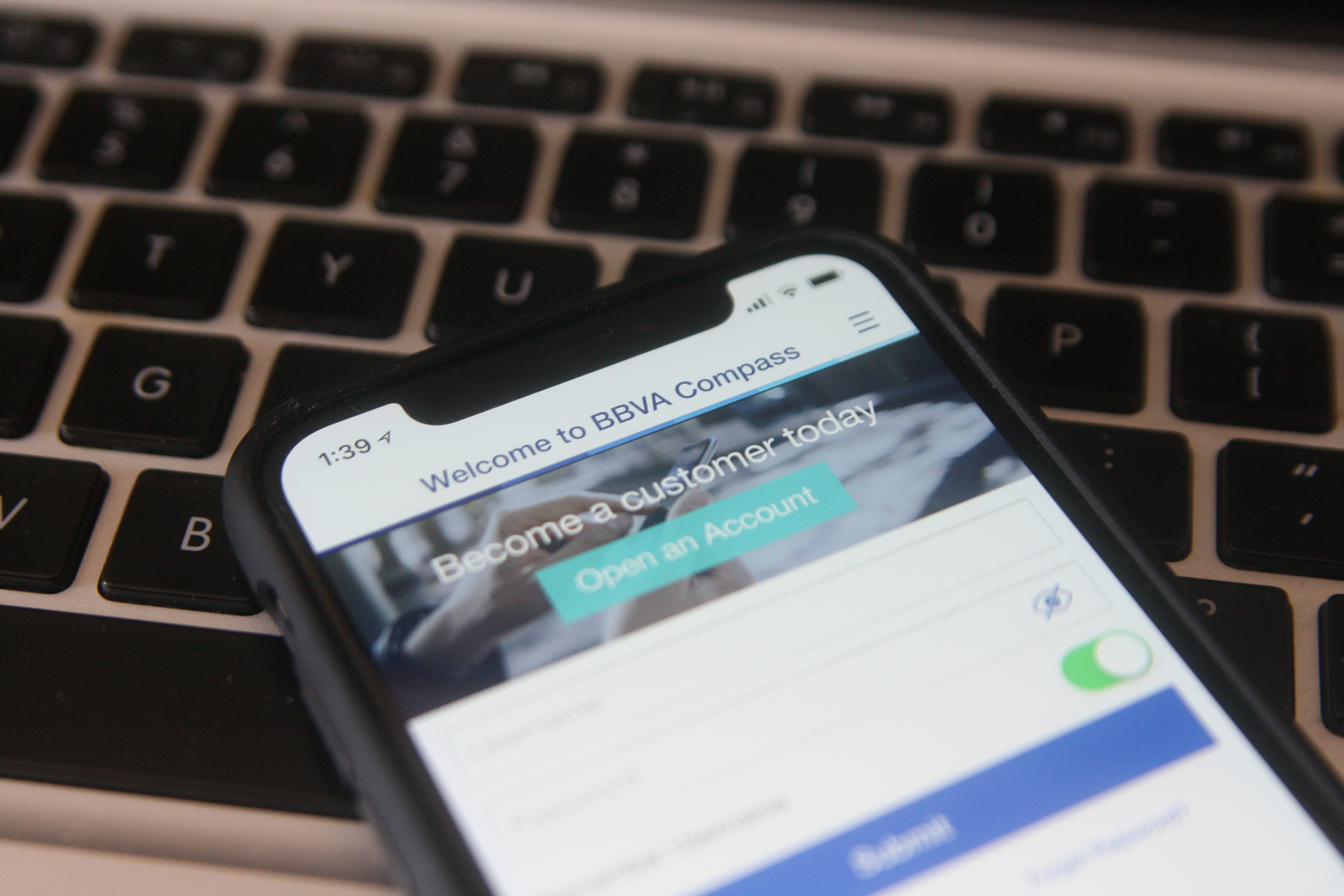 BBVA App
A savings account provides a simple and secure way to save money.
If you are like many people, you have financial goals and could benefit from opening a savings account. These goals might include buying a home, going on vacation, starting a business, or building an emergency fund.
A BBVA Online Savings can put you on the right path no matter your future financial plans.
Keeping your money in the bank provides peace of mind. You don't have to worry about your cash being lost or stolen.
For this reason, here's a deeper look at why you should consider this account for your funds.
In this BBVA Online Savings review, we'll compare rates, fees, and services to other national and online banks.
BBVA Compass ClearConnect Savings Account Pros & Cons
Pros
Cons

No monthly fee
Better interest rates than other big banks
Mobile apps available

Low interest rate compared to online banks
Low Interest Rate
BBVA Online Savings does not pay an impressive savings rate, especially compared to other so-called "online" savings accounts.
Look:
Open a savings account with a bank that offers a higher rate is one of the best ways to grow your account balance.
Unfortunately, many banks can't afford to offer its customers the most impressive rates due to high overhead costs. But this doesn't mean that you should give up in your search for better earnings.
Getting even a slightly higher rate than what other banks offer can increase the earning potential of your savings accounts.
Some people, however, have had better results opening a savings account with other online banks.
Low Opening Deposit Requirements
Some banks require a minimum opening deposit for new accounts. These minimums vary, however.
One bank might charge as high as $100, whereas another institution lets customers open new accounts with no minimum.
The account is somewhere in the middle, allowing customers to open an account with a minimum deposit of only $25. Of course, there's always freedom to start off with more cash in your account.
A low, affordable minimum creates an incentive to start saving, even with limited resources.
Some people never open a savings account. They either don't have a lot of money or feel that they cannot contribute to the account on a regular basis.
The good news is that $25 is within reach for most people. Even if you're only able to save a small percent of your income each month, something is better than nothing.
You have options with regard to funding your new account. Use a debit or credit card, for example. Transfer funds from an outside bank account. Or, transfer funds from an existing BBVA bank account.
Grow Your Savings with No Service Fee
It's also important to know the bank's service or maintenance fee when opening a savings account.
It is customary for banks to charge its customers a monthly fee. Typically, when their balances fall below a certain amount. These fees vary but can range from as low as $10 a month up to $25 a month.
BBVA is no stranger to maintenance fees. In fact, it charges quarterly maintenance or service fees on select accounts. Sometimes as much as $15 a month.
If you're looking to grow your savings account without no fees, the Online Savings account is the right choice for you.
There's no minimum balance requirement and no quarterly maintenance fees with this account. This is comparable to what may online-only banks offer their customers.
With no monthly or quarterly fees, you don't have to worry about these fees eating at your earned interest. The less you pay in fees, the quicker you can build your savings account and reach your financial goals.
Peace of Mind With Overdraft Protection
Everyone makes mistakes. And at some point, you may forget about a written check or a debit card transaction.
These forgotten transactions can result in overdrawing your account. This can also result in overdraft fees from your bank. Likewise, merchants can charge a return check fee.
Link your Online Savings account with a BBVA checking account. From here, take advantage of overdraft protection and avoid expensive overdraft fees.
This type of protection acts as an insurance for your checking account. It works when you don't have enough money in your account to cover a transaction.
Overdraft protection kicks in and transfers money from your savings account to your checking account.
Fees to Watch For
You shouldn't only be concerned with service or maintenance fees. BBVA charges other fees as well, which can also eat into your interest earnings.
BBVA Compass ClearConnect Savings Account Fees
| Type of Fee | Fee |
| --- | --- |
| Monthly Maintenance | $0 |
| Paper statement Fee | $3 (charged quarterly) |
| Excess Withdrawal | $3 after the 4th withdrawal per month |
| Stop Payment Fee | $32 |
| Returned Item Fee | $15 |
| Non-Sufficient Funds Fee | $38 |
Paper statement fee
This is a digital age, and most people prefer electronic statements sent to their email or inbox. This reduces the amount of mail coming into their homes, and it can reduce paper clutter.
But if you're old school and prefer paper statements, know that there's a $3 fee per paper statement which is charged quarterly (not monthly).
To avoid this fee, however, sign into your online banking account and choose the option to turn off paper statements.
You must have an email address on file to receive electronic statements.
Excess transaction fee
Keep in mind that this account also charges a $3 excess transaction fee.
Federal law limits the number of withdrawal transfers from your savings accounts. You're allowed 6 per statement cycle.
If you have more than this number of transfers each month, the bank can close your savings account.
Even though you're allowed 6 transfers per month, BBVA charges the excess transaction fee for every withdrawal over 4 per statement cycle.
This fee only applies to certain savings account transactions. These include pre-authorization transfers, telephone transfers, online/mobile banking transfers, and check card transfers.
This fee does not apply to transfers or withdrawals made in-person at a branch or at an ATM.
What to Look for When Shopping for a Savings Account?
The right savings account can help grow your money considerably.
So, take your time when searching for an account. It might take diligent comparison shopping to narrow down the best choices.
Here are a few things to keep in mind as you match up different accounts:
Nearest branch location
Sometimes, you may need to withdraw funds from an ATM or in-person to avoid transaction fees. So, it's important to open a savings account with a bank that has branches or in-network ATMs near your home.
Ideally, you want a savings account that allows no-fee access to your money.
If you open a online savings account with BBVA, you'll pay no fees at any of the bank's ATMs.
Technology
It's also beneficial to open a savings account with a financial institution that keeps up with the latest technology.
This includes offering many in-demand features such as mobile apps. This gives you the ability to track your account from anywhere 24 hours a day, seven days a week.
You can check your balance, deposit checks, set up automatic payments, and transfer funds.
Other banking products
In the future, you might have a need for other savings products. These can include a money market account, a certificate of deposit, or an individual retirement account.
Some people are interested in a long-term relationship with a single bank. If so, open a savings account with a company that has a generous selection of financial products.
This is what you get with a BBVA Online Savings account. You can start off with a basic savings account now. And then open up other types of deposit accounts as your income allows.
Final Verdict
Overall, the BBVA Online Savings account is not the best choice available.
Many online-only banks offer accounts with comparable features. These include no minimum balance requirement, no maintenance fees, and a low or no opening deposit requirement.
In addition to these features, online-only banks can usually offer their customers better rates.
These banks have fewer overhead costs and can afford to pass the savings to customers.