Beam Savings Account Review: Takes Effort to Earn the Maximum Interest Rate
Compare the Beam savings account to other high-yield savings options because it offers an attractive APY but customers have to work for it on a daily basis.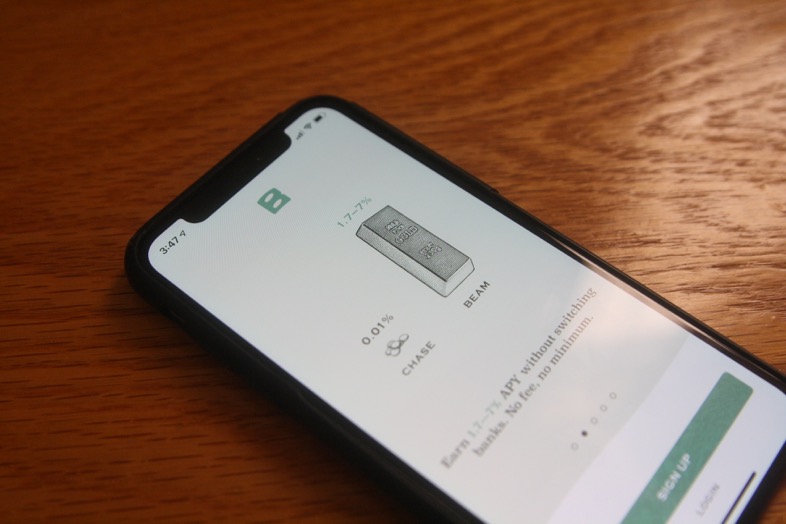 The Beam savings account is garnering plenty of interest from savvy savers because it offers the potential of an unbelievably high interest rate.
There's an opportunity to earn 200x more than what other savings accounts are paying out. In addition, it has other attractive account features such as no account fees at all.
Now, as a wise consumer, you must be asking:
What's the catch?
To earn the highest advertised interest rate, there is a bit of work involved.
Use this review of the Beam savings account to find out how to earn the highest interest rate possible and compare it to other high-yield savings accounts.
Beam Savings Account Pros & Cons
Pros
Cons

Potential to earn an very high interest rate
No fees
FDIC-insured up to $500,000

Work required to earn the maximum interest rate
No branch or ATM access
No web access (mobile app only)
Daily Interest Rate Boosts
Beam doesn't pay an insultingly-low interest rate.
It pays a guaranteed base APY that is more than what many banks currently offer.
Another feature that makes this account different is that customers have opportunities to boost their APY each day. 
"Billies"
Beam offers interest rate boosts, which the service calls a "Billie."
Basically, the more Billies you collect, the more interest you can earn for that day.
On the next day, your interest rate reverts back to the guaranteed base rate, with new opportunities to boost your interest.
Billies can be earned in the following ways:
Invite your friends, family, or coworkers to subscribe to Beam's mailing list.
Receive a free Billie each day for signing in and interacting with the Beam mobile app
For each person that actually joins the list, you'll earn five Billies. These Billies can be saved for later use. 
The more friends or family who subscribe, the more interest boosts you receive.
As a bonus, if a friend subscribes to the mailing list and actually becomes a Beam customer, you're able to unlock a permanently higher base rate APY. 
According to Beam's website (at the time of writing), the current maximum you can earn is 7% APY.
This is quite impressive considering that it's more than what many brick and mortar and online banks can offer.
You might also be happy to know that interest accrues daily and pays daily.
"Extra" FDIC Insurance
To be clear, Beam is not a bank.
So it's not an FDIC-insured financial institution. But don't think that your funds aren't safe. 
While Beam itself isn't a bank, your Beam account is an actual bank account, as the company partners with nearly 200 banks.
All of these banks are FDIC-insured.
At most banks, a customer gets the standard FDIC insurance, which covers $250,000 in deposits per depositor per account type.
With a Beam savings account, you get double the typical FDIC insurance because deposits are held with more than one partner bank.
Zero Account Fees
When it comes to savings accounts, getting around monthly fees can be tricky.
More and more banks are charging their customers a fee, which helps cover the cost of maintaining the account. 
But just because bank fees are common doesn't mean you have to like them. And if you're trying to get away from monthly fees, Beam should definitely be on your radar.  
Why? 
Because it's completely free to use. 
Typical monthly fees for a savings account can range from $5 to $25, depending on account features. These fees add up over time. And if your account earns a low APY, what you pay in fees can cancel out any earnings. 
No Minimum Account Balance
Minimum account balance requirements are also common with some checking and savings accounts.
This requirement, however, isn't imposed on a Beam savings account. 
You don't have to maintain a minimum balance to use Beam. Once you open an account, you can deposit up to $15,000 into your account. 
The first step is to subscribe to Beam's mailing list and download the link to get started.
You'll provide your personal details, link an existing bank account, and then fund your account.
The process from start to finish only takes a few minutes. 
Personal information you'll need to open an account includes your Social Security number and a photo of your drivers license or passport, which you can take using the Beam app.
Unlimited Transfers
The idea behind a savings account is to save your money.
This is why many savings accounts limit your number of outgoing transfers in a statement cycle to six.
If you exceed this number, the bank may charge an excess withdrawal fee. This fee, however, is a non-issue with a Beam account.
Just know that it typically takes between two and three business days to complete a transfer.
No ATM Access
One thing to keep in mind is that Beam doesn't come with an ATM card.
So you can't visit a local ATM to withdraw cash.
To access your money, you will need to transfer funds from your Beam account to an offline bank. 
No Web Access (Mobile App Only)
Beam offers the convenience of tracking your balance and monitoring your account activity 24/7.
Keep in mind:
Beam doesn't currently have a web version.
You can only monitor your account through a mobile device. The banking app is available for iOS and Android devices.
What to Look for When Researching Savings Accounts?
If you've considered the various features of the Beam savings account and are considering it, it would be smart to compare it with other savings options.
Be sure to review:
Fees
Interest rates
ATM access
Mobile banking features
Researching savings accounts might seem tedious and time-consuming.
But, the goal is to establish a long-term relationship with a financial service.
The only way to do so is by opening an account that meets your needs.
If not, you'll find yourself shopping for a new savings account sooner rather than later.
Final Verdict
So, is a Beam savings account right for you?
There's no denying that Beam pays an impressive interest rate with no fees to worry about.
The biggest concern:
It takes work -- on a daily basis -- to qualify for that lucrative savings rate. It may not be worth it. You might not be able to earn the maximum interest rate every day.
If you're willing to put in the effort, you might be able to squeeze out some extra interest earnings.
Otherwise, you're better off with a savings account that offers a competitive interest rate without the strings attached.
Compare Best Accounts Now
You might also like