EBSB Direct High Yield Savings Account 2023 Review
Learn more about the EBSB Direct High Yield Savings Account and compare its interest rates and fees to what you'd get with other top online savings accounts.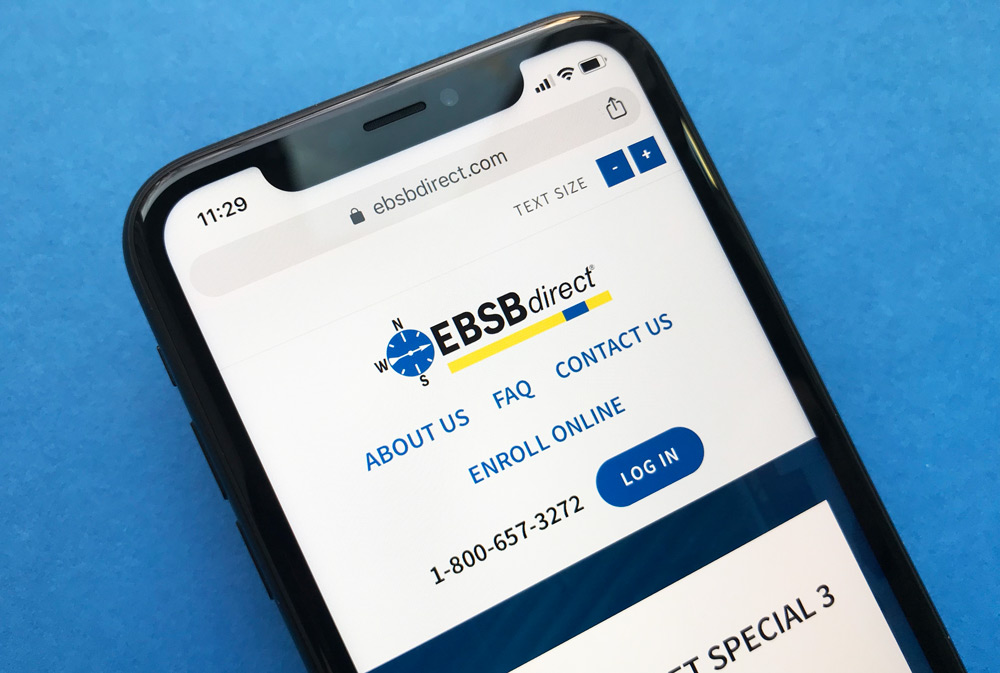 EBSB Direct Bank Website
A high yield savings account can help you earn more interest on the money you stash away.
But, which bank's saving account should you choose?
Answering that question isn't always simple. Traditional banks offer a variety of savings options and the convenience of branches.
An online bank, on the other hand, could yield a higher rate of return on savings with lower costs.
Some online banks are offshoots of brick-and-mortar banks.
EBSB Direct is the online division of East Boston Savings Bank. Based in Massachusetts, EBSB has 32 full-service locations and one loan center in the greater Boston metro area.
EBSB Direct offers a high-yield savings account to savers who live in Maine, New Hampshire, Vermont, Massachusetts, Connecticut, Rhode Island and New York.
At first glance, the EBSB Direct High Yield Savings Account looks similar to other savings accounts from online banks.
In this review, learn more about this account's details and what you should consider as you look for a new savings account.
EBSB Direct Savings Account Pros & Cons
APY Not as High for an Online Bank
One of the main reasons savers often turn to online banks are the rates they pay on savings.
Online banks have less overhead than traditional banks. That allows them to be a bit more generous with the APY they offer to savers.
At EBSB Direct, savers earn an APY that's much higher than the standard rate offered at brick-and-mortar banks.
To start earning interest on your savings, you'll need a balance of at least $5,000. Keep in mind, however, that it only takes $50 to open an account.
EBSB Direct can pay you more on savings than a traditional bank can. Interest accrues daily and is compounded monthly.
The question is, how does this account fare against other online banks? This is where the line between this bank and its competitors becomes a bit clearer.
There are many online banks that offer a higher APY on savings.
If you're focused on earning as much interest as possible, you may be interested in a different bank.
Looking at all of the EBSB Direct High Yield Savings Account's features can help you decide where you should be saving.
Monthly Fee Kicks In If Minimum Balance Not Met
Completely free banking is rare. At the very least, traditional banks often charge a monthly maintenance fee for savings accounts.
In some cases, you might be able to avoid this fee by meeting certain requirements. For example, maintaining a certain minimum daily balance.
Online banks are less likely to have these fees, though some do.
EBSB Direct is one of them. The bank charges a $3 monthly service fee for high yield savings accounts. You can avoid the fee with a $350 average minimum daily balance.
The fee isn't huge, compared to the $5 or $10 that some traditional banks charge. But it still adds up to $36 per year, which can work against your goal of growing your savings.
You'd have to keep a decent amount of cash in your account to earn enough interest just to cover the fee.
If you don't like the idea of handing over a chunk of your interest to fees, EBSB Direct may not be the ideal choice.
Excessive Savings Withdrawals Will Cost You
A savings account is designed for saving; checking accounts are designed for spending. An easy way to end up in trouble is to confuse the two.
Federal Regulation D allows you to initiate six withdrawal transactions from a savings account each month.
That includes cash withdrawals at an ATM, ACH transfers to an external bank account or electronic bill payments.
Once you hit that six withdrawal limit, the bank can charge an excess withdrawal fee for additional transactions.
At EBSB Direct, the fee is $15 per transaction in excess of six. This is similar to what traditional banks often charge. At some online banks, the fee is lower or nonexistent.
Paying the fee is bad enough but there's another potential consequence of using your savings account like a checking account.
If you make excess withdrawals too frequently, your account could be closed.
Other Savings Account Fees
The excess withdrawal fee is an important one to be aware of. It's not the only fee that EBSB Direct can charge, however.
You'll also pay additional fees for wire transfers and statement copies.
EBSB Direct Savings Account Fees
| Type | Fee |
| --- | --- |
| Monthly Maintenance Fee | $3 |
| Excess pre-authorized withdrawals, transfers or checks | $15 |
| Statements with check copies &/or deposit slips only | $5/Statement |
| Incoming wire transfer (domestic) | $15 |
| Outgoing wire transfer (domestic) | $40 |
| Stop Payment Fee | $32 |
Opening and Managing Your EBSB Direct High Yield Savings Account
Opening an EBSB Direct High Yield Savings Account isn't a big hassle. You can do it online and you just need:
Your Social Security number
Social Security number for a joint owner if you're opening a joint account
Driver's licence or state ID number
Home address
Name of the bank or financial institution you'll be using to make your initial deposit
Account number and routing number for that bank
Again, you can open your account with just $50 but you'll need to transfer an initial deposit of $5,000 or more to start earning interest right away.
You can link your EBSB Direct account with as many accounts at other financial institutions as you like.
That's an advantage compared to some online banks, which limit how many accounts you can link or impose a waiting period on adding new accounts.
You can't link your savings to a credit card account, or some types of investment and brokerage accounts.
Ways to Access Your Account
An ATM card can come in handy for grabbing cash from savings on the fly. Unfortunately, the EBSB Direct High Yield Savings Account doesn't come with an ATM card.
That's not exactly a deal-breaker but it's something to think about if you regularly use the ATM for withdrawals, transfers or other account management activities.'
Interestingly, you can use any East Boston Savings Bank branch if you ever need to transact on this account.
Managing Your Account Online and Through Mobile Banking
The EBSB Direct High Yield Savings Account is an online account so you can check your balance and initiate transfers through online banking. You can also send money to friends and family through People Pay.
EBSB Direct does have a mobile banking app as well. The app, which is available on Google Play and Apple Store, lets you manage all of your deposit accounts through your mobile device. You get:
Free mobile banking
Free mobile check deposit (available 30 days after account opening)
People Pay access
Free banking alerts
Easy ACH transfer initiation
If you need to talk to someone about your account but you're not close to a branch, you can all customer service for help. Representatives are available:
Monday - Wednesday 8:00 a.m. to 5:00 p.m. ET
Thursday & Friday 8:00 a.m. to 6:00 p.m. ET
Saturday 9:00 a.m. to 1:00 p.m. ET
Comparison Shopping for High Yield Savings Accounts
As you can see, EBSB Direct isn't your only option for online high yield savings.
The key is knowing what to consider as you compare accounts so you can find the one that's the right choice for your savings goals.
As you research and review different banks, here are some key questions to ask:
What's the APY? Is it tiered or do all balances earn the same rate?
Is there a monthly service charge? If so, how can I avoid it?
Is there a fee for excess withdrawals? If so, how many of these fees can I be charged each month?
Will I get an ATM card? If so, what ATM fees does the bank charge? Are foreign ATM fees reimbursed?
Asking these kinds of questions can give you a well-rounded idea of how likely an online savings account is to deliver what you need.
Final Verdict: Is EBSB Direct the Best Bank for Your Savings?
The EBSB Direct Savings Account is not able to keep up with some of the top online savings accounts out there.
The interest rate isn't the best, and it even requires a minimum balance to earn that rate.
Furthermore, there's a monthly fee, which is definitely not the standard for an online savings account.
The biggest advantage that this account has over other online savings accounts is that you can use a branch to perform transactions, but that is likely to not be a big deal for someone who is looking for an online savings account.
More likely than not, you'll never have to use a branch to interact with such an account.
There are online banks that can pay you much better interest on your savings, while giving you more in the way of lower fees or added account benefits.