Radius Bank Savings Account Review
Compare Radius Bank Savings Account rates, fees and services to other national and online banks. Learn if the Radius Bank High-Yield Savings Account is a great choice for someone looking for high-interest rates and low fees.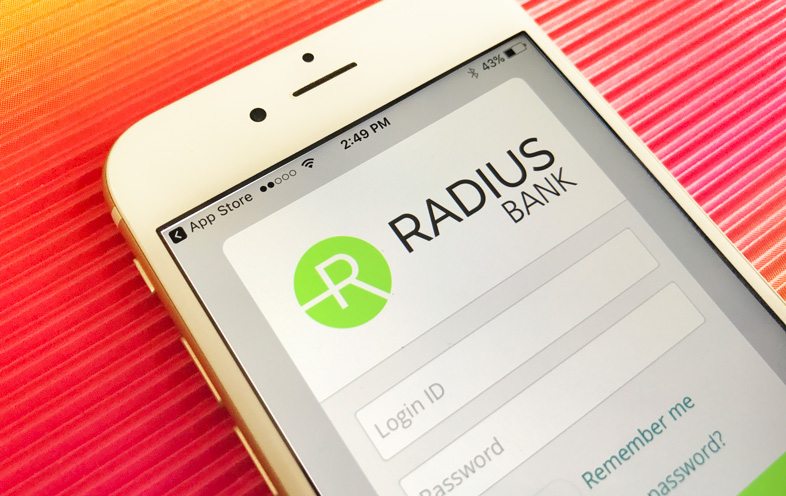 In this Radius Bank Savings Account review we'll compare rates, fees and services to other national and online banks.
Interest Rates Review
Savings accounts are intended to be a safe place to store your money while still earning some return. That makes the interest rate on a savings account one of its most important features.
Radius Bank Savings Account Pros & Cons
Pros
Cons

Market-leading interest rate
Optional ATM card
No ATM fees and unlimited ATM fee refunds
Mobile app available

No physical branches
Minimum balance required to earn APY
Online banks have lower costs because they don't have to pay for costly physical locations. That lets them stand out compared to other banks by advertising much higher rates.
Radius Bank offers interest rates that are similar to what's found at other online banks, but they're is far above the rates offered by banks that rely on physical locations.
If you're not convinced by the importance of a savings account's interest rate, consider this:
A typical savings account from a big bank will offer 0.01% APY. If you kept your money in Radius Bank's savings account, your money grows at least 100 times faster. Settling for the lower interest rate is like turning down free money.
Minimum Balances and Monthly Fees
It doesn't make sense that you have to pay fees in order to save money. Still, many banks charge monthly maintenance fees on their accounts to try to increase revenue.
Sometimes it is possible to avoid the fees by jumping through hoops, but even a small mistake can cost you more in fees than you'll earn in interest.
Radius Bank Savings Account Fees
| Type | Fee |
| --- | --- |
| Monthly Maintenance Fee | $0 |
| Stop Payment | $25.00 |
| Domestic Wire In | $10 |
| Domestic Wire Out | $20 |
| Returned Deposit Fee | $25 |
| Deposit Reversal | $8 |
The good news is that Radius Bank's high-yield savings account has no monthly fee, no matter what your balance is.
You only need to worry about keeping your balance above the $10 minimum, or Radius Bank may close your account.
Even if you do fall below the minimum balance, you'll never be charged a fee just for keeping the account open.
Other Fees Are Minimal
Radius Bank's high-yield savings account doesn't have a monthly fee, but there are other fees that you should be aware of.
The intent of a savings account is for it to serve as a safe place to store money. They're not intended to serve as accounts that you withdraw money from on a very regular basis.
For that reason, federal law restricts the number of withdrawals you can make from a savings account each statement. 
you make more than six withdrawals in a statement period, you may need to request authorization from Radius Bank for further withdrawals.
When making deposits, you should be aware that you'll incur $8 fee if the deposit is reversed.
Radius Bank also charges other fees that are common at most banks, such as wire transfer fees and stop payment fees.
However, it's very unlikely that you'll pay such fees on a regular basis -- you'll probably never pay these fees.
Easy Access to Your Account
Many people worry about opening an account at an online bank because they're concerned about how they'll access their money.
Radius Bank makes it easy to access your account to make changes or transfers, as well as to get access to your money.
Radius Bank high-yield savings accounts come with an ATM card that you can use to make withdrawals at ATMs around the country.
Radius Bank is part of the NYCE network of ATMs so you'll always be near an ATM that you can use. One nice feature that is not common among online banks is the ability to make a deposit at an ATM.
You can also download Radius Bank's full-service mobile app for iPhone or Android. You have full access to your account from the application. The app's features include:
Mobile check deposit
View your account balance and transactions
Transfer money between accounts
Send money to friends with Radius Pay a Friend
Pay your bills
Find an ATM
Custom alerts
Pay your Radius credit card or mortgage
Superior Customer Service
Another concern many people have about online banks is their customer service.
Radius Bank is a leader in customer service in the financial industry. The company follows a "sales through service" strategy for growing its business.
Put simply, the company believes that it will draw new customers by building a loyal base of happy customers.
Those happy customers will then spread the word of the Radius Bank's quality of service. You can feel confident that a company relying on its customers to generate new business will strive to keep each and every individual happy.
Radius Bank's customer service is easy to reach. You can chat with a representative online, call to speak to a person, send an e-mail or fax, or even send a physical letter.
The customer service phone line is open seven days a week. It's open on weekdays from 8:30 AM to 1 AM Eastern the next day.
On the weekend it is open from 8 AM to 8 PM. No matter your busy schedule, Radius Bank will have someone available to address your needs.
Access to a Variety of Banking Services
When online banks were first rising to prominence most offered only limited services. Some online banks offered only savings accounts or just savings and checking accounts.
Radius Bank breaks from that mold by offering a full set of banking services to its customers.
You can open a checking or savings account, or certificate of deposit (CD) at the bank. You can also get a credit card, mortgage, personal loan, or even a loan for a yacht from Radius.
Radius Bank also offers business banking services. If you own a small business or do freelance work, you can keep all your banking at one place.
If you're the kind of person who wants to build a relationship with one bank, Radius Bank offers all the services you'll need.
Compared to Other Online Savings Accounts
Radius Bank can be considered a newer online bank and it has to compete with a plenty of fierce competitors that also offer great savings accounts:
Ally Bank Online Savings Account
Ally Bank's online savings account is a strong competitor because it also offers great interest rate without any balance requirement -- the APY applies to all balances.
Ally Bank even lets customers create multiple savings accounts with nicknames for their savings goals.
Synchrony Bank High-Yield Savings
Synchrony Bank's high-yield savings account also provides a stellar interest rate without no monthly fees or minimum balance requirements. However, the account's biggest drawback is the lack of dedicated mobile banking apps.
Final Verdict: Good for All Savers
All told, Radius Bank's high-yield savings account is a great choice for many consumers. It is especially a good choice for someone who is looking to do all their banking at the same place.
Radius Bank is able to offer a high interest rate because it is an online bank. It also alleviates the difficulty of depositing money to your account by accepting deposits at ATMs.
The long hours for the customer service line are another way it tries to avoid one of the biggest downsides of online banks.
Still, there are some things that are easier to do in person, so people with complicated banking needs may be better suited by a different bank.
Compare Best Accounts Now
You might also like