Simple Protected-Goals Account Review: Savings With Purpose
Our review of the Simple Savings Account looks at the interest rates, fees, and goal-setting features to help savers reach their financial goals faster.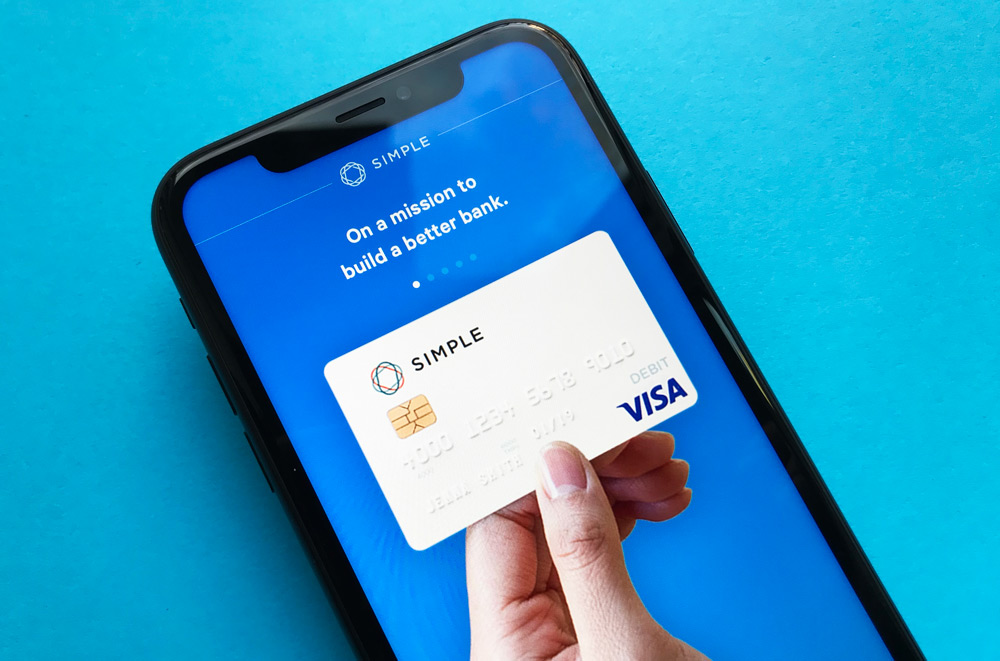 Simple Checking Account App
Developing a regular, consistent savings routine is key to hitting your biggest financial goals.
Whether you're saving a down payment for a house, building an emergency fund, or saving for educational expenses, the right account can get you where you need to be.
But managing money can be anything but easy. To make the process a little less complicated, you need an account that's simple and provides a good user experience. 
The 
Simple Account offers all of this and more. Key account features include: 
higher yields 
multiple saving options
no monthly fee 
ATM access 
convenient account features
Save More With a High-Yield Savings Account
It's no secret that if you want to grow your savings account, you need to open an account with a bank that pays a higher yield. 
Brick and mortar banks are a popular and common solution. The problem with these institutions, though, is that many can't afford to pay their customers a high rate. They have more overhead expenses compared to online savings accounts.
Simple is an online account. So the institution has less overhead costs. This results in savings not only for the bank, but also for its customers. The bank passes this savings to customers in the form of a higher rate.
The rate you'll receive with a Simple savings account isn't only higher than the rates offered by many brick and mortar banks. It's also higher than rates offered by many other online banks. And the best part, there's no tiered rate system.
So, whether you have $10 in your account or $10,000, you'll earn the same high-yield.
Grow Your Money Faster By Setting a Savings Goal
Another benefit of Simple savings is that it offers multiple ways to grow your money. 
1. Protected Goals Account
You can open a Protected Goals account, which is great if you're saving for something special. This can include a wedding, college, or maybe a dream vacation. 
Starting your goals account is simple. All you'll need to do is create or add a goal. Name the account (which serves as a visual reminder). And from here, determine how much to deposit into this account and the frequency of deposits—that's it. You're now on your way to saving more.
You can even create an emergency fund goal. Financial experts recommend having at least three to six months of income in an emergency fund. An emergency fund comes in handy for auto repairs, home repairs, a surprise trip, and even a job loss. But of course, saving money is easier said than done. 
One benefit of a Protected Goals savings is that there's no transfer limit. So while some banks limit monthly outgoing transfers to six per statement cycle, Simple doesn't impose any limitation or fees for exceeding this number.
2. Shared Savings Goals
But what if you and your partner have the same savings goals? Maybe you're building your family emergency fund, or you're both saving funds for a down payment on a house. 
Another option is to open a Shared Savings account. You'll contribute funds to the same account, allowing you to hit your end-goal sooner.
3. Round Up Savings
The Simple savings account also offers a way to automate your savings. This is an effortless way to save something every single day. 
Turn on Round-Up Rules and use your Simple VISA debit card. The bank rounds up your purchases to the nearest dollar, and then deposits the change into your Protected Goals account. 
These automatic round ups can add up quickly, helping you hit your savings goals sooner.
Get Started With No Minimum Deposit
Every bank has its own guidelines for opening a savings account. And you'll find that some financial institutions require a minimum opening deposit. 
Now, these deposits aren't usually expensive. Some banks require a minimum of $5, $10, $25, or another amount.
But, while these minimums might be within your budget, you might prefer a savings account that doesn't impose a minimum deposit. If so, you've come to the right place. 
When you open the account, you can get started with as little as one dollar.
Of course, the more you deposit into the account—and the more you contribute—the more you'll earn in interest.
Save Money With No Monthly Fee
Some brick and mortar banks routinely charge customers a monthly maintenance or service fee. This fee usually covers the cost of maintaining the account. 
But while fees are necessary in some circumstances, giving a bank your cash can be annoying. So you might seek a cheaper way to save.
Another great feature of a Simple savings account is that you'll pay no monthly maintenance or service fee. You're able to keep all the money you earn in interest each month. It's a win-win. 
You can earn money from your deposits without worrying about bank fees chipping at your earnings.
Widespread ATM Access
Some people are understandably leery of online savings accounts because they fear limited ATM access. 
To take advantage of a Simple savings account, you must first have a Simple online checking account. This checking account comes with a Simple Visa debit card.
You can use this card for purchases, and to withdraw cash from a network of 40,000 ATMs. Simple does not charge a fee when using an in-network ATM. Nor does it charge a fee when using an out-of-network ATM. 
When using an out-of-network ATM, the owner of the ATM might charge a fee, though.
Finding a fee-free ATM is simple. Download the Simple app and then use the "find an ATM" feature.
Easy, Convenient Banking Tools
When opening any bank account, being able to take advantage of online and other banking tools can make for a better user experience. 
The good news:
Simple offers several ways to help you better manage your cash.
Not only does the app include a wealth of banking features, there's also a budgeting tool for bills.
This is great for keeping track of what's coming in and out of your account. The Safe to Spend checking feature keeps an eye on cash flow. This way, you know what's earmarked for bills. 
It also helps you gauge the amount available for miscellaneous expenses.
The ability to budget and manage money from the palm of your hand is an excellent way to improve your overall financial picture.
Simple doesn't have any physical branches. Even so, it offers several easy, convenient ways to deposit money into your savings account. For example, you can take advantage of mobile check deposit. Or, have your paycheck direct deposited into your Simple account. 
Another option is to schedule electronic transfers from another bank account to your Simple account.
Using the app, you can also monitor your balance and withdrawals at any time. You'll even receive notifications and spending updates in real time.
Other Fees to Know About
Online bank accounts are excellent because they have limited fees.
This takes the hassle out of saving money, since the bank doesn't nickel and dime you. 
Along with no monthly fee and no ATM fees, there's also no overdraft fee with your Simple checking account. 
If you use your Simple Visa debit in another country, though, you will pay a 1 percent foreign transaction fee. This is a fee banks charge to convert the cost of purchases made in a foreign currency.
Compared to Other Online Savings Accounts
Although Simple offers a great savings tool, it's always important to know other options available to you. 
This involves researching different banks and accounts, and then choosing one that can help you meet your goals sooner. 
There's plenty to consider when selecting a savings account.
First and foremost, how much interest does the account earn? The more interest you receive, the faster your account will grow. You also need to look at monthly service fees.
Does the bank charge any? And if so, will they waive the fee under certain conditions?
Also, consider how easy it is to access money deposited into the account. Many online banks don't have physical branches. So features like direct deposit and mobile check deposit are must-haves. 
It's also wise to choose an online bank with a large network of free ATMs.
Final Verdict
If you prefer a physical branch and working with a local bank, the
Simple Account might not be the right choice for you. 
On the other hand, if you're okay and comfortable managing an online-only account—and you're looking for a simpler, faster way to grow your money—Simple can boost your savings efforts. 
With the ability to set goals, earn more interest, and pay no fees, building a down payment fund, an emergency fund, or saving up for something else has never been easier.
Compare Best Accounts Now
You might also like