Most loyal American Express users have experienced the frustration of seeing these seven words at checkout: "Sorry, we do not accept American Express." It's upsetting when you want to pay for something but you can't. American Express has an annual purchase volume in the hundreds of billions, so, why don't more small business owners accept this card?
We spoke with an analyst at American Express to find out why some merchants simply choose not to accept American Express credit cards.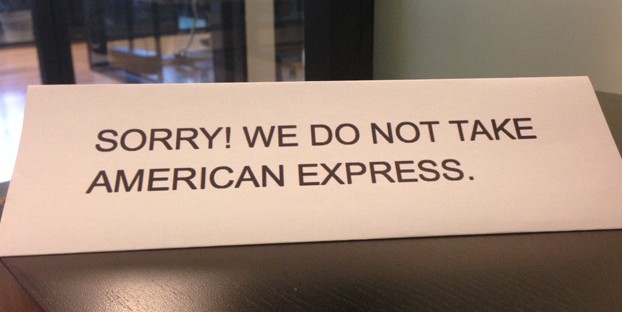 An analyst at American Express explained the inner workings of a relationship between a small business and American Express. He explained that in many cases, the deciding factor was the card's discount rate — a fee paid by merchants to credit card processors.
American Express has a discount rate between 2-3 percent. Based on how large the merchant is and what type of business it is, American Express will determine their fee, which will be locked in by a contract. This is the fee that small merchants are always trying to avoid.
The debit or credit schism
This rate is not necessarily higher than other credit card companies. The analyst at American Express pointed out that a lot of merchants are confused when it comes to debit and credit rates. When a customer uses a debit card, the transaction has a smaller discount rate for merchants, usually 1 percent.
Merchants see the 1 percent on their statement and assume that they're paying less with debit cards, but they're not. AmEx can only be used as credit, which results in the merchant only having to pay one fee.
However, those who only want to use their AmEx most likely know which businesses accept it, and which don't. The analyst explained, "American Express cardmembers are willing to spend more and be more loyal to their cards by only going to businesses where their card is accepted."
Small business owners who love American Express
To see if small businesses actually found it beneficial to accept American Express in their establishments, I spoke with two people who run a small business in the Los Angeles area. I sat down with Matt Wise, general manager of The Roger Room, a cocktail lounge. "It's really worth the small fee," said Wise.
He agreed that more businesses should accept AmEx cards. "I prefer when it is easy to exchange goods and services. Any friction in the process can detract from the experience itself."
Lillian Cavalieri is the founder and CEO of iPrecinct LLC, a political data technology company. She also happens to accept American Express and enlightened me on just how beneficial it can be to have this card on your side from a business owner's point of view.
"We have way more sales using American Express. Thirteen percent more," said Cavalieri.
In fact, Cavalieri said customers would frequently ask if iPrecinct accepted American Express, to the point where she put up an icon on her site to notify their acceptance.
She also informed me that American Express is excellent when it comes to discrepancies. If there is an issue between the business and the customer, American Express will resolve it within 24-48 hours, unlike other cards that can take three business days or longer to fix the problem. This allows Cavalieri to deliver faster service, which is key to a business that is built on delivering data quickly.
The source at American Express said the number one customer complaint is why a merchant will not accept their card. Once this happens, American Express will actually call the merchant to find out why they don't use them and to see if they will start.
Tip: Don't be stuck not being able to pay for something because the merchant doesn't accept your AmEx. Consider opening another credit card that is more widely accepted. Here's a list of our best rewards credit cards.
How was your experience using an AmEx card? Comment below, or write a card review!
(Disclaimer: MyBankTracker was not compensated from American Express for writing this article.)