Amex Bluebird Stands as the Better American Express Prepaid Option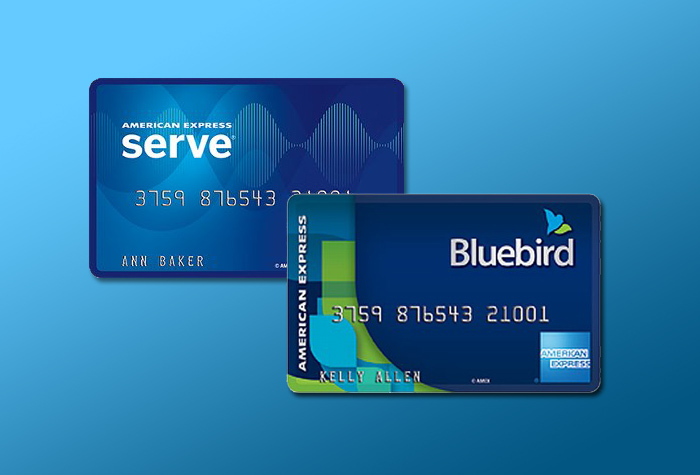 Leave it to American Express to make things more confusing in an already-crowded prepaid cards market by offering two very similar options for people who are looking for an alternative to a traditional checking account. They are the Amex Serve prepaid card and the Bluebird account -- both of which are assuredly great options.
But, if you were left to pick one of the two, you might have trouble identifying the features that separate them.
I've broken down the key factors of the two accounts to help sway your decision process.
| Card | American Express Bluebird | American Express Serve |
| --- | --- | --- |
| Monthly fee | $0 | $1 ($0 in NY, TX, VT) or waived with $500 monthly direct deposit |
| Unique fund reloads | Mail in checks | None |
| ATM access | $0 at all MoneyPass ATMs, $2 at all other ATMs (surcharges may apply) | $0 at all MoneyPass ATMs, $2 at all other ATMs (surcharges may apply) |
| Unique ways to spend | Ability to write checks | None |
Prepaid Card Monthly fees: American Express Bluebird Costs Less
Monthly fees are absolute turnoffs. You hate them. I hate them. But with prepaid cards, monthly fees are often unavoidable, which is why it is so refreshing to see that American Express offers consumer-friendly fee policies.
The Bluebird account doesn't charge any monthly fee at all -- a very desirable trait.
Meanwhile, the Serve card carries a monthly fee of $1 per month (free in NY, TX and VT), which can be waived with any direct deposit of $500 per month.
Despite the easy fee-waiver on the Serve card, Bluebird wins this matchup slightly because there is no possibility of a monthly fee.
Fund reloads: American Express Bluebird is Easier to Reload
You're getting a prepaid card because you need a financial account to conduct transactions. Essentially, you'll be spending. So, you're obviously thinking about how much its going to cost to refill your prepaid account.
For both Bluebird and Serve, it is free to reload the account by direct deposit, debit card, checking account, savings account, mobile check deposit and at Walmart. Cash-reload packs are available for both accounts, but the cost will vary by retailer.
However, take note of the unique reload options offered by Bluebird
Bluebird only: Mail in checks
Serve only: None
Bluebird offers an extra way for customers to load their funds. Although mailing in checks isn't exactly the most convenient, it is an additional option above what is offered by Serve.
ATM access: Tied
Regardless of what type of account you have, you want to know that you can access your money whenever you want to, preferably for free. Who wants to fork over a few bucks every time you withdraw cash? You certainly don't want to.
Both accounts have a relationship with the MoneyPass ATM network (24,000 ATMs nationwide including Walmart and other major retailers).
Bluebird: Cash withdrawals are free at all MoneyPass ATMs. All other withdrawals cost $2.50 each (surcharge possible)
Serve: Cash withdrawals are free at all MoneyPass ATMs. All other withdrawals cost $2.50 each (surcharge possible)
With the exact same level of ATM access, these cards are tied for this category.
Spending money: American Express Bluebird Offers Checks
Can you imagine being charged every time that you used your card to pay for something? Many prepaid cards impose such a transaction fee. Luckily, you won't face those charges with either of these American Express accounts. Additionally, external bank transfers and online bill pay are free.
Interestingly enough, both accounts have tools to help you control spending. They have Reserve accounts that allow you to allocate funds for a specific purpose. And, they let you create sub-accounts for others. You'll want these tools if budgeting is a financial priority.
Despite their equal footing so far, there are unique features that set them apart. Strangely, one account reinforces the "dying" trend, while the other account attempts to usher in a new financial age.
Bluebird: You can write paper checks, if you still happen to be part of the shrinking consumer group that still uses this medium of financial payment
Serve: None
The ability to write checks is a major reason that Bluebird provides more ways for a customer to use their money. It may also come in handy for many bill payment purposes.
Verdict: American Express Bluebird is Better
For the better all-around prepaid option, Amex Bluebird is the way to go. There's no monthly fee and the ability to write paper checks -- much like a checking account.
With Amex Bluebird behaving so much like a regular checking account, Amex Serve has trouble competing with it.