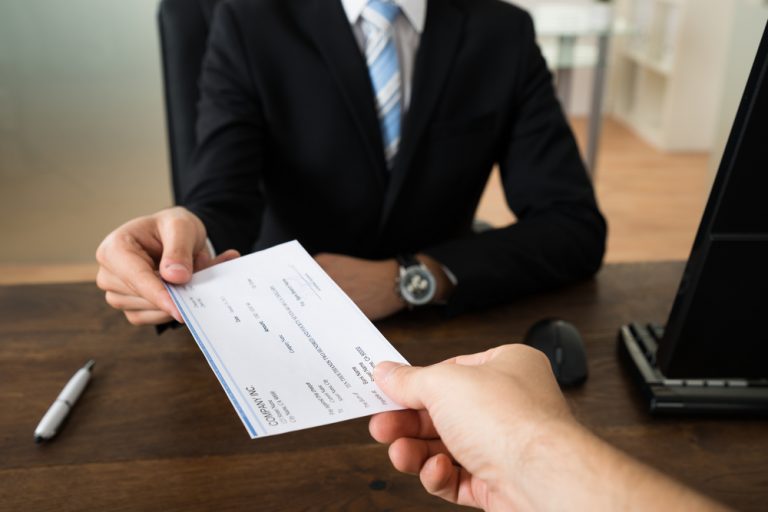 The following is a MyBankTracker basic tutorial on cashier's checks including a comparison of costs at the top 10 banks updated through 2017:
Cashier's check
A cashier's check (also known as an official check, teller's cheque, bank cheque, etc.) is a check that differs from regular checks because it is a more secure form of payment. With a cashier's check, funds are guaranteed by the bank that issues the check. For this reason, cashier's checks provide good reassurance that the check will clear when deposited since the money is already held by the bank and ready to be transferred.
Cashier's checks are not commonly used for everyday expenses but for major transactions — such as real estate — since the recipient requires guaranteed payment. It wouldn't make sense to buy cashier's checks for small transactions because they will not offset the cost of getting an official check, which can be quite pricey.
Cashier's Check Fee at the Top 10 Banks
| Bank | Cashier's Check |
| --- | --- |
| Chase | $8 |
| Bank of America | $10 |
| Wells Fargo | $10 |
| Citibank | $10 |
| U.S. Bank | $7 |
| PNC Bank | $10 |
| Capital One | $10 |
| TD Bank | $8 |
| BB&T | $10 |
| SunTrust | $8 |
| AVERAGE | $9.10 |
Cashier's check fee compared
According to the banking analysis by MyBankTracker.com, the average cost of a cashier's check was $9.10 at the 10 biggest banks in America, which remained unchanged from 2013.
Currently, the most expensive cashier's check is $10. The lowest fee is at U.S. Bank, which charges customers only $7 per check.
Note that these figures represent the fee that pertains to basic checking account holders at a given bank. Some banks may waive the fees for cashier's checks if a customer has a high-tiered checking account.
If you are not a customer of the bank where you plan to buy a cashier's check, the bank may charge you a different price. It may be a flat rate or a percentage of the check's total. In some cases, a bank may refuse to grant a cashier's check to those who are not customers of the bank.
How to get a cashier's check
To purchase a cashier's check, you will have to provide the bank with the exact name recipient's name.
If you're a customer of the bank you wish to get the cashier's check from, you can purchase the check with cash or funds from your account. The amount will be debited from the account immediately to pay for the check, at which time the bank will assume full responsibility for covering the amount on the cashier's check.
If you're not a customer of the bank you're purchasing a cashier's check from, you will need to provide the full amount in cash at the time of purchase.
A cashier's check must be cashed within 90 to 120 days of the date it is issued.
Cashier's checks vs. personal check
There are significant differences between cashier's checks and personal checks. With a personal check, the bank does not debit the amount from the customer's account until the check is deposited or cashed. With a cashier's check, however, the funds are debited immediately to cover the amount on the check.
Additionally, cashier's checks will clear more quickly — the funds become available by the end of the next business day of the deposit — unlike personal checks, which can take a week or more to clear.
The physical features of cashier's checks are a lot more complex than personal checks — which will only include your name and address. On a cashier's check, the name of the issuing bank along with its location and issue date are listed. In addition, the name of the recipient, amount and other tracking information will be on the cashier's check, generally signed by at least one bank representative.
Because cashier's checks are more secure than personal checks, they will exhibit at least one security feature such as color-shifting ink, watermarks, security thread, and special bond paper.
Note that counter checks are not cashier's checks, though you can get both at a bank. Counter checks are more like personal checks available to bank customers when you run out of your own. The bank will encode your banking information and tracking number at the bottom of a check. Unlike a personal check, a counter check won't include your name or address on it, therefore providing the least amount of security.
Cashier's check vs. money order
Money orders are essentially the same thing as cashier's checks with some differences. Although funds for both money orders and cashier's checks are guaranteed, a cashier's check is issued by a bank while a money order is not. Money orders have a maximum limit while cashier's checks don't — allowing consumers to transfer larger amounts of funds.
Finally, you only can get a cashier's check from a bank while money orders can be purchased at a variety of locations — including the grocery store, post office, etc.
Cashier's checks scams
Like money orders, cashier's checks are susceptible to scams. As a recipient of a cashier's check, you should be aware of these fraudulent practices.
One popular scam involves a sales transaction where a fake buyer pays you with a cashier's check for more than the amount agreed. Soon after, they will ask you to deposit the check and pay them the difference in cash. Later, the fraudulent check will bounce, leaving you to lose out on that amount.
You should take appropriate steps if you suspect that a check is fake. Even if you're not an expert at spotting a counterfeit cashier's check, you can avoid becoming a victim of cashier's check scams by calling the bank that issued the check to confirm its legitimacy.
Frustrated with your bank? Check out these top online banks that people are talking about: