Happy Money The Payoff Loan 2023 Review - Should You Apply?
Learn about the specific details of The Payoff Loan, a personal loan offered by Happy Money to help borrowers who want to consolidate credit card debt.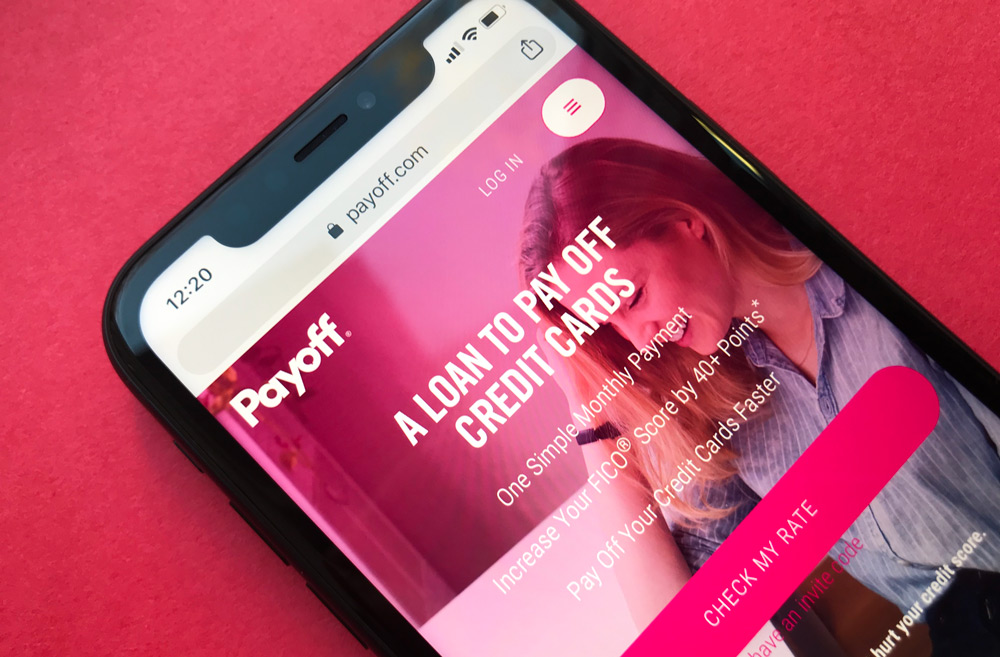 Payoff Website
Credit cards are great ways for responsible spenders to rack up rewards and sign-up bonuses.
However, it can get out of control for some -- and that's when the need for debt consolidation becomes relevant.
Personal loans are a popular option to achieve this financial goal.
Your first stop for a personal loan might be the bank but you can also look online for loans.
The Payoff Loan is offered by Happy Money with the main goal to help borrowers achieve financial wellness through debt consolidation.
Payoff loans are specifically designed for people who want to consolidate and pay off high interest credit cards so they can get out of debt for good.
If you're in the market for a debt consolidation loan, in this review learn how Payoff works and whether it's right for you.
Only for Credit Card Consolidation
Happy Money - The Payoff Personal Loan Pros & Cons
With some personal loans, you have flexibility in how you use them.
For example, you could use a personal loan to put a new roof on your house or plan a wedding or buy a car. Payoff loans are a little different.
Payoff loans are just for paying off credit card debt.
You can borrow between $5,000 and $35,000 to eliminate or pay down your credit card balances.
Loan terms last from two to five years and you can pick a term that works best for your budget.
As far as the annual percentage rate goes, Payoff personal loans have a fixed APR. Your rate won't increase over the life of the loan so your payment is always predictable. Rates are offered on a range and they're comparable to what you'll find at other online lenders.
Borrowing Criteria is Clearly Disclosed
Payoff has some very specific criteria for evaluating borrowers. The first is your credit score. This is something most lenders use to determine creditworthiness for loans.
At a minimum, you'll need a FICO credit score of 640 or higher to qualify for a loan. As an added perk, Payoff gives borrowers free access to their FICO score each month. That's helpful if you're wondering how paying off credit card debt affects your credit score. According to their website, the average borrower who uses Payoff to pay off at least $5,000 in credit card debt sees their score climb by 40 points.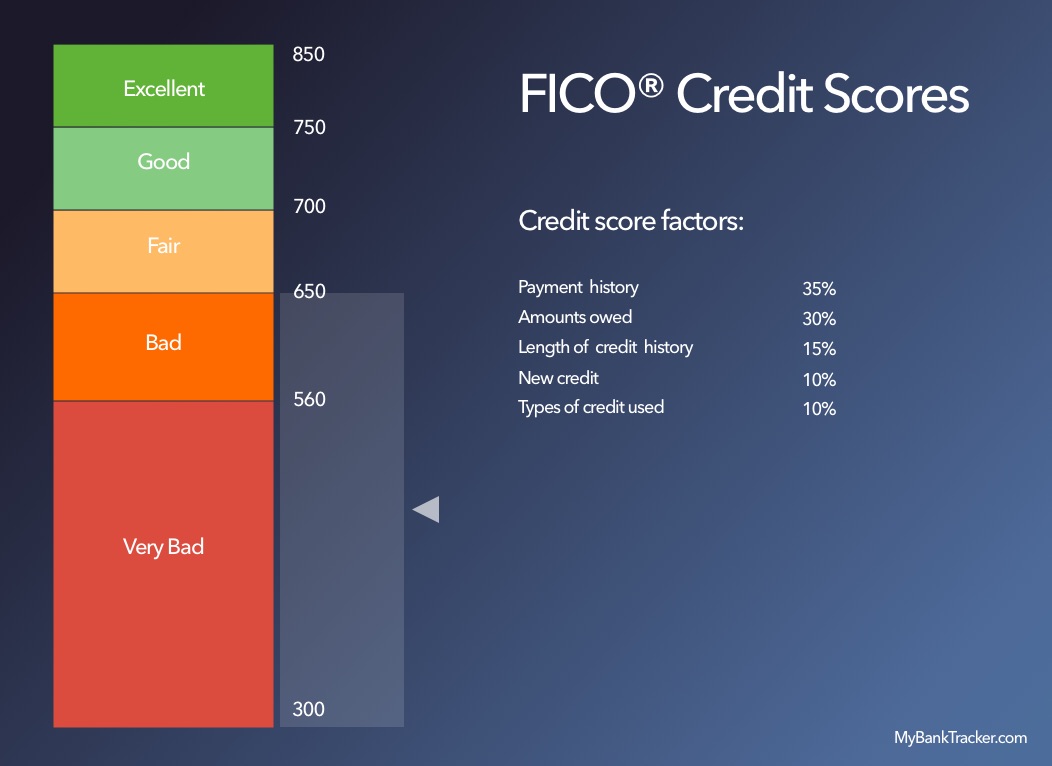 A 640 credit score is right on the cusp of being fair credit. If you want a good credit score, that's usually a score of 700 or better. Based on the minimum score requirement, we'd say these loans could be a good option for someone who wants to consolidate their credit cards while potentially raising their score.
Payoff also has a minimum debt-to-income (DTI) ratio they look for. This number represents how much of your monthly income goes to debt repayment. To qualify for a loan with Payoff, your DTI should be 50 percent or less. Payoff doesn't specify a minimum income you need to qualify.
Aside from your credit score, Payoff looks closely at three specific credit factors: age of credit history, open and satisfactory accounts, and delinquencies. The ideal borrower has 3 years of credit history at a minimum, has at least 2 open credit lines with a positive payment history and has had zero delinquencies on their credit accounts in the last 12 months.
Personal Loan Fees
One thing you always have to consider with personal loans is the fee schedule. Fees can make your loan more expensive.
Payoff charges an origination fee for new loans. This fee is 2% to 5% of the borrowed amount and it covers the cost of underwriting and funding the loan.
The fee is charged as a percentage of your loan. The longer the repayment term, the higher the fee.
On the bright side, Payoff doesn't charge any other fees you might find with other loans.
That includes application fees, late fees, check processing fees, annual fees or prepayment penalties.
If you're on the fence about whether it makes sense to pay an origination fee for a credit card consolidation loan, consider what fees you'd pay if you were consolidating debt with a balance transfer instead.
Credit card companies typically charge 2-3% for balance transfers. And even though you might be able to snag a low introductory APR, it won't last forever.
With Payoff, you pay the origination fee but you can stretch out your loan payments at a consistent rate over time.
Loan Processing and Funding
It's possible to check your rate for a Payoff personal loan in as little as three minutes.
From there, you can move on to filling out the full application. This is where you'll need to provide your personal and income information and authorize Payoff to check your credit score.
In terms of funding speed, it's possible to have the money deposited into your account within 2 to 5 business days after approval.
That's fairly quick, although there are some online lenders that offer same-day funding for personal loans.
Is There Anything Special I Need to Know?
Payments must be made through automatic debit from your bank account.
Payoff currently doesn't offer joint applications for spouses who share credit cards. And these loans aren't available everywhere.
If you live in Massachusetts, Mississippi, Nebraska, Nevada, Ohio or West Virginia, Payoff loans aren't yet offered in these states.
Member Benefits
Payoff personal loans come with a few extras that you don't always see with other loans. We've already mentioned free FICO score access and the potential to increase your score.
Payoff's Membership Experience Team offers help and encouragement to borrowers.
Member Advocates schedule quarterly check-ins the first year you're in repayment.
They can answer questions, help you develop a better financial strategy or just act as your cheerleader.
Job loss support is another valuable feature of these loans.
If you lose your job, Payoff will work with you to make your payments manageable so you don't run the risk of falling behind and hurting your credit score.
How to Get a Payoff Personal Loan
The first step in getting a Payoff personal loan is getting your rate quote. To do that, you'll need to give Payoff:
Your name
Address
Email address and phone number
Annual income
Monthly housing payment
Payoff then does a soft credit check to determine your initial rate. If you like the rate they're offering, you can move on to the full application.
For that you'll need your bank account information, a driver's license or state-issued ID and proof of income.
That can either be your two most recent pay stubs or your most recent tax return if you're self-employed.
Once Payoff has all your information they'll do a hard check of your credit.
Be aware that this inquiry will show up on your credit report. Each new inquiry for credit can knock a couple of points off your score.
Getting Approved for a Payoff Personal Loan
Increasing your odds of approval starts with knowing how you match up with the minimum credit requirements.
It's a good idea to check your credit report and score to see if you're at or above the 640 threshold.
If not, there are a couple of things you can try to improve your score. First, pay off some of your credit card balances if they're close to your credit limits.
One thing that impacts your credit score in a big way is your credit utilization ratio.
That means how much of your total available credit you're using. The lower you can get this number, the better for your score.
Paying down some of your debt or paying off one small credit card altogether can also improve your debt-to-income ratio.
That's something to consider if you're over the 50% DTI that Payoff looks for.
Payoff Credit Card Loans vs. Other Debt Consolidation Loans
There are lots of debt consolidation loans to choose from, but they're not all the same. If you're shopping around to see how other lenders compare to Payoff, here are the most important things to keep in mind:
APR and Fees
What are other lenders charging for personal loans? How do the rates stack up?
Borrowing Limits
Can you borrow more with another lender? Will you need to consider more than one personal loan if you have a lot of credit card debt to consolidate?
Approval Requirements
Does your credit history and income match up with what the lender's looking for?
Payoff, for instance, won't consider you for a loan unless you have at least three years of credit history.
Loan Funding
How soon can you have the loan proceeds in your account? How easy is to apply for a loan?
Special Features
Are there any special benefits you get for being a borrower?
Some banks, for instance, offer interest rate discounts on personal loans if you already have a checking or savings account there.
To help you in your search, we've included a few other personal loans you might want to consider.
Is Payoff the Right Personal Loan for You?
If you have a fair to poor credit score and you're ready to see some improvement, while consolidating credit card debt, Payoff could be an ideal solution.
The loan origination fee is a little higher for longer-term loans so that's something to consider.
We'd suggest checking out a different personal loan if you're looking for something other than debt consolidation, or you don't meet Payoff's minimum credit requirements.