Wells Fargo Personal Loans 2023 Review
Learn more about personal loans from Wells Fargo and find out if you can get better interest rates and lower fees with other personal loan lenders.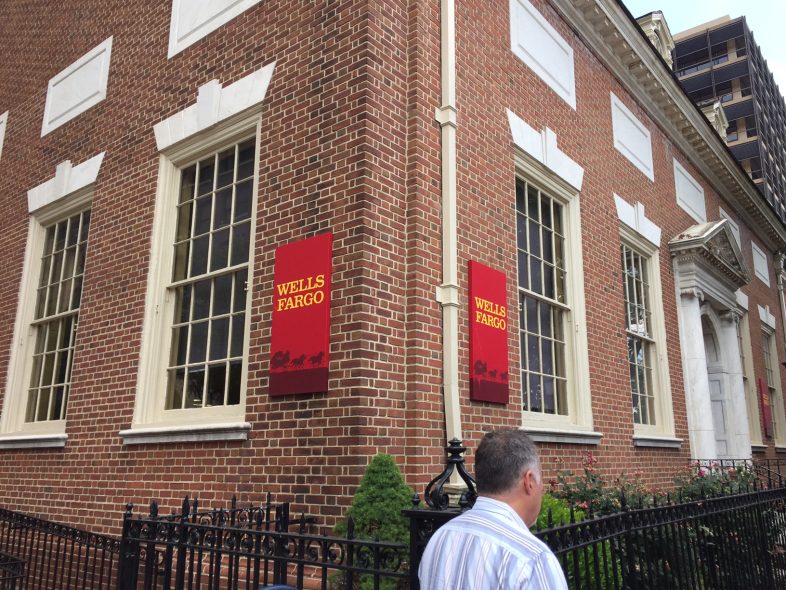 Wells Fargo Bank
As one of the largest U.S. banks, Wells Fargo is a likely destination when you're on the hunt for a personal loan.
You can use it to pay an upcoming expense, consolidate debt, buy a car, and more.
Find out whether Wells Fargo should be your lender of choice when you need financing.
In this Wells Fargo Personal Loans review, we'll compare rates, fees, and services to other national and online banks.
Wells Fargo Personal Loans Have High Limits
Wells Fargo offers personal loans ranging from $3,000 to $100,000, with no collateral required.
If you need to borrow more, Wells Fargo offers secured loans of up to $250,000.
Loans feature a fixed interest rate and fixed term, with fixed monthly payments.
That means you have some certainty when it comes to the loan repayment, which can make budgeting for your monthly payments easier.
Depending on the loan amount, the repayment term may last 12, 24, 36, 48 or 60 months.
Loans under $5,000 have terms ranging from 12 to 36 months, while loans over that amount can extend up to 60 months. A secured loan can have a term as long as 120 months, based on how much you borrow.
Fees vary for unsecured vs. secured
Wells Fargo doesn't charge an origination fee or prepayment penalty for its unsecured personal loans.
That means it won't cost you extra if you decide to repay the loan in full ahead of the payoff date. There's also no annual fee associated with personal loans.
Secured loans require a $75 origination fee and a $25 annual fee.
You can apply for a Wells Fargo personal loan in one of three ways if you're an existing Wells Fargo customer: online, over the phone, or by visiting one of the bank's branch locations.
If you don't have a Wells Fargo account, you'll have to fill out your application at a branch.
Wells Fargo Personal Loan Calculator
How Do I Qualify for a Loan?
You'll need to apply for a personal loan with Wells Fargo to find out if you qualify.
The bank doesn't include any specific qualification requirements on its website, and a quick chat with a customer service representative verified that each application is approved on its own merits.
With that in mind, here are some general tips that could help you qualify for a personal loan:
Check your credit before you apply
Wells Fargo will consider your credit report and score, among other factors, as part of the approval process. Take a look at your credit report and score to get an idea of which factors may be helping you, and which ones may hurt your odds of being approved.
Clean up any credit report errors
Errors or inaccuracies on your credit report could drag your score down. If you spot an error, you can dispute it with the credit bureau reporting the information to have it removed or corrected.
Practice good credit habits
The two most important factors that affect your credit score are your payment history and your credit utilization ratio. Having a solid history of on-time payments and low balances on your other debt accounts can work in your favor when trying to qualify for a loan.
Calculate your debt-to-income ratio
Your debt-to-income ratio is the percentage of your income that goes to debt repayment each month. A higher debt-to-income ratio could be a red flag for lenders, if they're worried about whether you can repay a new loan. If your ratio is too high, consider paying off some of your existing debt or looking for ways to boost your income to bring it down.
Check your collateral if you're applying for a secured loan
Wells Fargo secured loans are available to Wells Fargo customers who have a certificate of deposit or savings account. Your CD or savings serves as collateral for the loan. If you're planning to apply for a secured loan, review your deposits to get a sense of how much you can reasonably borrow.
How Quickly Are Loans Funded?
Loan funding timelines are determined in part by how long it takes you to get approved. Loan approval can take a few minutes, or up to two hours.
In some cases, approval may take longer if Wells Fargo needs to verify your personal or financial information.
If you're approved, it may be possible to get funding as soon as the next business day.
Existing Wells Fargo Customers May Qualify for a Relationship Discount
One benefit of choosing a personal loan from Wells Fargo is the potential to get a deal on your loan's annual percentage rate.
Wells Fargo offers relationship discounts on loan rates to qualifying customers.
A waiver of the annual fee may also be an option if you're getting a secured loan or a personal line of credit.
Aside from being an existing customer, you'll have to set up automatic payments to the loan to qualify for the discount.
What You'll Need to Apply for a Wells Fargo Personal Loan
There are several things you'll need to apply for a personal loan from Wells Fargo, including:
Your Social Security number and date of birth
Your mother's maiden name
Your email address, physical address and phone number
Information about your job, including your employer's name and telephone number
Your gross monthly income from all sources
Your monthly mortgage or rent payment amount
You may need to give the bank copies of supporting documents, such as your recent pay stubs, W2s, or tax returns.
Utility bills may be needed to verify your address and you should also keep your driver's license and Social Security card handy in case the loan officer needs a copy of these.
When you apply, you'll need to tell Wells Fargo what type of loan you're applying for (i.e. secured or unsecured), the desired loan term, the amount you want to borrow and your preferred due date.
If you're approved, you can change your due date one time following your initial payment.
Remember, if you're applying with a joint applicant they'll need to provide all the same information that you do.
Wells Fargo Personal Loans vs. Loans From Other Lenders
Personal loans are offered by both brick-and-mortar and online banks.
Doing some comparison shopping can help you determine which loan option is best suited to your needs. Here are three other lenders that offer personal loans to qualified borrowers.
Upstart
Upstart is an online lender that offers personal loans ranging from $1,000 to $50,000.
Because it's an online lender, Upstart is able to offer funding in a short period of time, often as quick as one day. It also sets itself apart in terms of the criteria used to approve borrowers.
Upstart considers things like your credit score and income, as well as things like your education and career path to gauge how likely you are to be able to repay a loan.
Lending Club
Lending Club is a marketplace lender, meaning its loans are funded by the crowd. Borrowers can apply for up to $40,000 in personal loans and it's up to individual investors to decide which loans they'll fund, and how much they'll invest.
Lending Club assigns borrowers a credit grade that's based on your credit history.
This grade tells investors at a glance how risky you are. Your grade also determines the interest rate on your loan. If you don't have great credit, getting a loan through Lending Club may be easier than going through an online lender or a bank.
Santander Bank
Santander Bank offers personal loans topping out at $35,000. That's quite a bit less than what you can borrow with Wells Fargo, which may be an advantage if you need a larger loan.
The loan interest rates are competitive and there's no application fee or annual fee. The monthly payments are predictable and the loans are unsecured, which is good if you don't have collateral.
Wells Fargo Has High Loan Limits But Do Your Homework First
The most appealing thing about getting a personal loan from Wells Fargo is potentially being able to borrow much more than you could with another lender.
That is, of course, assuming that you have the credit and financial qualifications to qualify for a larger loan. If you don't, a different lender might be a better fit.
The relationship discount is also a nice perk if you're a Wells Fargo customer and you don't mind scheduling automatic payments on the loan.
That alone, however, isn't necessarily a reason to choose Wells Fargo over another bank.
Compare all of your lending options to see if another lender offers better rates or more generous benefits before making a final decision.