Santander Bank Personal Loans 2023 Review
Learn more about Santander Bank personal loans, including interest rates, fees, and introductory APR offers.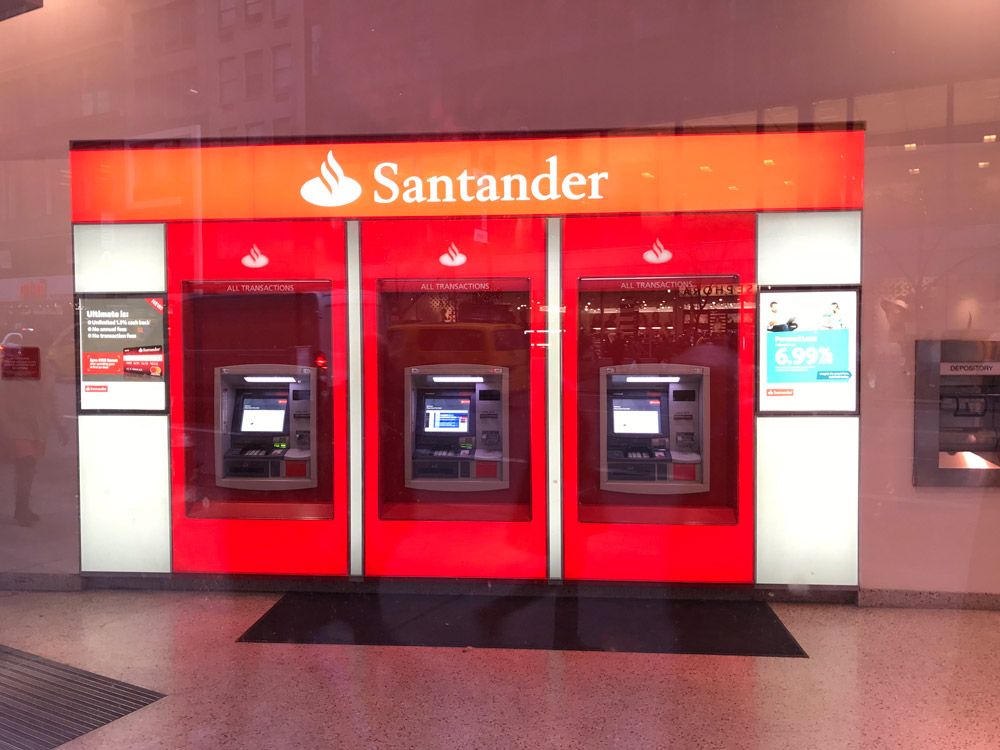 Santander Bank ATMs
With a personal loan, you can get cash when you need it -- whether you need the money to pay an unexpected bill, fund home improvements, or for some other reason.
Unlike a HELOC or another type of loan where you provide collateral, you don't need to offer anything to secure the loan.
Just prove that you are able to make the monthly payments. That makes a personal loan easier to get than other loans when you don't have many assets.
Santander Bank is one of the large banks in the United States that offers personal loans to its customers (some of them do not).
In this review, learn more about Santander Bank's personal loans to see why they're worth your consideration.
Santander Bank's Personal Loans
Santander Bank offers personal loans between $5,000 and $35,000. You have the choice of taking 2, 3, 4, or 5 years to repay the loan.
You'll know exactly how much you'll need to pay each month because all of Santander Bank's personal loans have a fixed interest rate.
That means that the interest rate is locked in when you open the loan. It won't change if interest rates for other loans change.
Current Santander customers can enjoy an interest rate discount by signing up for autopay from a Santander checking account.
Autopay from other banks' accounts or paying manually won't qualify for the discount.
Qualification requirements and fees
Santander Bank does not post a list of minimum qualification requirements but to qualify you must convince the lender that you'll be able to make your payments.
That means you'll need to show that you have a source of income. You'll also need to show that any loans you currently have don't exhaust your income each month.
There's no application fee, annual fee, or down payment required to open a personal loan. There's also no fee for early repayment of the loan.
How long does it take to get the money?
Santander doesn't provide explicit information on how long it takes to receive the money once your loan is approved.
The typical approval process for a personal loan can take a few days because of the information verification required.
It also takes a few days for the funds to become available once the loan is approved. You can expect it to take about a week from the time you apply for the loan to the time you receive the cash.
Rate reduction for Santander checking customers
Santander Bank offers a benefit exclusively to customers who have a checking account with the bank.
If you sign up for autopay from your Santander checking account you'll get an interest rate reduction of 0.25%.
That can be big savings over the life of the loan, especially if you take out a 5-year loan.
Santander Personal Loan Calculator 
How to Get Approved for a Personal Loan
When you apply for a personal loan you'll need to provide information so the bank can determine your ability to make payments. Some of the information you'll need to provide include:
Name
Address
Date of birth
Proof of identity, such as a driver's license
Social Security number
Proof of income, such as bank statements or pay stubs.
Verification of employment
The biggest factor in whether you are approved for the loan is your credit score. Your credit score is made determined based on your credit utilization, payment history, age of credit, and how many new accounts you've opened.
The better your credit score, the more likely you are to pay back the loan, so you have a better chance of getting approved.
A better credit score also means a better interest rate since the bank is taking on less risk by lending to you.
A good credit score takes time to build up. Still, there are a few things you can do to raise your score ahead of applying for the loan.
Improve your score before applying
One thing you can do is reduce your credit card utilization since that is checked by the credit bureaus each month.
Credit utilization is the percentage of your total credit limit that you're using. So, if you have credit cards with credit limits that add up to $10,000 and you have balances totaling $4,000, your utilization is 40%.
Paying down your credit card balances will reduce your utilization, giving your credit score a small bump.
Another option is to organize a pay-for-delete agreement to remove derogatory marks from your report.
If you've ever been late or missed a payment, that shows up as a mark on your credit report. You can contact the lender and offer to settle the debt if they remove the mark from your report. Many lenders will be willing to work out a deal with you.
Your debt-to-income ratio won't show up on your credit report, but it is also a big factor in determining whether you get approved for a loan. Potential lenders are primarily concerned with whether you can make the monthly payments on a new loan.
If you already have a lot of debt compared to your income, most of your money will already be going towards payments.
You can improve your ratio by reducing your debt or increasing your income.
Finally, make sure that you're applying for a personal loan for the right reason.
Many lenders will be more willing to offer loans to people looking to consolidate existing loans than to fund a luxury vacation.
Personal Loans from Other Lenders
Compare Santander's personal loans to those offered by other popular lenders to see if you're picking the best one for your borrowing needs.
Upstart
Upstart is an online lender that offers loans ranging from $1,000 to $50,000. The size of the loan determines the payment period, which can be either three or five years.
You can benefit from an Upstart loan because of the company's unique way of assessing borrowers' risk. In addition to your credit score, Upstart looks at your employment history, education, and area of study.
If your credit is mediocre, but you are well educated in a highly-valued field, you have a better chance of getting a loan at Upstart.
Another benefit of Upstart is that it only takes a day for the money to arrive in your account after your loan is approved. That can make the difference if you have an immediate need for cash.
Lending Club
Lending Club is a peer-to-peer lending company that offers personal loans up to $40,000.
Lending Club isn't a bank. Instead, it connects you to regular people who want to invest in personal loans. If you borrow $10,000 through Lending Club, you might actually be borrowing $100 from 100 different people.
When you apply for the loan, Lending Club will publish the details, such as the amount of the loan and the reason you're borrowing the money.
Investors can then decide whether to help fund your loan and how much money to put towards it.
The downside of this is that it can take longer to get a loan through Lending Club as you wait for investors to fund your loan. If you need money now, you should consider another loan provider.
When you make payments on the loan you'll send the payments to Lending Club. The company will then automatically divide the payments between the investors, so you don't have to worry about extra work.
Discover
Discover is best known for its credit card offerings but it also offers personal loans to its customers. Discover makes loans for as much as $35,000 with payment plans that last up to seven years. That gives you plenty of time to pay off the loan.
A loan from Discover has a number of benefits, including a thirty day return period where you can return the borrowed funds with no interest charges. You also get access to a 100% U.S. based customer support staff.
Discover charges no origination fees, application fees or prepayment fees on its loans.
Discover's lending experience also lets it offer incredibly quick turn-around.
Most loans decisions are made on the same day that you apply and funds can be sent to your bank account as early as the next day. If you have a pressing need for money, the fast turn-around is an important factor in deciding where to apply for a loan.
Conclusion
Personal loans are useful tools for consolidating existing debts or meeting unexpected financial needs.
Santander Bank's personal loans are very straightforward and easy-to-understand without any annoying fees.
With an excellent credit score, you can lock in a very low-interest rate too. You may also like that Santander has a large branch network, just in case you prefer to walk in to speak to a banker for help.