Allstate Insurance 2023 Review: Many Discounts Opportunities
Our review of Allstate looks at the different types of insurance offered and how the various coverages and perks stand out again other insurers.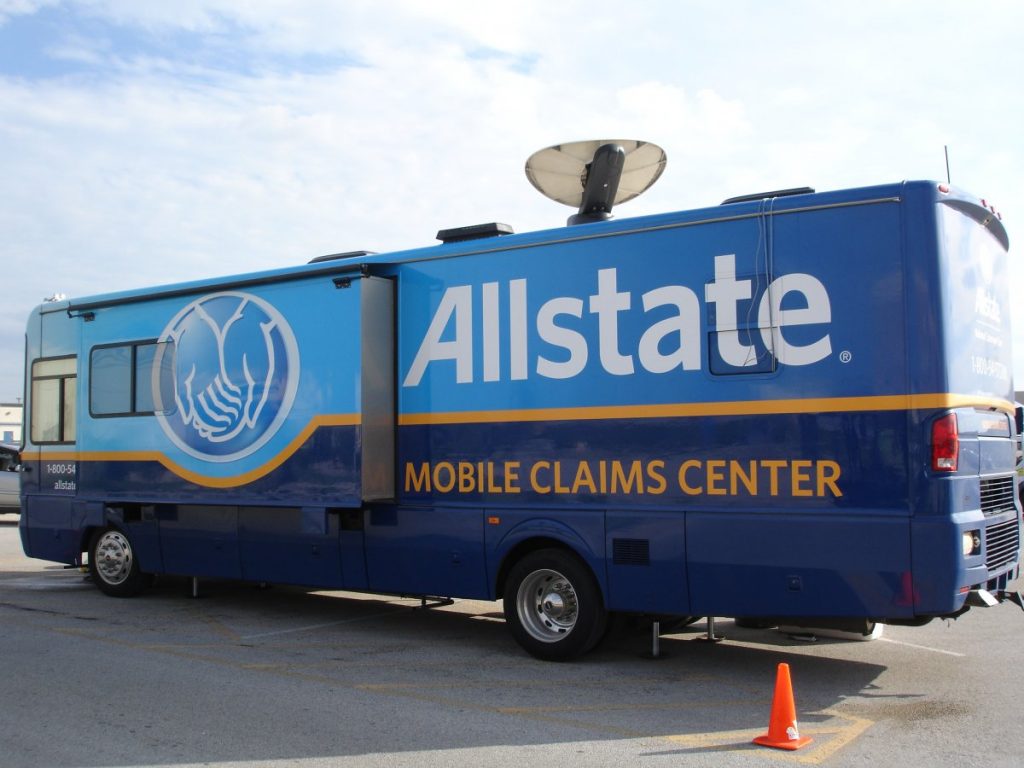 Allstate is probably one of the most well-known insurance providers.
Their massive advertising campaigns ensure a brand recognition and loyalty almost unparalleled in the insurance industry.
When it comes to pricing and coverage, Allstate's prices tend to be on par with key competitors.
At times, they may even be slightly below average rates, depending on a number of factors and discounts.
Their ability to serve customers online makes it convenient to pull quotes, check rates, and file claims.
If you'd like to know more about Allstate's insurance coverage, pricing, and industry standing, here's more information that might help.
Allstate Insurance Pros & Cons
Brief Background: Allstate
Founded in 1931, Allstate is a publicly-traded insurance company trading on the New York Stock Exchange (NYSE) under the ticker ALL.
Currently, the insurer has 113 million proprietary policies and provides coverage for auto, home, life, and other insurance types.
Allstate offers a wide variety of insurance products under its main moniker, Allstate, but also through other brands and distribution channels including Esurance, Encompass, SquareTrade, and Answer Financial.
Allstate's corporate responsibility guidelines support commitments to a variety of causes.
At present, Allstate uses a portion of it's corporate profits and operating procedures to focus on diversity, sustainable business practices, community giving, military support, and more.
Industry ratings
Allstate life companies have consistently earned solid ratings, such as A+ scores from A.M. Best.
The company has also achieved a high ranking for customer satisfaction due to the growth of its digital channels according to a study by J.D. Power. Finally, Allstate's Better Business Bureau profile shows that 476 complaints have been closed in the last 12 months.
Customer service
Like most national carriers, Allstate's customer service can be handled online, with a local agent or by calling the 24/7 customer service line.
Allstate has a very robust app, which allows you to easily access your policies, track insurance records and get help.
The app, available on iOS and Android, has many useful features:
Digital ID cards
Drivewise® (Rewards for safe driving)
QuickFoto Claim®
Bill pay
Roadside assistance
Agent access
Allstate Digital Locker®
Policy access
If for whatever reason, you don't have access to your login credentials, AllState's Express Access gives you quick, limited access to your account.
With Express Access, you can download your ID cards and pay your bills by providing your policy number, last name and ZIP code on the Allstate website.
Auto Insurance Overview
Allstate offers many of the standard coverages you would expect for a national carrier, plus some additions that are not so common.
Here are some quick highlights of their auto coverage options:
Collision
Liability
Medical payments
Uninsured & underinsured motorist coverage
Personal injury protection
Rental car reimbursement
Sound system
Car insurance for travel to Mexico
Allstate also offers some additional benefits for policyholders. Some are included in your auto insurance premium and others cost extra:
Allstate rewards: Safe drivers can earn points that can be redeemed for gift cards
Car buying service: Car reports, savings, and access to a certified dealer network
Deductible Rewards: Drivers get $100 off their deductible, plus $100 each year they remain accident-free—up to $500 (add-on)
Accident forgiveness: Even if you're at fault, an accident won't affect your rates (add-on)
New car replacement: If your new car is totaled, it will be replaced, not just reimbursed for the depreciated value (add-on)
Safe driving bonus: Get a bonus every six months you're accident-free (add-on)
Roadside assistance (add-on)
Extended vehicle care: Covers some repairs; offers 7 years and 100,000 miles of protection (add-on)
Allstate auto insurance discounts
| Discount | Notes |
| --- | --- |
| New car | Must be the first owner of the car |
| Multi-policy | When your auto policy is combined with an Allstate homeowners or renters policy |
| Safe driving discount | For drivers with a good driving record; must also meet safe driving requirements |
| Smart student | For students that meet one or more of the qualifications |
| Anti-lock brake discount | |
| Anti-theft device discount | |
| Early Signing Discount® | Applies when you activate your policy 7 or more days before it becomes effective |
| Responsible payer discount | Applies if f you did not receive a cancellation notice for non-payment in the past year |
| EZ pay plan discount | For those who choose autopay for their premiums |
| Allstate eSmart® discount | Applied for paperless statements |
| FullPay® discount | Must pay your policy in full, upfront |
| Allstate Ride for Hire | Can cover insurance gaps for those participating in ridesharing programs as drivers |
Homeowners Insurance Overview
Allstate homeowners insurance also has standard coverage you'd expect from a national insurance carrier.
Covered perils include damage from fire, smoke, lightning, wind, hail, theft, and vandalism. Flood insurance can be purchased separately.
Here's what Allstate homeowners insurance covers for your home, condo, or mobile home:
Dwelling Liability
Personal property
In addition to these coverages, you may be able to add the following endorsements to your homeowners policy:
Identity theft restoration
Water backup
Scheduled personal property (appraised valuables like jewelry and antiques)
Business property
Sports equipment
Green improvement reimbursement (replacing damaged or destroyed items with more energy-efficient items)
Yard and garden
Electronic data recovery
Musical instruments
HostAdvantage® Home-Sharing Insurance
Guest medical protection
Allstate homeowners insurance discounts
| Discount | Notes |
| --- | --- |
| Claim rateguard® | Prevents your premium from increasing just because you file a claim |
| Claim-free rewards | You can save on your premium when you switch to Allstate without recent claims |
| Claim-free bonus | 5% back on your renewal every year you don't file a claim |
| Deductible rewards | Get $100 off your deductible when signing up; receive an additional $100 off each year you stay claim-free, up to $500 |
| Welcome & loyalty discount | Save 10% on your premium for switching to Allstate; 10% stays in place as long are you are a customer |
| Homebuyer discount | For newly constructed homes or recent home purchase |
| Easy Pay Plan® | Save up to 5% for autopay |
| Protective device discount | Applied when you have theft or fire protection devices |
| Early signing discount | Save up to 10% if you sign up for a new policy at least 7 days before your current one expires |
Life Insurance Review
Allstate offers the following life insurance products:
Term insurance: Starts at $24/month for a 20-year, $250,000 policy; flexible term lengths between 10-30 years
Universal life insurance: Policies start as low as $79.69/month for a $100,000 policy
Whole life insurance: Policies start as low as $136.68/month for $100,000 of coverage
Variable universal life insurance: Rates vary; allows policyholders to invest their cash through various subaccounts
Read the fine print, understand your coverage
As with all insurance policies, be sure to go over the fine print when it comes to the coverages offered.
You should make sure the coverage limits are sufficient and that you are comfortable with the deductible and monthly premium amounts
Based on your state's regulations, coverages, benefits, limits, and deductibles will vary. There may be some limitations and exclusions that apply to your policies.
If you have any questions about your policy and available coverages, you should speak with an Allstate agent for clarity.
Bottom Line
If you are looking to save money on your insurance costs while possibly picking up a number of additional and even unique coverage options, Allstate Insurance could be a good choice.
Their rates are already fairly competitive and the varied discounts they offer can make them even more so.
It doesn't hurt that they have thousands of offices nationwide and a vast network of agents that can walk you through getting estimates and filing claims.
If nothing else, the ease of getting a quick quote via their online tool should be enough incentive to compare them to your current insurer.
As long as you have your declarations page(s) handy, you should be able to compare prices and coverage limits, and then determine if it makes sense to switch carriers.