State Farm Insurance 2023 Review
Our review of State Farm looks at the auto, homeowners, and life insurance policies offered to consumers, along with optional coverages and available discounts.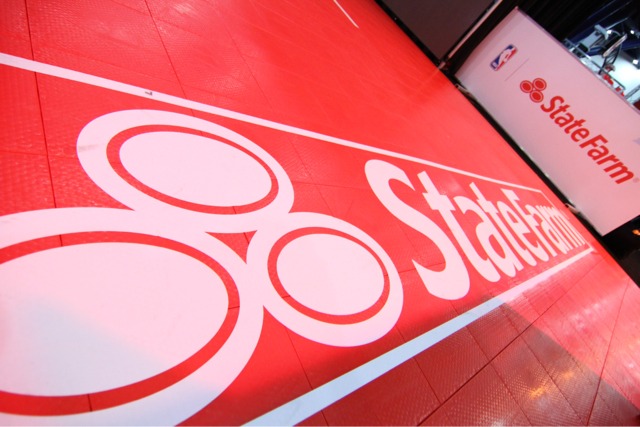 State Farm is an insurance company that offers both personal and business lines of insurance coverage.
You might be familiar with some of their iconic ads featuring "Jake from State Farm" or Cheryl and her famous "she-shed." However, State Farm is more than just witty commercials.
The company has been the nation's top auto insurer since the 1940s.
If you'd like to know more about State Farm's insurance coverage, pricing, and industry standing, here's more information that might help.
State Farm Background
Retired farmer and insurance salesman, George Jacob "G.J." Mecherle, founded State Farm 1922 based on the vision of operating fairly and doing the right thing for customers.
State Farm began insuring automobiles exclusively and now offers about 100 different products and services across five different business lines.
The company processes almost 36,000 claims per day and has a nationwide network of nearly 19,000 agents.
Industry ratings
As the nation's largest auto insurer, State Farm comes in at #36 on the Fortune 500 list. The Illinois-based insurer is consistently rated A++ by A.M. Best for superior financial condition and operational performance. The company also has an AA rating from S&P Global Ratings.
State Farms is not accredited by the Better Business Bureau (BBB), but they have a profile page on the BBB site. Currently, State Farm has 1,356 complaints closed in the last three years and 450 complaints closed in the previous 12 months according to their BBB profile page.
Customer service
State Farm's customer service can be handled online, with a local agent, or by calling the 24/7 customer service line. State Farm has a pretty robust, comprehensive smartphone app to handle claims processing and other customer service functions.
Here are some things you can do using the State Farm app:
File and manage claims
Get access to ID cards
Request roadside assistance
Upload photos and documents securely
Connect with your agent
State Farms rates and pricing
You can save the most money with State Farm by bundling two or more policies and taking advantage of other discounts State Farms offers to its clients.
According to a 2020 national survey by State Farm of new policyholders, average annual savings were $965 when changing multiple policies over to State Farm.
State Farm Auto Insurance Overview
As the nation's top auto insurer, State Farm has a standard slate of offerings that vary according to your state and region. Here are some highlights of their auto coverage options:
Collision coverage
Whether your vehicle hits another object, is overturned in an accident, or collides with another vehicle, collision insurance covers you.
Also, your collision coverage extends beyond your personal vehicle and could include:
Temporary substitute cars
Newly-acquired cars
Cars you're using but aren't owned by anyone in your household
You should also be aware of what State Farm's collision coverage doesn't cover:
Theft
Falling or flying objects
Flood
Hail
Fire
Hitting or being hit by an animal
Natural disasters
Storms
Vandalism
State Farm's website indicates that you can insure against these types of perils by purchasing comprehensive coverage (explained below.)
Comprehensive coverage
Comprehensive coverage is for events that may not be related to a collision or auto accident.
Here are examples of covered incidents:
Car theft and damage from theft
Fires and explosions
Weather conditions such as wind damage from hurricanes
Violence from civil unrest or riots
Hitting or being hit by an animal
You might consider this type of coverage if you have a high-value vehicle and live in an area where you could be prone to theft, severe weather, or other incidents outlined above.
Liability coverage
If you're at fault in an auto accident, this coverage helps pay for the costs of the other driver's property and medical injuries.
This insurance pays for the property damage and injuries to others up to the covered limit.
Liability coverage also pays for your defense and court costs if you are sued in court related to an auto accident.
The main two types of liability coverage on your auto insurance policy are bodily injury (BI) and property damage liability coverage (PD.) Here are examples of expenses State Farm's liability could cover:
Medical expenses (BI)
Pain and suffering (BI)
Lost wages (BI)
Vehicle repair (PD)
Removal or repair to a structure you hit and damage (PD)
Car rental and travel expenses coverage
This coverage reimburses the cost of renting a car while yours is being repaired due to being damaged by a covered incident. If you're in an accident more than 50 miles from home, travel expense coverage helps pay for meals, lodging, and transportation.
Medical payments coverage
You can add this coverage to either your homeowners or auto insurance policy.
It can cover medical and funeral expenses for covered people who are injured or killed in an auto accident, no matter who's at fault. It also covers you if you are hurt in a car accident while riding in someone else's vehicle, using public transportation, or walking across the street.
Uninsured/underinsured motor vehicle coverage
If you are in an accident with an at-fault driver who has little to no liability coverage, this coverage helps pay for:
Lost wages
Medical expenses
Pain and suffering
Related damages to your car (if applicable in your state)
Emergency road service coverage
Emergency road services offered through State Farm include labor, towing, delivery of items that make your car operational like gas or change of tire, and lockout services.
There are some limitations to these services, so you should speak to your State Farm agent to know exactly what is and what is not covered.
Ridesharing coverage
If you use your personal vehicle to earn money through Transportation Network Companies (TNCs) like Uber or Lyft, this coverage can supplement any insurance a TNC may provide.
This coverage may bridge the gap between additional insurance needs and the standard TNC auto insurance coverage options.
State Farm auto insurance discounts
State Farm offers several discounts for its auto insurance customers. Here are some ways to lower the cost of insuring your vehicle with State Farm:
Safe driver discounts
Accident-free discount
Defensive driving course discount
Good student discount
Good driving discount
Driver training discount
Student away at school discount
Safe vehicle discounts
Vehicle safety discount (for cars made after 1994)
Passive restraint discount (airbags, etc.)
Anti-theft device discount
Discounts for loyal customers
Multiple auto discount (two or more cars insured)
Multiple line discount (multiple policies)
State Farm Homeowners Insurance Overview
State Farm homeowners insurance has standard coverage you'd expect from a national insurance carrier.
Covered perils include damage from fire, wind, hail, theft, and water damage. Flood and earthquake coverage is not included in a standard homeowners policy and must be purchased separately.
Here's what State Farm's homeowners policy provides for standard homeowners coverage:
Property damage & dwelling
This coverage insures your dwelling, permanent structures on your property, and personal belongings. Covered property could include items like furniture, appliances, and clothing.
It could also provide protection for items and events such as:
Keepsakes
Items related to hobbies like cameras and musical instruments
Home and garden: Appliances, furniture, clothing, electronics, lawn decorations, swing sets, tools
Damages resulting from fire, theft, or vandalism
Other causes: abrupt and accidental discharge of water from a plumbing system, tearing/bulging of heating or cooling systems, artificially generated electrical current
You may add the following coverages to your State Farm homeowner's policy for an additional charge:
Personal liability
Business and professional liability
Pet medical insurance
Note: State Farm ceased insurance sales for personal and business property and casualty coverage in California as of May 27, 2023 (due to the increased risk of wildfires).
State Farm homeowner's insurance discounts
Multi-policy discount
Home security: fire, smoke, or burglar alarms or any other home monitoring system
Roof settlement: settlement for the roof on a replacement cost basis.
State Farm Life Insurance Overview
State Farm offers three main types of life insurance: term, whole life and universal life.
Term life insurance
State Farm's term life insurance is ideal for people who'd like the most coverage with affordable monthly premiums. There are three options for State Farm's term insurance products:
Select Term: Available for 10, 20, or 30 years. Renewable to age 95.
Return of Premium Term: Premiums returned if insured outlives initial term. Available 20 or 30 years. Renewable to age 95.
Instant Answer Term: Ideal for protecting goals like paying off a loan or covering final expenses. This policies offers quick approval with out tests for qualified applicants
Whole life insurance
State Farm's whole life insurance product is a permanent life insurance policy with a consistent premium that accumulates a cash value that can grow tax-deferred.
A portion of the premiums may be invested to provide additional cash value to policyholders or reduce their premiums. Policyholders can also borrow against the cash value as needed.
Here are some whole life insurance products State Farm offers.
Limited Pay Life Insurance
Available for 10, 15, or 20 year terms, Limited Pay allows policyholders to get a headstart on paying their insurance premiums earlier in life.
The goal is to pre-pay this life insurance policy so as to avoid paying premiums later in life, like in retirement, when income might be reduced.
Single Premium Life Insurance
One single payment for this insurance will cover you for life. The minimum face amount is $15,000.
Final expenses
This policy, also known as a burial policy, can provide coverage for various final expenses. The death benefit is guaranteed as long as premiums are paid as required.
Universal life
Universal life insurance is very similar to whole life insurance.
The main difference is that the premiums and death benefits are flexible for universal life insurance and can fluctuate while the policy is active. State Farm offers a couple of options for their universal life policies:
Universal Life: Flexibility to change coverage amounts and premiums
Survivorship Universal Life Insurance: Covers two people, and the death benefit is paid when the last person insured under the policy dies
Joint Universal Life Insurance: Covers two people. The death benefit is paid upon the first death of the insureds
Pros
Largest auto insurer in the United States
Over 19,000 State Farm agents nationwide for high-touch customer service needs
Ridesharing insurance
Cons
Not much public information for homeowners offerings; more information may require agent interaction
Somewhat high number of complaints on their BBB profile page
Bottom line
If you are considering State Farm for your insurance needs, it's good to know that their pricing and offerings are on par with other, similar national insurance carriers.
If you like a more personal, high-touch approach to your insurance needs and customer service, State Farm's national network of agents may appeal to you as a customer.
It's also an ideal option for those who might bundle two or more policy types to save money.