SoFi Personal Loans 2023 Review
Learn more about personal loans from SoFi and how they use more than your credit score for approval. Compare to other online lenders for the best rates.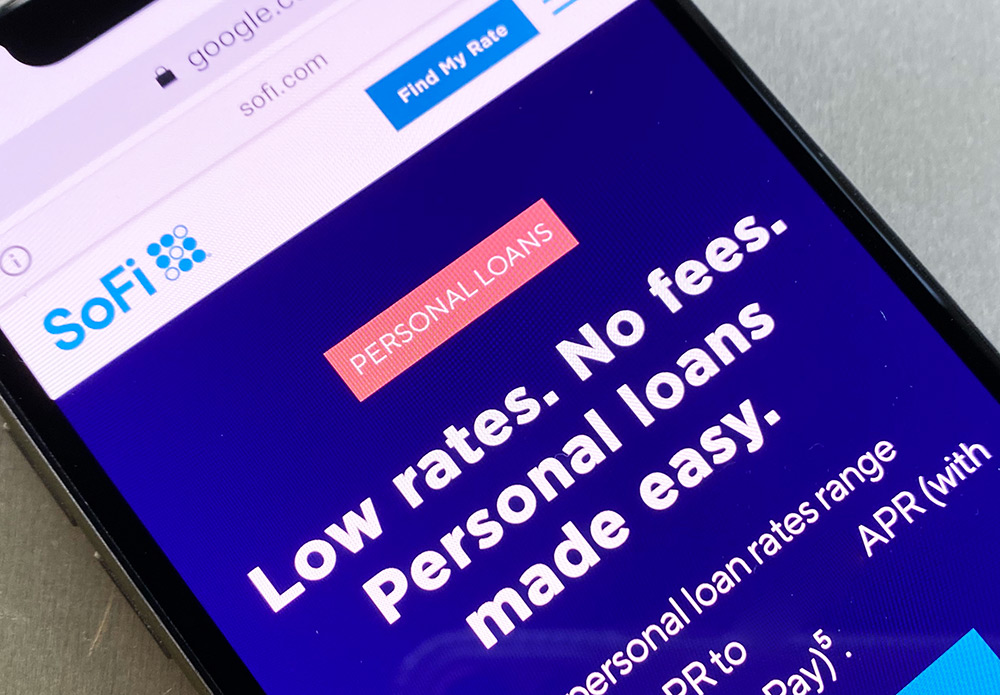 When you need to borrow money, a personal loan may be just what you're looking for.
Personal loans can offer flexibility and they may be cheaper than a credit card if your credit score qualifies you for a low-interest rate.
You can use a personal loan to pay for just about anything, whether it's a big medical bill or consolidating high-interest debt.
SoFi, short for Social Finance, is an online lender that put a new spin on financing.
SoFi personal loans offer extremely low-interest rates with generous borrowing limits.
But:
Applicants should check their credit scores before applying because excellent credit is required for the lowest APRs.
If you need a personal loan and you're looking for an alternative to a bank, in this review find out whether SoFi is worth considering.
SoFi Personal Loans
SoFi personal loans can be used for any personal, family, or household purpose. That includes things like home or car repairs, financing a move, paying medical bills, consolidating debt, or paying for a wedding.
SoFi Personal Loans Pros & Cons
Pros
Cons

No origination fees or prepayment penalties
Potential for a low APR
Pre-qualification in minutes

Requires excellent credit for the best APR
If you need a loan for college, SoFi offers a separate lending category for student loans.
Compared to other online lenders, SoFi has generous borrowing limits. The minimum loan amount is $5,000, with loans topping out at $100,000.
Loan terms range from 24 months to 84 months. SoFi personal loans are unsecured, meaning you don't need collateral to borrow.
SoFi offers both fixed and variable rate loans. With a fixed rate, your interest rate stays the same over the life of the loan.
A variable rate loan, on the other hand, has a rate that's tied to an underlying index.
The index is the 1-month LIBOR. If the index rate increases or decreases, the rate on your loan would increase or decrease in tandem. SoFi does cap variable rate loans so it won't increase indefinitely.
As far as the rates themselves go, SoFi's rates are competitive, compared to what other online lenders charge.
In some cases, their maximum APR is much lower than what you might pay elsewhere. Just remember that the best rates go to the most qualified borrowers with excellent credit scores.
One positive associated with SoFi's personal loans is the relative lack of fees. There's no origination fee, no closing costs, and no prepayment penalty if you decide to pay your loan off early.
Fewer fees mean more savings for you when you borrow. There is no late fee if you're more than 15 days behind on the loan.
SoFi Personal Loan Calculator
Who's Eligible for a SoFi Personal Loan?
To be eligible for a personal loan from SoFi, you have to be a U.S. citizen or permanent resident; be at least 18 years old; and reside in a state where SoFi makes loans.
Currently, SoFi doesn't make personal loans to residents of Mississippi. If you live in this state, you'll have to look to another lender for a loan.
You also need to show that you're financially eligible for a loan.
SoFi requires that you show proof of employment, have an offer of employment to start within the next 90 days or have income from other sources that would let you keep up with the loan payments.
More than just your credit score
SoFi looks at your financial history, career experience, and monthly income versus expenses to decide if you're a good candidate for a loan.
Taking a broad view and looking beyond just your credit score is one thing that sets SoFi apart from other lenders.
There is something important to note.
SoFi does allow co-signers or joint applications for personal loans.
So:
If you don't have a lengthy credit history or you're looking to apply for a loan with your spouse, SoFi allows you to add a co-signer to increase the chances of approval.
Applying for a SoFi Personal Loan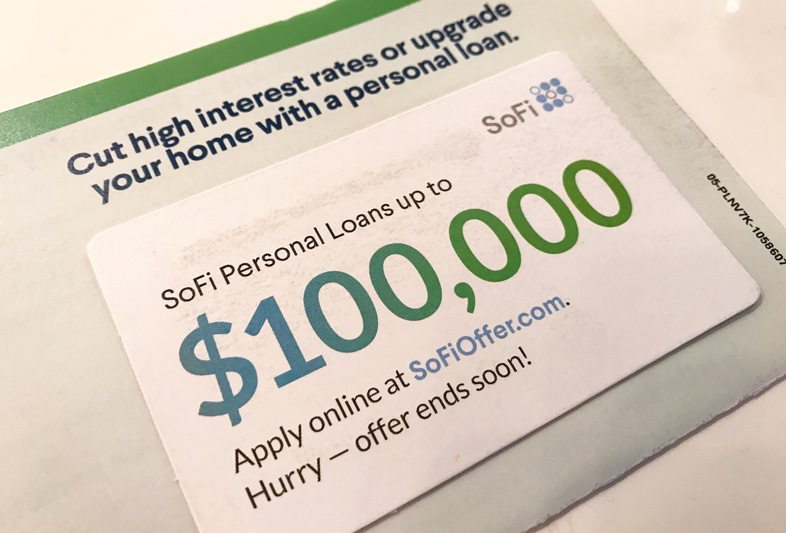 The application process for a SoFi personal loan can be completed online. The first step is checking the loan rates and terms you qualify for.
You'll need to give SoFi your Social Security number but just getting your rates only results in a soft pull on your credit.
Once SoFi presents you with your loan options, however, you'd need to agree to a hard pull of your credit to continue your application.
You can fill out the application online, and upload any supporting documents SoFi asks for, including pay stubs or tax forms. From there, SoFi reviews the details to determine whether to approve you for the loan.
How Soon Is Funding Available?
One advantage of working with an online lender is that it usually takes less time to get your loan funded than it would with a regular bank.
Once your application is complete and you're approved for a loan, SoFi will send you a Loan Agreement to sign electronically.
After you've signed off, you should be able to access the loan funds within a few days.
Get a Discount on Your Rate With Automatic Payments
An easy way to save money on your loan's interest rate is to put your payments on autopilot. When you set up automatic ACH drafts for your loan each month, SoFi will reduce your loan's rate by 0.25%.
That doesn't sound like a lot but that reduction can make a big difference in how much interest you'll pay over the life of the loan.
Put Your Payments on Pause If You're Unemployed
Getting laid off or losing your job can put your ability to repay a personal loan in danger.
Missing payments or paying late can also spell trouble for your credit score. Fortunately, SoFi has a program designed to make maneuvering periods of unemployment easier.
If you lose your job through no fault of your own and you're eligible for unemployment benefits, you can apply for SoFi's Unemployment Protection Program.
How it works
If you're approved, SoFi will put your loan into a 3-month forbearance period, suspending your payments temporarily.
You can reapply for additional forbearance periods, for up to 12 months over the life of the loan.
Interest will still accrue during the forbearance period and it's added on to the principal. You can make interest-only payments to keep the cost from adding up.
If you opt for forbearance, that may extend the repayment term on your loan.
If you get a job while your loan payments are suspended, you can begin making payments before the forbearance period ends, or wait until the next scheduled payment date to pick back up.
How Does SoFi Compare to Other Personal Loan Lenders?
Personal loans are not all alike and it's to your advantage to check out all the options that are out there. Specifically, you need to consider things like:
How much you can borrow
The APR and fees
The loan's repayment terms
What it takes to qualify
With that in mind, take a look at these personal loan contenders:
Upstart
Another online lender, Upstart, offers loans that range from $1,000 to $50,000.
That's more generous compared to Santander but it still doesn't match what SoFi offers, which is something to keep in mind if you're hoping to finance something big.
Funding with Upstart is fast if you're approved and similar to SoFi, Upstart uses a broad list of criteria to make lending decisions.
For example, your credit score and income come into play but Upstart also looks at where you went to school and what kind of career path you're on to determine your ability to repay your loan.
OneMain Financial
For borrowers who don't have the best credit, OneMain Financial could be a better alternative because this is an online lender that caters to those with fair credit.
While the interest rates may not be the lowest, the upside is that you're more likely to get approved for a personal loan.
Lending Club
If you're interested in getting loans funded through a peer to peer network, Lending Club is the leading marketplace lender in the business.
Personal loan limits extend up to $40,000, with loans backed by individual investors, rather than a bank.
Lending Club uses its own credit grading system to assign borrowers a risk level.
Borrowers with better grades signal to investors that they're low-risk, meaning they also qualify for better interest rates. Investors who are comfortable taking on more risk can fund loans for borrowers that have lower grades.
Lending Club may be attractive if you need a loan and have poor credit.
Is SoFi the Right Lender for You?
SoFi may hold a lot of appeal for borrowers who are comfortable choosing an online lender over a bank, and who need to borrow a substantial amount.
The unemployment protection is a nice benefit that you won't always find at other banks and the fact that SoFi takes a well-rounded approach when qualifying borrowers could make it easier to get approved, versus getting a loan elsewhere.
If you think you'll need a cosigner, SoFi is a solid option.
In any case, it is always smart to compare all of your options to find the right personal loan for your needs.