Avant Personal Loans 2023 Review
Learn more about personal loans from online lender Avant. See what rates they offer based on your credit score and what you need to get approved.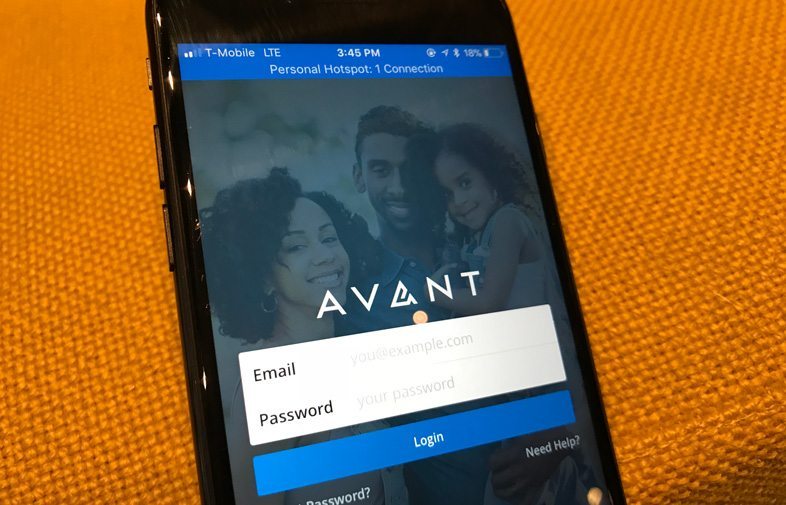 Avant App
When you need money quickly, a credit card is one option.
The downside is that you may pay a higher interest rate on what you charge to a card.
The interest and fees can climb even higher if you're using a credit cash advance, versus making a purchase.
A personal loan could be the better choice when you need to borrow.
There are lots of ways to use a personal loan. And, if you have a good credit rating, you may be able to snag a loan with a lower rate than you'd pay for a credit card.
You can find personal loans at banks or credit unions. An online lender is a third option. Avant is an online lender that offers unsecured personal loans.
In this review, learn if you should consider a personal loan from Avant.
What You Need to Know About Avant Personal Loans
Avant offers fixed-rate personal loans ranging from $2,000 to $35,000.
Your rate won't change over time and the range of rates is competitive, compared to other online lenders.
Avant Personal Loans Pros & Cons
The maximum amount you can borrow depends on which state you live in.
Avant personal loans can be used for things like debt consolidation, home improvements, or covering emergency expenses.
Loan repayment terms range from 24 to 60 months, which is good if you plan to borrow a larger amount and you think you'll need longer to pay it back.
Borrowers who get a personal loan through Avant pay an administrative fee of 4.75%.
There's a $25 late fee if you're more than 10 days late in making a payment. If one of your payments is returned, Avant charges a $15 dishonored payment fee.
How quickly are loans funded?
One of the advantages of working with an online lender is that funding is usually fast.
Avant works to get loan proceeds to borrowers as soon as the next business day after being approved, whenever possible.
Just remember that the exact time frame for when funds become available depends on your bank.
What credit score is needed to get approved?
Avant uses your TransUnion FICO credit scores, as well as other scores including your VantageScore to gauge creditworthiness.
For approval for Avant personal loans, you need a minimum credit score of 580. The typical Avant borrower has a credit score ranging from 600 to 700.
That's good news if you have fair credit and you're worried about being able to qualify.
Just keep in mind that your credit score influences the interest rate you'll pay for a loan. The better your score, the more likely you are to snag a loan at the best rates.
Avant Personal Loan Calculator
Getting Approved for a Personal Loan From Avant
If you're thinking of getting a personal loan through Avant, the first step is checking your rates. This takes about five minutes and it involves filling out an online form. You'll have to tell Avant:
Your name
Address
Date of birth
Social Security number
Telephone number
Email address
Monthly net income
Reason for the loan
Amount you want to borrow
You might be wondering whether checking your rates affects your credit
According to Avant, just checking your rates only counts as a soft inquiry. This means it wouldn't show up on your credit report or hurt your score.
If you decide to go through with the full application after checking your rates, Avant would perform a hard pull of your credit.
This would show up on your credit report and it could cause your credit score to dip temporarily.
Verifying your information
Once you submit the full loan application, Avant will verify your personal details.
That includes confirming your identity, checking your credit and income, and verifying your bank information. Avant may also contact your employer to check your work history.
After checking out your information, Avant will determine whether to approve your loan. Once you're approved, the loan proceeds can be electronically deposited into your bank account.
Being able to complete the entire loan process online is a plus if you're looking for convenience.
Your first monthly payment is scheduled to be due around 30 days after receiving the loan funds.
The rest of your payments would follow the same schedule until the loan is paid off. Avant accepts ACH payments, electronic checks, credit and debit card payments, cashiers checks, money orders and paper personal checks.
Avant vs. Other Personal Loan Lenders
Avant isn't your only source for a personal loan. There are a number of other lenders that offer loans with similar terms.
Doing some comparison shopping is always important to make sure you find a loan that's going to be the best fit for you.
Here are other lenders to consider as you conduct your personal loan search:
Upstart
Upstart features more generous borrowing limits compared to Avant or Santander.
Borrowers can apply for personal loans ranging from $1,000 to $50,000.
You can use loans to consolidate your credit card debt, buy a car, start a business, plan a vacation or just cover everyday expenses.
Loan terms last either three or five years. There's no repayment penalty for paying off your loan ahead of schedule.
The interest rates Upstart charges are very similar to what you'd pay for an Avant personal loan.
What makes Upstart different is the way they qualify borrowers for loans. While they check your credit score as part of the application process,
Upstart also considers how many years you've been using credit, your level of education, what field you earned a degree in and your current career path.
The idea is that those criteria can offer a more well-rounded picture of whether you'll be able to repay a loan.
Santander Personal Loans
Santander Bank offers personal loans from $5,000 to $35,000.
You can take up to 60 months to repay your loan, so there's no major difference from Avant there.
The loans have fixed interest rates, and there's no annual fee or application fee.
These loans are unsecured, meaning there's no collateral required for approval.
One thing that sets Santander apart from Avant is the interest rates.
Santander offers lower rates, plus a discount on your rate if you set up auto payments from a Santander Bank checking account.
If getting a low rate is a priority, and you've got good credit, Santander's personal loans might be more appealing.
Lending Club
Lending Club is an online loan marketplace that connects borrowers with investors. When you get a loan through Lending Club, the funding comes from individuals, not a bank.
You can borrow up to $40,000 through Lending Club for debt consolidation, home improvement or other major expenses.
You can choose from a 36-month term, or 60 months if you need longer to pay.
Of the lenders discussed so far, Lending Club offers some of the best interest rates. That is, if you have the credit rating to qualify. Lending Club assigns borrows a credit grade, based on their credit score.
This grade gives lenders an idea of how risky making a loan to you would be. Borrowers with a poor credit grade tend to be the riskiest and they also carry the highest interest rates.
Lenders can review your loan request, along with those from other borrowers, and decide how much they want to fund.
Lending Club does charge an origination fee for loans. This fee ranges from 1 to 6 percent and it's charged one time, which is when you receive your loan.
Is Avant the Right Lender for You?
Avant may be a good choice for someone who doesn't have perfect credit and doesn't need to borrow more than $35,000.
The higher interest rates are a drawback but it may be easier to qualify for an Avant loan with a lower credit score.
If you've got a good or excellent credit score, on the other hand, or you need to borrow more money, you'd be better off giving Upstart or Lending Club a look instead.
Regardless of which lender you choose, be sure to compare the rates and terms carefully so you know exactly what you're signing on for when you borrow.