Merrill Edge Guided Investing 2023 Review: Best Advisor for Your Investments?
Learn how Merrill Edge Guided Investing, an online investment advisory service, work to manage your portfolio - and find out if it is worth the cost.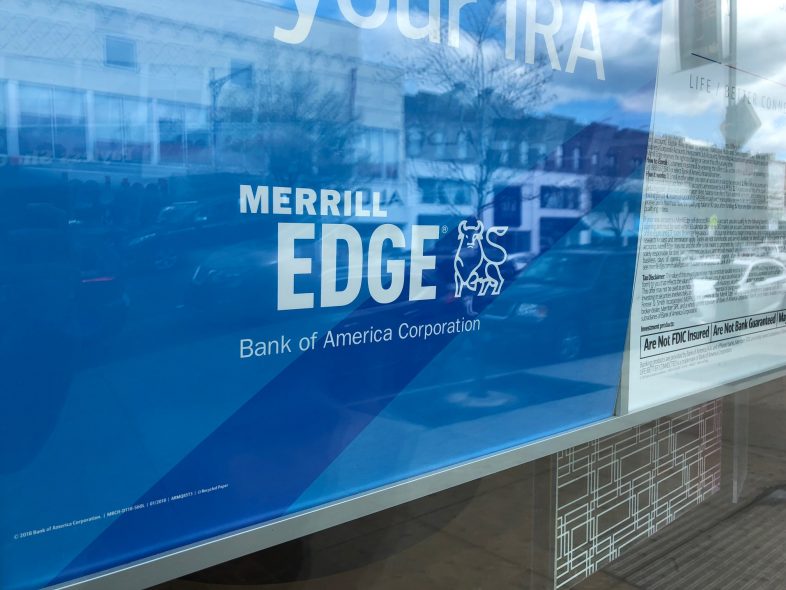 Robo-advisors make it easy to build an investment portfolio. You can invest based on your goals, timeline and risk tolerance.
Compared to working with a human advisor, robo advisors can save you money thanks to their lower fees.
But is it right for you?
Merrill Edge (the investing arm of Bank of America) is yet another company that's joined the robo advisor ranks. Merrill Edge Guided Investing combines online investing with professional portfolio management.
You get the benefit of Merrill Edge expertise when choosing investments. Rebalancing is also built-in.
Merrill Edge investing experts are available when you need them. You can get in touch online, by phone or at Bank of America locations.
Doing your homework is a must before choosing a robo advisor. Our review takes an in-depth look at Merrill Edge Guided Investing's features.
Merrill Edge Guided Investing is Good for..
People who have at least $5,000 to invest
Investors who prefer exchange-traded funds
People who want affordable professional portfolio management
Taxable and tax-advantaged investing
Merrill Edge Guided Investing Pros & Cons
Compare Investment Options
Act now to maximize the growth of your finances with one of these investment platforms.
Types of Accounts Offered
There are several different account types you can open with Merrill Edge. They include:
Individual and joint brokerage accounts
Rollover IRAs (for employer-sponsored retirement plan rollovers)
SEP and SIMPLE IRAs
Custodial accounts
529 accounts
For now, Merrill Edge doesn't offer trusts or inherited IRAs as an investment option.
But, there are plans to offer those in the future.
Merrill Edge also doesn't allow power-of-attorney access for Guided Investing accounts. But, you have plenty of choices for opening an account.
Are There Different Tiers for Merrill Edge Guided Investing Accounts?
Some robo advisor platforms tier their accounts, based on your balance.
So if you have a balance below a certain limit, you might enjoy one set of benefits for a certain fee. If your balance climbs, the fee might increase but you could unlock more perks.
Now:
With Merrill Edge Guided Investing, there are no account tiers.
Every account comes with the same features and the same low annual management fee. There's one potential hitch, however.
You'll need at least $5,000 to start investing with Merrill Edge Guided Investing.
There are some online investing platforms that have higher minimums. Others have no minimum at all.
If you have less than $5,000, you may either need to pick another robo advisor. Or, wait until you hit that mark to get started with Merrill Edge.
Investment Options
Merrill Edge Guided Investing focuses on exchange-traded funds( or ETFs).
ETFs have two main benefits:
They offer simplified diversification
They tend to have lower fees compared to mutual funds or individual stocks
Merrill Edge uses a variety of ETFs to build portfolios through Guided Investing.
Generally, those ETFs focus on five investment areas:
Domestic equity - U.S.-based stock ETFs
International equity - ETFs that invest 40% or more of their holdings in foreign companies
Taxable fixed income - ETFs whose returns are subject to local, state and federal tax
Non-taxable fixed income - Non-taxable bond ETFs (with a focus on municipal bonds)
Miscellaneous fixed income - Bond ETFs that include U.S. and non-U.S. fixed income securities
Investments are divided up further in each grouping.
With domestic equity, you can choose from large, mid or small-cap companies. With fixed income, there are ETFs focused on short, intermediate and long-term bonds.
As you can see, there's a good range of investments to choose from. Remember that stocks tend to be riskier than bonds.
Building a portfolio
You know what you can invest in with Merrill Edge. The next question is, how do you do it?
It's pretty simple. You fill out a short questionnaire telling Merrill Edge about yourself. That includes your investing goals.
From there:
Merrill Edge offers a recommended investment strategy. If you're comfortable with that strategy, you can move on to opening and funding your account.
Can you invest in anything other than ETFs?
Some online investing platforms offer individual stocks and bonds and mutual funds. Merrill Edge Guided Investing focuses on ETFs only.
The upside is that ETFs have some advantages.
They tend to have lower management fees than traditional mutual funds.
They're tax-efficient, which is a plus if you're investing in a taxable account.
ETFs let you diversify easily through one fund.
If you want to expand your investment scope beyond ETFs, you can do that with a standard Merrill Edge brokerage account. But, you don't get the benefit of professional management.
Fees
There are two types of fees to know about with robo advisors: the platform's management fee and fees charged by individual investments.
Merrill Edge Guided Investing keeps it simple by charging one flat annual management fee of 0.45%.
This fee is charged monthly, based on your balance. So if you end the month with a $10,000 balance, your next month's fee would be $3.75.
You don't pay any trading commissions to buy or sell ETFs. You may pay third-party exchange fees when you trade.
Additionally, each ETF has its own expense ratio. This is an annual management fee the fund charges.
Expense ratios can vary from one ETF to another. As a general rule, the lower the fee, the cheaper the ETF.
Studying up on expense ratios is important because the more fees you pay, the less of your investment earnings you get to keep.
Professional Portfolio Management
There are two things that make Merrill Edge Guided Investing a standout. The first is professional portfolio management.
Many robo advisors use a unique algorithm to make investment recommendations. Merrill Edge relies on technology. But, it also uses human investment professionals to help clients build portfolios.
Their expert team helps to manage portfolio strategies to create ideal asset allocations and help investors adjust when needed.
Essentially, you get professional insight without actually working with an advisor one on one.
And if you need to talk to an investment specialist, you can do that by phone 24/7.
Rebalancing is included
Rebalancing just means adjusting your portfolio's asset allocation periodically. You do that to minimize risk.
Merrill Edge Guided Investing is actively managed and rebalancing is included.
However:
It's not automatic.
Investment professionals review your portfolio and adjust your allocation as needed to make sure you're not taking on too much or too little risk.
That's a nice advantage you don't always get with other robo advisor platforms.
You don't have to worry about keeping the right mix of investments in your portfolio because a Merrill Edge expert's doing it for you.
One thing you won't get is tax loss harvesting. Tax loss harvesting helps you minimize your tax bill on investment gains.
Note: Tax loss harvesting only applies to taxable accounts, not tax-advantaged retirement accounts.
Online and Mobile Experience
Guided Investing accounts are accessible by computer and mobile device.
You get your own Guided Investing dashboard that you can use to monitor your account.
You can use the dashboard to:
Check your current account balance
Review investment performance history
Check your progress towards your investing goals
Review earnings and cash flow
You can also use the dashboard to view other Bank of America or Merrill Edge accounts if you have them. That includes checking, savings and other investment accounts.
Overall, the interface has a clean design and it's easy to use.
Research Tools
As mentioned, you can get in touch with an investment professional by phone, web chat or at a Bank of America location if you have questions.
Merrill Edge also has an extensive library of research articles and tools you can tap.
For example, you can read up on different types of investments, get real-time streaming quotes and use a stock screener tool to choose investments.
You can also access thought leadership articles from Merrill Edge and Bank of America on investment trends and what's happening in the market.
Merrill Edge does a great job of giving investors a steady stream of useful information.
Is Merrill Edge Guided Investing a Good Way to Invest?
If you can meet the $5,000 minimum investment and you prefer ETFs to other investments, Merrill Edge Guided Investing could be a great choice.
The annual fee isn't overwhelming and the professional management aspect could appeal to investors who want more than a DIY approach.
On the other hand:
You might want to check out another robo advisor if you're hoping to build a portfolio with more than ETFs or you want to get started with less money.
Just keep in mind that you might not be rebalancing or professional guidance with other online platforms.
Weigh those benefits against the cost and investment choices.