Best Online Brokers for Free Stock Trades in 2023
Find out which online brokerages are the best for unlimited, free trades on stocks and ETFs to help minimize the commissions on buy and sell orders.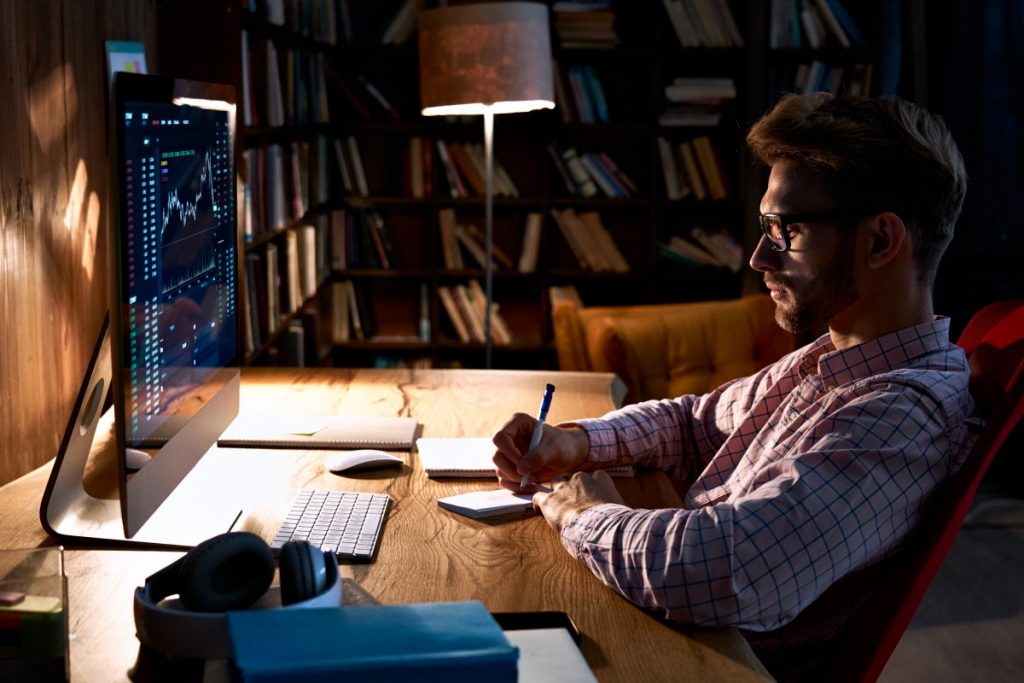 Trading stocks online is a convenient way to build an investment portfolio.
But one important thing to watch out for: fees. 
That can include commission fees for trading. But you may also pay individual investment fees and account management fees.
Fortunately, many online brokerages now offer commission-free trades for stocks and exchange-traded funds. 
Online brokers aren't all alike and it's important to know how they measure up.
If you're ready to open a brokerage account, here are some of the best online brokers to trade stocks for free.
SoFi Invest: Fractional trading and $0 trades on stocks, ETFs, crypto
Robinhood: Offers free trades on options as well
Charles Schwab: Start investing with a $0 minimum
E*TRADE: Customizable trading platform for active traders
Fidelity Investments: One-stop shop for all investing needs 
Interactive Brokers: Extensive range of investment options
Tradestation: Top-tier research and analysis tools
SoFi Invest
Amount to open: $0
Investment options: Stocks, ETFs, cryptocurrency
Best for: Active investors and beginners who are interested in trading fractional shares. 
Besides offering loans, SoFi makes it easy to build a portfolio online. 
SoFi Invest allows you to invest in stocks, ETFs and cryptocurrency. You can do so without account fees. There are no commissions and no account minimums required to trade. You can place trades online or through the SoFi Invest mobile app. 
StockBits makes it possible to buy fractional shares of top stocks with as little as $1. You can pick and choose which stocks and ETFs to trade as an active investor. 
Automated investing is also an option if you'd prefer the hands-off route. You can get a custom-made portfolio that includes automatic rebalancing and goal-setting. It's a simple way to diversify while building wealth. 
Additionally, SoFi Securities is a Member of SIPC. The SIPC protects securities customers of its members up to $500,000. 
Read our SoFi Invest editor's review.
Robinhood
Amount to open: $0
Investment options: Stocks, options, ETFs and cryptocurrency
Best for: Investors who want a streamlined way to trade stocks and ETFs commission-free. 
Robinhood was one of the earliest brokerages to offer commission-free stock trades through a streamlined investment platform. It's continued that model, with free trading for stocks, options, ETFs and crypto. 
There's no amount needed to open an account. The exception is if you want to trade on margin. If you're interested in a margin account you'll need at least $2,000 to get started.  
Like SoFi Invest, Robinhood also offers fractional share trading. You can buy into shares of some of the best-known stocks for as little as $1. 
If you're interested in a cash management account, you can open one with Robinhood. This account combines the features of a checking account with a competitive yield. 
There are no fees or account Amounts and you can access your money at more than 75,000 ATMs fee-free. 
In terms of user experience and accessibility, Robinhood keeps things simple. You can open and fund your account via the mobile app in minutes or get started online. 
Read our Robinhood editor's review.
Charles Schwab
Amount to open: $0
Investment options: Stocks, options, bonds, mutual funds and ETFs
Best for: Investors who want to diversify beyond stocks or ETFs and enjoy access to robust trading tools. 
Schwab is another early adopter of commission-free stock trading. You can open a brokerage account with $0 and pay $0 for stock trades, ETF trades and options trades.
You also pay no account opening or maintenance fees. When you open an account you can add Schwab Trading Services at no cost, which offers some advantages. 
Schwab Trading Services gives you access to web, software and mobile trading platforms. You can also tap into a team of dedicated trading specialists if you need help. That's something other online brokers don't always offer. 
Read our Charles Schwab editor's review.
E*TRADE
Amount to open: $0
Investment options: Stocks, ETFs, bonds, mutual funds, options, futures
Best for: Active traders and beginning investors who want customizable trading platforms and solid customer support. 
E*TRADE could be a good fit if you're an active trader who frequently trades online or via mobile app. 
There are no commissions for stock trades or ETF trades with E*TRADE. You can open an account with $0. And you do have opportunities to earn cash bonuses by making a higher opening deposit. 
E*TRADE shines when it comes to user experience, with customizable trading platforms. It's also a standout for its 24/7 customer service, which is accessible by phone, email and live chat. 
Read our E*TRADE brokerage editor's review.
Fidelity
Amount to open: $0
Investment options: Stocks, ETFs, options, mutual funds, bonds, CDs, precious metals
Best for: Active investors who want access to premium market research. 
The Fidelity Account is Fidelity's online brokerage option. With this account, you can trade U.S. stocks, ETFs and options commission-free. 
There's no account minimum to trade with Fidelity. But you will need at least $10 in your account to place a trade.
You can trade fractional shares through the Fidelity Mobile App. This feature isn't available through the online trading platform, however. 
An outstanding array of research tools makes Fidelity an attractive option. That goes for new and experienced traders. The company provides independent research from more than 20 industry providers. 
Read our Fidelity Investments brokerage editor's review.
Interactive Brokers
Amount to open: $0
Investment options: Stocks, options, spot currencies, futures, precious metals, bonds, ETFs, mutual funds, hedge funds, robo portfolios
Best for: New and experienced investors who want extensive investment options and advanced trading platforms. 
Interactive Brokers offers some of the lowest trading costs around. It also has one of the most advanced trading platforms. 
There are two ways to trade with Interactive Brokers: IBKR Lite and IBKR Pro.
The Lite version of the trading platform features no account minimums. You pay $0 commissions for stock and ETF trades. The Pro version may appeal to more sophisticated investors. It offers a wide range of premium research and trading tools. 
When it comes to investment selection, Interactive Brokers outshines the competition. That includes the option to trade fractional shares of stock. 
Read our Interactive Brokers editor's review.
TradeStation
Amount to open: $2,000
Investment options: Stocks, ETFs, options, futures, futures options, cryptocurrency, mutual funds, bonds, IPOs
Best for: Investors who have at least $2,000 to start trading. 
TradeStation offers a diverse array of investment options. Those include commission-free trades of stocks, ETFs and futures. For now, fractional shares trading isn't an option. 
What makes TradeStation notable, aside from $0 commission trades, are its trading platforms. Investors can trade online, via mobile app or through the TradeStation desktop. 
The TradeStation desktop offers a suite of powerful tools for researching, comparing and analyzing securities. This might appeal to more experienced traders who want to automate their trading activity. 
One thing worth noting is that TradeStation does require a higher minimum deposit. You'll need at least $2,000 to open an account, compared to the $0 other online brokers require. 
Read our TradeStation brokerage editor's review.
What to Consider When Opening a Brokerage Account
While trading stocks commission-free is a plus, it's not the only factor to consider when opening a brokerage account. Here are some of the other factors to weigh in the balance. 
Account minimums
Before opening a brokerage account, check the account minimums first.
Some online brokerages don't need a set amount to open an account. But others may expect you to have $100, $1,000 or even more to start trading.
Other investment fees
While online brokers may charge $0 commission fees, there may be other fees to trade.
For example, commissions may still apply to non-stock trades for mutual funds, futures or options.
If you're trading ETFs or mutual funds, consider the fund's expense ratio. This is what you'll pay to own the fund each year and the lower it is, the better. 
Fractional investing
Fractional investing allows you to trade stocks in smaller dollar amounts. For example, instead of buying one full share of stock you may be able to buy a half share or quarter share instead. 
This can help you add higher value stocks to your portfolio without tying up large amounts of money. Not all brokers offer this though. 
So it's important to know which ones do if you're interested in fractional shares. 
Account management and access
It's also important to consider how you can access and manage your brokerage account. 
For example:
Can you manage your account online?
Is there a mobile app available?
Does the broker offer a single trading platform? Or several platforms tailored to different investor experience levels?
Asking those kinds of technical questions can help you connect with the right broker. 
Trade execution speed
If you're an active trader, execution speed can be crucial in helping you buy or sell quickly.
Aside from that, you may also be interested in after-hours trading once the market has closed. 
Some brokers offer after-hours trading but others don't. So pay attention to how quickly trade orders are processed and when you can make them. 
Research tools and data
Having access to stock data and research tools can make decision-making easier. It may be especially helpful as a new investor. 
When comparing online brokers, check the resources that are available. This can help guide your investing journey. 
Customer support
Last but not least, consider customer support options in case you have questions or need help.
For example, is help available by phone, email or live chat?
Also, look at whether you can talk to an investment professional if needed. And consider whether you may pay a fee for that.