E*TRADE Brokerage 2023 Review: $0 Fees on Stock & ETF Trades
Our review of E*TRADE brokerage accounts look at investment options, trading fees, portfolio management, and research tools available to investors.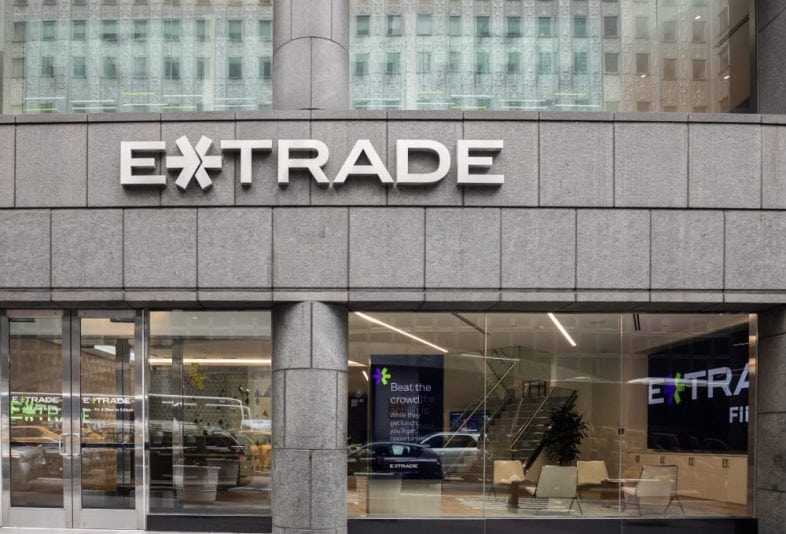 Ready to start investing? An online brokerage account can be a simple way to get started. 
The question is:
Which online brokerage is the right one for your money? 
If you're looking for a low-cost option for investing online, E*TRADE is one platform you might consider. E*TRADE is a highly recognizable name in online stock trading. 
For example, you can trade individual stocks as well as mutual funds, exchange-traded funds and other securities. E*TRADE charges $0 commissions to trade U.S. stocks, ETFs and options. 
If you're interested in building a portfolio with fewer fees, that might appeal to you.
Read our full E*TRADE review to learn more about how it works and how it compares to other online trading options.
E*TRADE brokerage is good for…
Investors who want to pay $0 to trade stocks and ETFs
Beginners who need a simple way to build an investment portfolio
Experienced investors who are interested in trading options or futures
People who want accessible research tools and great customer service
E*TRADE Brokerage Pros & Cons
Types of Accounts Offered
E*TRADE offers both individual and joint brokerage trading accounts.
You can open these accounts online, with no minimum deposit. 
Aside from brokerage accounts for investment trading, E*TRADE also offers: 
Traditional and Roth Individual Retirement Accounts
Rollover IRAs
Beneficiary IRAs for inherited accounts
E*TRADE Complete IRAs for investors over 59 ½
IRAs for minors
SEP and SIMPLE IRAs
Solo 401(k) plans (traditional and Roth)
Lines of credit
Having variety is great if you're looking for a place to keep your retirement and non-retirement investment accounts.
And you also have the option to open a bank account or line of credit. 
For the remainder of this E*TRADE brokerage review we'll look at how the brokerage account works. 
Are There Different Account Tiers?
With some online brokerages and robo-advisors, you have more than one brokerage account tier to choose from. 
For instance, you might be at one account tier for the first $50,000 or $100,000 you invest. Once you pass that threshold, you might get bumped to a different tier. 
E*TRADE keeps it simple with one tier for all brokerage accounts. 
Here are the key features of E*TRADE brokerage accounts to know:
$0 minimum to invest
Account opening takes about 10 minutes online
Start trading as soon as deposited funds clear
E*TRADE attempts to make it as easy as possible to start investing. 
That's good if you've never traded stocks before.
That said:
E*TRADE can also appeal to more advanced investors.
Investment Options
Every online brokerage is different in terms of what you can invest in. 
E*TRADE gives you plenty of ways to diversify your portfolio.
For example, you can invest in:
Stocks, including international stocks
Mutual funds
Exchange-traded funds (ETFs)
Options
Futures
Certificates of deposit
Prebuilt portfolios
Prebuilt portfolios are something not all brokerage offers. 
What you're getting with prebuilt portfolios from E*TRADE is a collection of mutual funds or ETFs. There's a $500 minimum for mutual funds and a $2,500 minimum for ETFs.
The investments are pre-selected by E*TRADE and there are no commission fees. You pick the portfolio you want based on your risk tolerance and goals. 
That could be appealing if you want to keep things simple with mutual funds or ETF investing. 
Managed Portfolios
Managed portfolios are an alternative to DIY investing. 
These are portfolios that are put together for you by an investment professional. The investments are managed for you and, in exchange, you pay a fee. 
This is something E*TRADE offers if you're interested. 
There are different managed portfolio options to choose from. All three allow you to build a professionally managed portfolio that aligns with your needs and goals. 
Blend Portfolios
Blend Portfolios are professionally managed and have a $25,000 minimum balance requirement. 
These portfolios can include mutual funds, ETFs or a blend of both. There are no commission fees but you will pay an advisory fee ranging from 0.65% to 0.90%. 
Dedicated Portfolios
Dedicated Portfolios are custom-built and include stocks, ETFs and mutual funds. 
You get the benefit of experienced portfolio management, plus tax loss harvesting. That can help to minimize the tax bite taken out of your investments. 
The minimum to invest is $150,000. And the advisory fee is also higher, ranging from 0.95% to 1.25%. 
Fixed Income Portfolios
Fixed income investments can help generate income for the short- and long-term. 
Fixed Income Portfolios from E*TRADE focus on bonds and you get a dedicated bond manager. 
The minimum to invest is $250,000. The advisory fee is 0.35% to 0.75% annually. 
Automated Investing With E*TRADE Core Portfolios
If you don't meet the minimums for managed portfolios but you're not a DIY trader, Core Portfolios are another option. 
Core Portfolios require a $500 minimum and they let you invest automatically with ETFs. There are no transaction fees and the annual advisory fee is 0.30%.
You might check out Core Portfolios if you're interested in a robo-advisor option. Portfolios are tailored to fit you using E*TRADE's unique algorithm. 
Fees
Like other online brokerages, E*TRADE is fairly low-cost. Here's a look at how the fees add up.
E*TRADE brokerage trading fees
| Investment options | Trading fee |
| --- | --- |
| Stocks and ETFs | $0 for online trades; $25 for broker-assisted trades |
| Mutual funds | $0 for load and no-transaction fee funds; $19.99 for transaction-fee funds |
| Options | $0 + $0.65 per contract fee (reduced to $0.50 for 30+ trades per quarter) |
| Futures and options on futures | $1.50 per contract |
| Bonds | $1.00 per bond |
Pricing for E*TRADE is competitive. 
The most expensive thing to know about is the $25 fee for broker-assisted trades.
But since the platform is relatively easy to use and navigate, you may be able to handle all trades yourself. 
Are Tax-Loss Harvesting and Automatic Rebalancing Included?
Tax-loss harvesting and automatic rebalancing can be important when investing. 
Harvesting losses is a way to balance out capital gains. This can help with keeping the taxes owed on your investments low. 
Rebalancing keeps your investments from straying off the mark.
For example, getting overweighted in stocks could expose you to more risk than you're comfortable with. 
These are both things you can do yourself in an E*TRADE brokerage account. And you'll have to, since they're not included automatically. 
You can, however, take advantage of these benefits with one of the managed portfolio options. Just keep the advisory fees and account minimums for those in mind. 
Online and Mobile Experience
E*TRADE lets you manage your investments through an online or mobile platform. 
If you're trading online, you can use the classic platform.
Or, you can use Power E*Trade. 
The difference is that Power E*Trade has more advanced research and analysis tools. That means if you're a beginning investor, you may be better off with the classic platform. 
There are also two mobile apps for E*TRADE investors. 
Again, there's a classic version and the Power E*TRADE version. Both are highly responsive and available to download for Android and Apple devices. 
It's free to use either the regular or Power E*TRADE apps and online trading platforms. Choosing one all comes down to how comfortable you are with DIY investing. 
If you're new to trading, the regular version may work best. But if you really want to dig deep into stocks, then Power E*TRADE could be right for you. 
Research and Investing Tools
E*TRADE gives you plenty of ways to research stocks and other investments. 
Stock screeners
Bond screeners
ETF and mutual fund screeners
Market news and updates
Fundamental analysis tools
Technical analysis tools
Together, these tools can help you build a portfolio that works for you. 
There are also easy to understand graphics and guides to help deepen your investment knowledge. And if you've never traded a stock before, there are video guides to walk you through it. 
Overall, E*TRADE is great for learning about investing if you're new to it or fine-tuning your strategy if you're not. 
Should You Invest With E*TRADE Brokerage?
This E*TRADE brokerage review is designed to help you understand how this brokerage works and what you can expect if you decide to open an account. 
E*TRADE could be a good fit if you want a low-cost way to invest. Prebuilt portfolios and managed portfolios make it attractive for the hands-off investor.  
In terms of limitations, you can't trade forex or crypto here.
But that may not be as important if you're a beginner. 
Overall, E*TRADE stands up against the competition like Vanguard, Fidelity or Charles Schwab.
As you compare different brokerages, be sure to review the investment options, fees and overall user experience so you know what you're getting for the money.