Betterment Robo-Advisor 2023 Review
Our review of Betterment looks at the robo-advisor's fees, account options, portfolio options, and any additional investing resources.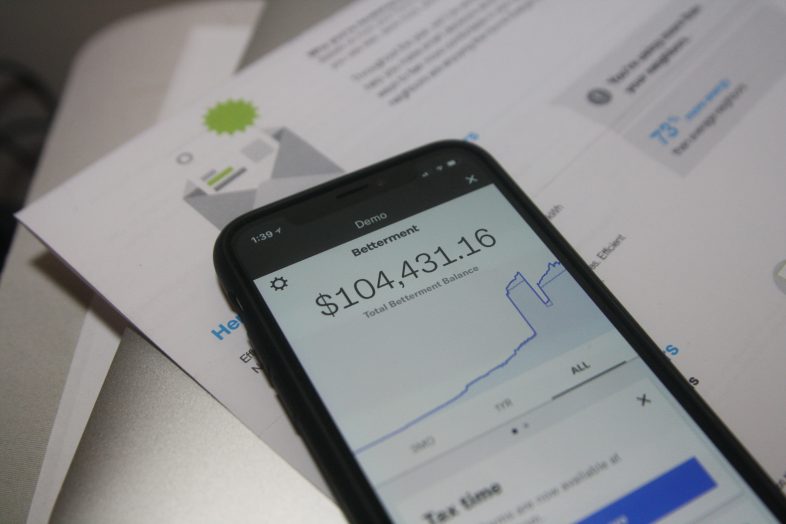 Robo-advisors are changing the way people invest, making it more convenient than ever to build a portfolio online.
Betterment is a robo-advisor whose goal is to help you make the most of your money while keeping high investment fees at bay.
One of the hardest parts of investing is choosing where to put your money and Betterment handles that part for you.
You tell Betterment what your goals are and the platform chooses a portfolio for you, based on your goals and how much risk you're okay taking on.
The platform manages your portfolio for you so there's no heavy lifting. Essentially, you're getting professional investing services at a bargain price.
But, Betterment may not be right for every investor. We've broken down the finer points of investing with Betterment to help you decide if it's worth a try.
Betterment is good for:
Investors who prefer low-cost ETFs
People who want to be able to track all of their finances in one place
Taxable investing and tax-advantaged retirement saving
Investing with a socially responsible bent
Compare Investment Options
Act now to maximize the growth of your finances with one of these investment platforms.
Types of Accounts Offered
Betterment offers taxable brokerage accounts, including joint and trust accounts.
You can also invest in tax-advantaged accounts for retirement.
If you're investing for your later years, your options include:
Traditional IRAs
Roth IRAs
SEP IRAs
Rollover IRAs
Inherited IRAs
Betterment doesn't, however, offer SIMPLE IRAs or solo 401(k)s. If you're self-employed, you'll have to stick with one of the other IRA options.
The platform also doesn't offer 529 accounts, Coverdell Savings Accounts or traditional employer 401(k)s, but you can get advice on how to best manage them.
Different Betterment Accounts
There are two basic account tiers at Betterment. The one you fall into depends on your account balance.
If your balance ranges from $0 to $99,999, you can sign up for the Digital Plan.
Here are the features and benefits you get:
Personalized financial advice from Betterment experts
Your choice of low-cost, globally diversified investment portfolios
Automatic rebalancing
Tax-efficient investing strategies
Simplified financial management in one place
Access to Betterment's Customer Support Team
Unlimited access to advice from licensed experts
The Premium Plan is available if you have a balance of $100,000 or more. You get all the benefits of the Digital Plan, plus in-depth advice on your investments outside of Betterment and life-stage financial planning.
The Digital Plan is good if you're just starting out with investing. Once you've built up some wealth, you can switch over to the Premium Plan.
And if you already have $100,000 to invest, the Premium Plan could help with mapping out your long-term financial vision.
Investment Options
Betterment's investing strategy favors exchange-traded funds or ETFs. ETFs are low-cost funds that include a mix of different investments for easy diversification.
The portfolios are designed to help you earn better returns based on your desired level of risk.
Generally, your portfolio options include a mix of stocks and bonds. Stock ETFs include:
U.S. Total Stock Market
U.S. Value Stocks - Large Cap
U.S. Value Stocks - Mid Cap
U.S. Value Stocks - Small Cap
International Developed Market Stocks
International Emerging Market Stocks
Each ETF offers different exposure to different types of stocks. Each one carries a different level of risk.
On the bonds side, bond ETF options include:
U.S. High Quality Bonds
U.S. Municipal Bonds
U.S. Inflation-Protected Bonds
International Developed Market Bonds
International Emerging Market Bonds
U.S. Investment-Grade Corporate Bonds
U.S. Short-Term Treasury Bonds
Bonds are generally considered to be safer investments than stocks.
When you sign up for a Betterment account, the platform asks you questions designed to help gauge your risk tolerance.
Once Betterment has an idea of how much risk you're comfortable with, it generates the portfolio options that are best suited to your goals.
Curated Portfolio Options
In addition to stock and bond ETFs, Betterment offers four other investing choices.
There's a socially responsible portfolio, which is designed for investors who want to make a positive impact with their money.
The Goldman Sachs Smart Beta strategy is focused on outperforming the market.
BlackRock Target Income is a 100% bond portfolio with different income yields.
If you have more than $100,000 to invest, you can set up a Betterment Flexible Portfolio. This allows you more control over your investments if you want to tweak Betterment's recommendations.
Can You Invest In Anything Besides Stocks and Bonds?
Other robo-advisors give you some variety with your investments.
For example, you might be able to invest in real estate through a real estate investment trust, or buy cryptocurrency in your accounts.
Betterment doesn't do that. They keep it simple by letting you invest in stocks and bonds only through ETFs.
What Are the Fees When You Invest With Betterment?
Fees are a big concern when you're investing. The more you pay in fees, the more that eats away at the returns you're earning.
Betterment charges an annual fee, based on your account balance. Here's how the fee compares:
Betterment Fees
| Digital | Premium |
| --- | --- |
| 0.29% per year for balances up to $99,999 | 0.40% per year for balances of $100,000+ |
The fee only kicks in if you have money in your Betterment account. You'll never pay a fee when your account balance is $0.
The fee is taken right out of your balance each. But, it's the only fee you'll pay.
There are no additional trading fees when you buy or sell an ETF and no transfer fees when you add or withdraw money from your Betterment account.
The Betterment Advantage: Tax-Efficient Investing
Besides fees, taxes can diminish your returns in a big way.
Betterment strives to make managing your tax liability as easy as possible.
They do that in two ways:
Tax loss harvesting
Strategic asset location
Tax loss harvesting is a technical term for buying and selling investments the right way.
The idea is that if you're going to owe taxes because you sold an investment for a gain, you can offset it by selling an investment at a loss.
With some robo-advisors, you may have to handle loss harvesting yourself. Certain platforms don't even support it all.
Betterment ensures that you get the most tax benefit possible by harvesting losses in your taxable accounts for you periodically.
Tax-loss harvesting doesn't apply to IRAs because these accounts are tax-deferred.
They also help you organize your investments, by putting high-tax assets in IRAs and low-tax investments in taxable accounts.
And rebalancing is automatic.
When you make a deposit or earn dividends on your investments, Betterment checks your investments and makes adjustments to minimize the tax impact.
Finally, Betterment shows you the possible tax implications before you buy or sell an investment.
They'll also help you decide in which order to buy or sell to keep tax costs as low as possible.
Altogether, those tax features can help you keep more of what you earn on your investments in your pocket.
Online and Mobile Experience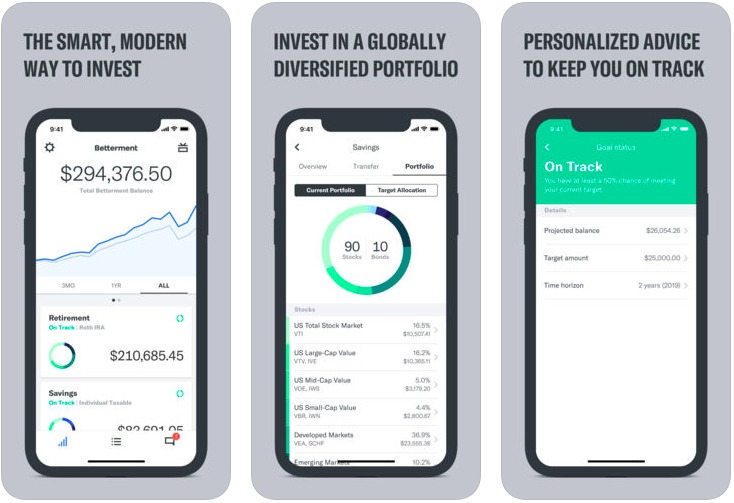 Like other robo-advisors, Betterment is designed for people who are savvy about managing their money online.
You can log in to your account through the website or the Betterment mobile app.
Betterment makes it easy to view all your financial accounts together, not just your portfolio.
You can sync your bank accounts and outside investments, including your retirement plan at work and other brokerage accounts.
You can easily track your net worth, see how much your investments have earned and the amount of tax losses harvested.
You'll also be able to see how much your outside investments are costing you in fees and where you have cash available to invest.
Overall, both online and mobile access are easy to navigate.
Research Tools
Investing can be a tricky subject, especially if you're a beginner.
While Betterment gives you access to expert advice, they also provide some valuable research tools if you'd rather learn on your own.
For example, there's a retirement savings calculator to help you decide whether you're on track to reach your retirement goals.
There are also calculators to help you crunch the numbers on Social Security income and what the best IRA is for you.
Betterment's Resource Center includes lots of helpful information on diversification, taxes and retirement planning.
You'll also find advice on more general personal finance topics, like budgeting, credit, and paying off debt.
Should You Invest With Betterment?
Betterment could be a great choice for newer investors who are just beginning to build their portfolios.
But, you should also take a look if you've been investing for a while and you're considering making a change in your portfolio.
The combination of convenience, low costs, and tax-efficient strategies make Betterment good for someone who's comfortable investing online and wants to save the most money possible.
If you're a higher net worth investor, you could also give it a try.
But, you may prefer working face-to-face with an advisor, versus getting digital investment advice.