Why Choose a Live Financial Advisor Over Automated Advisor?
Find out whether a live financial advisor or robo-advisor is better to help you build a balanced, diversified investment portfolio that will help you grow your retirement savings. Compare the benefits and fees of each option to determine which choice is a better match for your financial situation.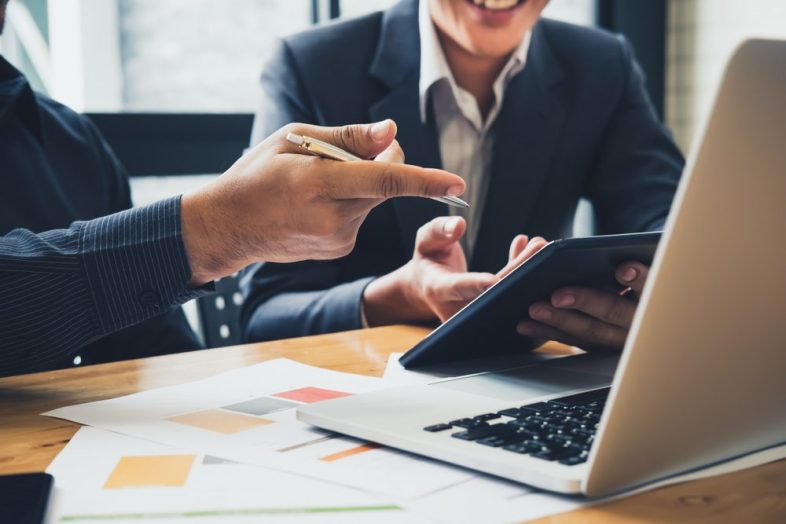 Conventional financial advice since the dawn of mankind has always come from a real, live human being. Yet with technology changing the way we go about life in almost every way possible, robo-advisors -- computer programs designed to invest your money -- are a popular reality for investing and retirement savings.
Robo-investing services are growing fast, their big draw the ability to pair someone with a customized portfolio in a matter of minutes. Robo-advisors often boast lower fees and costs, just one reason to give human financial experts a run for their money (literally).
Can automated robo-advisors fully replace live financial experts, and are they necessarily better? And do you need to choose one over the other? Combining the services of man and machine together might just be the best choice for maximizing your investments. Like with everything, both have their pros and cons to consider.
Robo- vs. Live Financial Advisors
| Robo-advisors | Live financial advisor |
| --- | --- |
| Can set up a portfolio for you in minutes | Can provide a very comprehensive portfolio that also considers all aspects of a client's financial situation |
| Cost is usually a small percentage of the portfolio size | Cost may be a flat rate, hourly rate, commission-based, or asset size-based |
| Some may look for smart tax moves | Can be tough to find a good one |
How Do Robo-Advisors Work?
A robo-advisor is a fully automated investment platform. Open an account with a robo-advisor, make your initial investment, and the robo-advisor will automatically pick your investments -- a mix of stocks, bonds and otherwise -- and create a diversified portfolio based on the personal and financial information you provide it.
Robo-advisors are completely self-guided. Yours will manage your portfolio for you, making tweaks and changes to your investments to best reach your goals. It'll buy, sell and trade stock for you depending on market changes and your preferences you've specified.
Features and benefits
What may set robo-advisors apart from their human counterparts are the unique features many of them offer.
Some robo-advisors look for tax advantages in the way they invest your money. Called tax harvesting, investing in a taxable account allows you to make certain deductions against your investment earnings, reducing your overall income tax burden.
Robo-advisors may help diminish investor stress levels. Instead of constantly monitoring how your index funds are performing, or if you should be buying or selling that particular stock, robo-advisors set everything to automatic and do the work for you.
Robo-advisors are ideal not just for beginner investors, but those DIY investors looking for some automated help in their investments.
Particularly on high-balance accounts, automated advisors may choose to purchase individual, hand-picked stocks for your portfolio instead of groups of funds, saving you money on fees.
What about fees?
Since we're on the topic of fees, robo-advisors are, on the whole, cheaper than utilizing a live financial advisor, one big draw for folks who want to afford to invest without spending a chunk of their money on fees and surcharges. (One big draw for rookie investors.)
Here's how robo-advisors compare to their human counterparts. According to a recent financial survey, some robo-advisors charge zero fees (on accounts ranging from $5,000 to $50,000), the highest at 0.89% of fees on accounts from $50,000 to $1 million. Over a dozen of the largest robo-advising firms charge an average 0.4% fee from investors' total assets.
The advisory fees you pay often depend on the dollar size of your portfolio; the larger the portfolio, the higher the associated fees. On the whole, you'll pay a standard service fee with a robo-advisor. It might be a fixed, flat rate, or a simple percentage of your investment earnings. When it comes to fixed rates, you might pay anywhere from a small $15 fee, upwards of $200.
Asset percentage fees may range, on average, anywhere from 0.15% up to about 0.5% of your portfolio value. So, in the latter example, if your portfolio is $150,000, your annual fee at 0.5% would be $750.
That's just one high-ticket example. If you're looking to start investing smaller amounts to start, some robo-advisors let you start with a minimum investment of a dollar.
Which robo-advisor to choose?
With such a proliferation of robo-advisor-only services, plus traditional investment firms offering their own automated robo-advising, knowing who to choose can be a daunting decision. Here are a few names to get started:
Betterment
Betterment's two investment plans specialize in index-tracking exchange-traded funds, where its automated algorithm recommends the best portfolio based on an investor's goals and timeframe for which they'd like to invest.
Betterment offers two separate platforms: its standard digital plan doesn't require a minimum balance, with a 0.25% annual fee charged at the end of each calendar quarter. The Digital Plan picks investments that increase your after-tax returns while decreasing your level of overall risk; plus, it'll automatically rebalance your target allocation if market conditions cause it to shift.
For the more experienced investor with at least $100,000 to invest, a second, Premium plan levies a 0.40% annual fee but offers more features, including unlimited access to live Certified Financial Professionals for investors looking for hybrid automated/traditional investing guidance.
Wealthfront
Wealthfront, along with Betterment, is one of those household names in the world of robo-investing. Its passive investing methodology -- coined "PassivePlus" -- combines daily tax-loss harvesting with direct fund indexing (for accounts over $100,000) and risk parity to take your money, let it sit in a diversified portfolio, and build earnings, simple as that.
Wealthfront charges no advisory fees on your first $10,000 invested; any amount higher than that is charged an annual rate of 0.25%.
FutureAdvisor
The "Future" in FutureAdvisor is the robo-advisor's approach to helping clients save for retirement. Their strategy, according to FutureAdvisor, is to invest your funds through a mix of minimizing fees and taxes with global portfolio diversification. Tell it a bit yourself, where you see yourself in five, 10, 20 years, and what retirement ideally looks like for you, and FutureAdvisor does the rest, tailoring your investment account to recommend investments that produce the most lucrative gains possible.
Currently, FutureAdvisor offers Direct Management for traditional, Roth, Rollover, and SEP IRAs, as well as individual and joint taxable accounts.
FutureAdvisor's annual management fee is 0.5% on assets it directly manages. Expense ratios and trading fees may raise that cost, which FutureAdvisor estimates at 0.65% per year.
How Do Live Financial Advisors Work?
Since they're real, live people, human financial advisors come in all kinds of specialties and qualifications, so picking the right one boils down to understanding the practice areas of different financial professionals.
Certified Financial Planners, or CFPs, can advise you on perhaps the broadest scope of financial issues. A qualified CFP will have obtained certification and licensure from the Certified Financial Planner Board of Standards, gaining expertise in eight key financial topic areas. CFPs are the most well-rounded of financial advisors and can give you advice and guidance on most matters, including investment, retirement, or debt management. CFPs are also fiduciaries, meaning they must always act within your best financial interests over earning a profit.
Certified Public Accountants (CPAs) start out as traditional accountants but receive special certification from American Institute of Certified Public Accountants. If tax- or retirement-related issues are what's important to you financially, a CPA may be able to help, but if you're seeking advice on other, more sophisticated money matters, you may need to look elsewhere.
Investment Advisors/Registered Investment Advisors (RIAs) are similar in that they can provide the best expertise in investing and wealth management, and in many respects, provide the closest services to what you might find with a robo-advisor, at least when it comes to investing. However, advisors and RIAs are limited in what they can do when it comes to other planning, like retirement or healthcare savings.
In each case, a financial professional may charge a flat rate, hourly rate, or a commission-based rate according to how well your investments perform.
How an advisor charges clients is something you'll need to find out during a consultation -- the best method of finding a good financial professional. Schedule appointments and meet them in person to see if it'll be a good fit for you and your finances.
Check their credentials and their records. Do they have stellar reviews? Have they been awarded or recognized by financial organizations? Or are there a laundry list of complaints against them? Ask them for their financial quarterly statements for a sample of how they can get investments to perform. Most of all, see which advisor meets your financial needs best, today and tomorrow. Can they adjust to your changing needs in the ensuing months and years?
When a human advisor makes sense
Automated advisors have their advantages, and they're improving their services all the time. Automated comes with lower costs, convenience and a "set it and forget it" method that works for many people.
But there are times when a human advisor is the better choice.
Robots are only as good as the humans who developed them. Robo-advisors were programmed by humans who developed the technology, so they may be limited in what they can do. For example, though many are experienced in handling and managing retirement accounts, when it comes to 401(k)s or 403(b)s, it may be time to defer to a live advisor over its robotic equal.
Humans can answer questions and offer advice. Robo-advisors may be astute in giving recommendations based on the information you give it, but sometimes, a face-to-face, person-to-person interaction with a real-life professional can do so much more for investors. A human advisor can answer questions on market conditions and get a clear view of your finances, in your words. "Having a licensed, human advisor can add great additional value such as overseeing your portfolio and understanding your story," says personal wealth manager Daniel Schutte. "A robot cannot answer specific answers unique to your situation."
Human advisors get the big picture. Robo-advisors use the most sophisticated software to automate your investments accurately, sometimes to a fault -- the perfect vehicle for many people interesting in leveraging technology with their finances. But robo-advisors can't advise as well as a human advisor with experience and perspective. "Personal finances are just that, personal," says CFP Russ Blahetka. "The (robo-advisor) sees an account as a bunch of numbers and holdings. What we see behind each account is a person, or a couple, or a family. We never lose sight that it is about people."
Verdict: Which One is Better for You?
So, should you choose a robo-advisor or a certified human financial planner?
That all depends on you and where you and your money are at. Don't base your decision on what someone else does; your money matters, including your income, how much you're able to invest, and where you'd like to invest are unique to you.
Consider a robo-advisor if you're just starting out and beginning the investing game. Robo-advisors are friendly to investors with fewer funds to invest, and their fees are more forgiving (if they charge fees at all). With robo-advisors like Betterment, you'll be able to check your investment dashboard on your laptop or mobile device whenever you want, so for people who want more 24/7 interaction with their investments, robo-advising may be the better bet.
If you're along on the investing path, amassed considerable wealth, and at the point where you need more than the DIY method, go for an experienced, live financial advisor. They'll be able to guide you through the sometimes labyrinthian experience of managing your retirement and investment portfolio -- but choose the right one, and they'll be able to maximize your investments' growth with low risk and high reward. It could result in a professional relationship that may last years, if not decades, well into the retirement years you've been planning for.