Robinhood Brokerage 2023 Review
Robinhood is a mobile-focused brokerage that doesn't charge a commission fee to trade. Find out if this investing platform worth using based on the fees, trading benefits, margin rules, research tools, online/mobile experience, and more.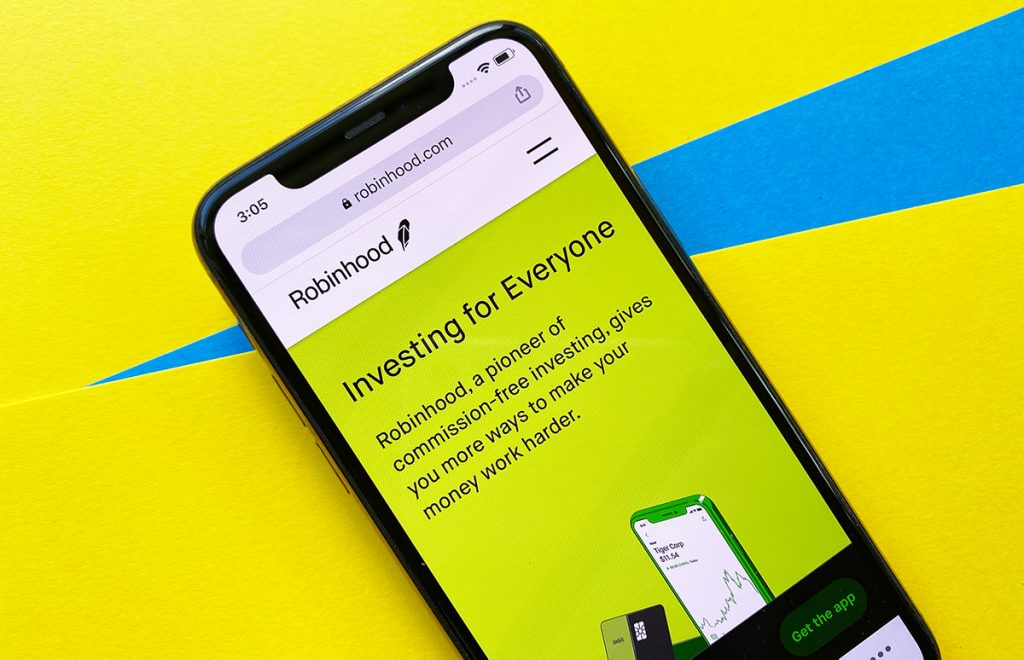 Designed as an easy way to enter the complicated world of investing, Robinhood has garnered plenty of buzz -- you're probably considering it to invest your own money.
The biggest draw:
Anyone can open a Robinhood account for free and begin trading stocks without paying commission fees.
It removes a major barrier that stops many people -- who are interested in investing but don't want to pay to buy and sell securities -- from putting money in the stock market.
With any investing platform, that is just a small part of the experience. There are other benefits and notable drawbacks to consider.
We analyze the different aspects of Robinhood to help you determine whether it is worth using on your entry to investing.
Robinhood is great for…
Mobile-centric users
Active traders of stock, ETFs, and options
Taxable brokerage accounts
Margin trading (requires $2,000 minimum
Compare Investment Options
Act now to maximize the growth of your finances with one of these investment platforms.
Types of Accounts Offered
Robinhood only offers taxable brokerage accounts for individuals (currently).
You do not have access to other types of investment accounts that may offer different tax benefits or special rules.
Robinhood does now offer IRAs, but doesn't offer joint accounts, custodial accounts, or trusts.
Different Robinhood Accounts
Each user will have the option of 3 different account types:
Robinhood
Robinhood Gold
Cash
The Robinhood account (also called Robinhood Instant) is the standard account that you get when you sign up -- offering access to instant deposits so you can buy immediately after performing a bank transfer and instant settlement so that you can use the funds immediately after selling.
The Robinhood Gold account is a more premium account that provides a high-level of margin trading, larger instant deposits, and extended trading hours.
The cash management account is similar to the standard Robinhood account without the instant deposits and instant settlement.
Why would you want a cash account? Robinhood has strict rules on day trading, but a cash account is exempt from those rules.
According to Robinhood:
"If you sell and then buy a security, or buy and then sell a security in the same day, you've executed one day trade. Unless you have an equity balance of at least $25,000 in your account, your Robinhood Instant or Robinhood Gold account is limited to no more than three day trades in a sliding five trading day window.
Exceeding the three day trade limit will restrict your account from placing further day trades for 90 days. This limit applies to margin accounts (Robinhood Instant and Robinhood Gold), but not to cash accounts."
Essentially, a cash account allows unlimited day trades for free if you have less than $25,000 in assets in the account. However, you do have to wait the typical 2 business days for settlement of funds.
Robinhood Gold
Robinhood Gold offers three major advantages over a standard account.
However, Robinhood Gold is not free -- there's a fixed, monthly cost (see Fees section below).
Higher margins
You get more buying power when you have access to higher margins -- up to 100% of your account size.
Different tiers determine the amount of buying power that is available to you.
Larger instant deposits
Like margin, instant deposits refer to the funds that Robinhood is offering to you while the actual deposits make their way from your bank to Robinhood.
The same tiers that determine buying power are used for determining the amount of instant deposits that are accessible immediately.
Extended trading hours
Typical market hours are 9:30 AM EST to 4:00 PM EST on normal business days. This is the time period in which you are normally allowed to make trades.
With Robinhood Gold, you can make trades outside of this time window:
Pre-market: 30 minutes before the market open (9:00 AM EST)
Investment Options
Robinhood allows users to invest in four types of securities:
Stocks
Exchange-traded funds (ETFs)
Options
Cryptocurrencies (available in certain U.S. states only)
The notable investment option that's missing is mutual funds. In simple terms, a mutual fund is a basket of stocks -- allowing people to diversify their money in multiple stocks by holding a single investment.
Other investments excluded are: futures, forex, IPOs, annuities, and bonds.
As for cryptocurrencies, Robinhood currently offers trading of:
Real-time market data is offered for a longer list of other cryptocurrencies. Robinhood has plans to support trading for more cryptocurrencies in the future.
Few brokerages offer support for cryptocurrencies and it's nice to see that Robinhood combined that option with traditional investment choices.
Fees
Again, a big selling point for Robinhood is that there are no annual fees or inactivity fees for any of their accounts.
As for trading, there is no commission fee for any Robinhood account when buying and selling U.S. listed & OTC securities and cryptocurrencies.
There are commission fees, however, for other kinds of trades:
Robinhood Commission Rates
| Trade | Fee |
| --- | --- |
| Listed Foreign Securities | $50/trade |
| Euroclear | $35/trade |
| Canadian | $35/trade |
| Foreign Security Cancel/Trade Adjustment | $15/adjustment |
| Broker-assisted Phone Trades | $10/trade |
Other types of account fee do apply:
Robinhood Account Fees
| Service | Fee |
| --- | --- |
| ACH Bank Transfers | $0 |
| Domestic Wire Transfer | $25 |
| International Wire Transfer | $50 |
| Domestic Overnight Check Delivery | $35 |
| Returned Check, ACH, Wire & Recall/Stop Payments | $30 |
| Paper Statements | $5 |
| Paper Confirmations | $2 |
| Domestic Overnight Mail | $35 |
| International Overnight Mail | $50 |
| Automated Customer Account Transfer - Incoming | $0 |
| Automated Customer Account Transfer - Outgoing | $75 |
For these other fees, you're not likely to incur them on a regular basis.
Robinhood Gold pricing
As mentioned above, Robinhood Gold offers additional benefits to customers.
There is a monthly fee for this higher-tiered account that varies based on your account size and the amount of buying power that you'd like.
For the beginning investor, Robinhood Gold is probably not the right account to start with.
For more advanced investors, the monthly fee may be worth the added margin room because it offers the potential for higher gains (and greater losses).
Should You Open a Robinhood Account?
Robinhood makes a strong case for any investor that wants to invest in stocks at a very low cost.
Especially if you're a rookie investor, it is a great tool to jump into the world of investing because first-time investors usually start off with a little bit of money.
Commission fees for trading stocks will usually wipe out the gains on small investments, which discourages further investing.
Without the cost, Robinhood provides a platform that fosters budding investors.
Active and more advanced investors could give Robinhood Gold a try, but they may be underwhelmed with the research tools offered directly by the service.