SoFi Invest Brokerage 2023 Review
Our review of SoFi Invest looks at the brokerage accounts available, investment options, fees, and additional investing features.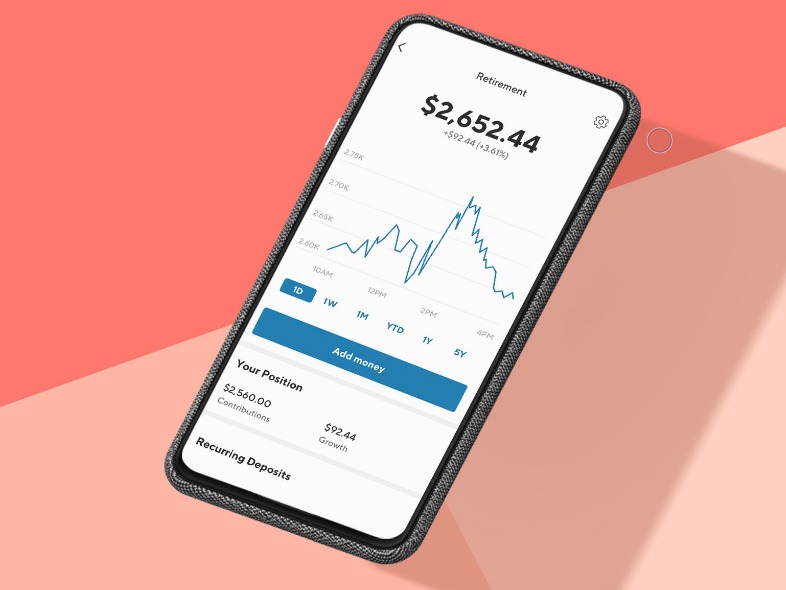 If you've ever looked into getting a personal loan or refinancing student loans, you may be familiar with SoFi.
In addition to loans, SoFi also offers a way to build a portfolio. SoFi Invest offers all-in-one investing with a low opening deposit and minimal fees. 
You can trade stocks, exchange-traded funds (ETFs) and even cryptocurrency. There are no trading fees for stocks and ETFs.
SoFi Invest offers automated investing and hands-on trading if you're more of a DIY investor. You can also trade fractional shares, which is something you don't always find at other online brokerages. 
Should you use SoFi Invest to build a portfolio? What's good (or bad) about it?
Keep reading this SoFi Invest review to learn more about how it works to help decide if you should open an account. 
SoFi Invest is good for…
People who are primarily interested in trading stocks, ETFs and cryptocurrency
Investors who want to build a portfolio with fractional shares
People who want to start investing with as little as $1
Investors who want to avoid steep trading fees
Types of Accounts Offered
SoFi Invest gives you several options for opening an account. 
Depending on what you need, that includes:
Individual brokerage accounts
Joint brokerage accounts
Traditional IRAs
Roth IRAs
SEP IRAs (if you're self-employed)
401(k) to IRA rollovers
SoFi doesn't offer trust accounts or custodial accounts. You can't open a 529 account through SoFi Invest either.
But overall, you have plenty of ways to invest for your short-and long-term goals. 
The best part:
All you need to open any SoFi Invest account is $1.
Just keep in mind that if you're opening an IRA, you're subject to annual contribution limits set by the IRS. 
You can open an account online in just a few minutes. Once you schedule a deposit into your account, it takes 1 to 2 business days for funding. From there, you can start investing with SoFi. 
Are There Different Account Tiers?
SoFi doesn't use tiers to distinguish accounts.
The difference between accounts hinges primarily on:
Whether you have a tax-advantaged account or a taxable brokerage account. 
Whether you choose active or automated investing.
Some online brokerages are purely self-directed. That means you're in charge of choosing what to invest in.
SoFi Invest lets you pick between an active option if you'd rather manage your portfolio yourself, or automated invested. 
The upside of both is that SoFi doesn't charge any trading fees for stocks or ETFs. There's no management fee for automated investing either. 
And you can get started with either one with as little as $1. 
Investment Options
SoFi Invest concentrates investment options on three things:
On the plus side, you don't always get cryptocurrency as an investment option at other brokerages.
So if you're interested in adding crypto to your portfolio, SoFi Invest can help you do it.
Fractional shares
Another advantage is being able to invest in fractional shares. Fractional share investing is great for people who don't have a lot of cash to invest. 
Buying fractional shares means buying partial shares in a company. That's helpful if you want to own top companies in your portfolio. 
For example, say you want to buy a company that trades at $1,000 per share. 
If you only have $1,000 to invest, buying one share would tie up all your money. But with fractional shares, you can buy into the company a little bit at a time. 
Fractional share investing is available through Stock Bits. You can start investing with as little as $1 and pay no trading fees. 
And in case you're wondering, SoFi offers access to premium stocks, including:
Alphabet
Amazon
Apple
Facebook
Tesla
Being able to buy in fractionally is unique to SoFi Invest and a select number of online brokerages. 
Are Managed Portfolios an Option? 
Managed portfolios let you build a portfolio with professional help and guidance.  
A fund manager puts together a portfolio for you, based on your goals, risk tolerance and time horizon. 
The trade-off:
You pay the fund manager an annual management fee. But you can benefit from their investment knowledge.
SoFi Invest doesn't offer managed portfolios in the traditional sense. But you can get premade portfolios with automated investing. 
Automated investing yields three main benefits:
Goal planning
Rebalancing
Diversification
When you sign up for automated investing, SoFi helps create an investment plan based around your goals. 
Once your portfolio is an autopilot, SoFi rebalances it for you to keep it aligned with your goals. And your money is diversified to help manage risk. 
You can set up automated investing with $1.
And unlike other brokerages, you pay zero management fees.
Fees: What's the Cost?
SoFi's low-cost structure has already been mentioned. But here's another look at what you'll pay to invest with SoFi.
SoFi Invest trading fees
| Investment options | Trading fee |
| --- | --- |
| Stock trades | $0 trading fee |
| ETF trades | $0 trading fee |
| Cryptocurrency | 1.25% per transaction; $10 minimum to trade cryptocurrency |
| Automated investing | $0 management fee |
All in all, SoFi is a great option if you want to keep investment fees low. 
The only catch:
You don't have access to bonds, mutual funds and other investment options.
So you're a little more limited in how you can invest.
Are Tax-Loss Harvesting and Automatic Rebalancing Included?
Tax loss harvesting and automatic rebalancing are both helpful features when investing. 
Harvesting losses is a way to minimize your tax liability. The goal is to balance out capital gains with capital losses so you pay less in taxes. 
Rebalancing means you adjust your portfolio's asset allocation. This is meant to keep you from taking on too much risk.
SoFi Invest doesn't do tax-loss harvesting. But you can get rebalancing with automated investing. 
Every quarter, SoFi reviews your portfolio to check your asset allocation. If rebalancing is needed, SoFi takes care of it for you. 
That's a good thing if you're worried about managing risk. And not all brokerages offer this.
Just keep in mind that you only get rebalancing with automated investing. If you're an active investor, that isn't included. 
Online and Mobile Experience
It's easy to open an account with SoFi Invest online.The whole process can be completed in just a few minutes. 
Once you get set up online, you can download the SoFi Invest mobile app. 
You can use the SoFi Invest app to:
View your account balances
Schedule a deposit into your account
Trade stocks and ETFs
Buy fractional shares of stock through SoFi Invest Stock Bits
Invest in bitcoin and other cryptocurrency offerings
Schedule withdrawals from your account
The mobile app has a streamlined look and feel. It's easy to navigate, which is good for newer investors. 
You can also manage your automated investing plan through the app. That includes setting up recurring deposits to your account. 
Research and Investing Tools
If you want to learn more about investing, research tools can help. 
At some online brokerages, you get a lot of choices. For example, you might have access to stock tickers, stock screeners or forecasting tools.
That said:
SoFi Invest is a little more low-tech in that respect. 
There aren't a lot of technical tools here.
Instead, you get access to a library of educational articles covering the basics of investing. 
That's helpful if you're new to investing. But if you want to take a deeper dive into stock analysis, you'll have to look elsewhere. 
Should You Invest With SoFi Invest?
This SoFi Invest review touches on some of the most important things to know about this online trading platform. 
Some of the main highlights of investing with SoFi are:
Low investment minimums
Fractional share investing
$0 stock and ETF trading fees
If you're a newer investor and you want to save money on fees, SoFi could be a solid choice. Paying zero management fees for automated investing is great if you need help with shaping a portfolio.
And even if you don't, you'll still pay nothing to trade stocks and ETFs. Cryptocurrency trades have their own fees. But they're not overwhelming. 
SoFi Invest may be less appealing if you're looking for advanced analysis tools or a fancy trading platform. 
The site and mobile app are both user-friendly. But they aren't packed with the kind of bells and whistles other brokerages offer. 
Overall, SoFi Invest could be a good fit if you want to trade stocks, ETFs and crypto with low minimums and low fees. 
It's good for an active trader who wants to pay $0 commissions. And it could work well for a beginner who needs automated investing with professional guidance.