OneMain Financial Personal Loan 2023 Review
Learn about the detail of the unsecured personal loans offered by OneMain Financial, a lender that provides loan servicing through branches in 44 states. Compare the interest rates, fees, credit score requirements, borrowing limits, and terms to those of the top online personal loans.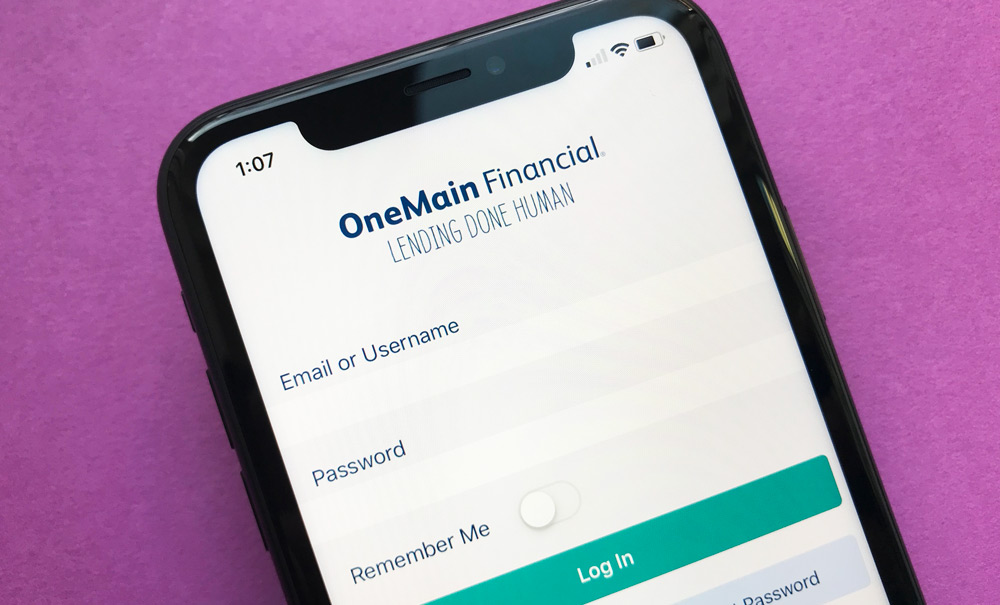 OneMain Financial iPhone App
When you need to tackle a big (or small) financial goal, it often takes cash to do it.
If you don't have money tucked away in savings, you might consider borrowing what you need.
But what's the best way to do it?
You could get a cash advance from a credit card. The downside is that can be pricey if you're stuck with a high annual percentage rate.
A personal loan, on the other hand, could be a less expensive way to borrow.
OneMain Financial provides personal loans and other credit-related products to more than 10 million customers in 44 states.
Once part of Citigroup, OneMain Financial is an independent personal loan lender headquartered in Evansville, Indiana.
OneMain's goal is to make personal loan financing quick and easy for people who need money to:
Refinance a car loan or make auto repairs
Buy a motor vehicle - car, boat, motorcycle or ATV
Pay for a wedding
Plan a vacation
Cover medical bills
In other words, you can use a OneMain Financial personal loan to reach just about any goal.
The only exceptions are paying tuition or covering business expenses.
When you're thinking of getting a personal loan, there's a lot to consider.
You have to weigh the costs, how much you can borrow, how long you'll have to repay the loan and how quickly you can get the money.
In this review, learn what are the most important things to know about a personal loan from OneMain Financial.
OneMain Financial Unsecured Personal Loans Pros & Cons
A Low Borrowing Minimum
One of the standout features of personal loans by OneMain Financial is the low minimum to start borrowing: $1,500.
We've reviewed many online lenders and this is one of the lowest minimums.
It's noteworthy for people who need a rather small personal loan and don't want to borrow more than they need.
If you over-borrow, you could be left with extra money that you should be spending. Unfortunately, this minimum is only for residents of Georgia.
In other states, the minimum is $3,100 ($3,000 for California).
On the other end, you can borrow as much as $25,000.
That's pretty generous, although you can find online lenders that offer personal loans of up to $35,000, $50,000 or even $100,000.
So, if you're seeking a larger amount, OneMain Financial isn't an option.
Borrowing Terms are Lengthy
After you figure out how much you can borrow, the next thing to consider is how long you'll have to pay the money back. OneMain offers four loan repayment terms of 24, 36, 48, and 60 months.
There are pros and cons to taking more (or less) time to pay off your loan.
With a shorter repayment term, you could pay less in total interest but you'll have a higher monthly payments.
A longer term can lower your payment but add to the interest tally.
OneMain Financial Personal Loan Calculator
What Are the Fees and APRs
One big thing to consider with any personal loan is cost. Costs can add up in two ways: the fees the lender charges and the APR.
At OneMain, there's no application fee. There is, however, an origination fee. This is a processing fee that's charged for underwriting the loan.
The origination fee varies based on which state you live in and it's added to the loan.
Also, there's no prepayment penalty. So, it's okay to funnel any extra cash toward your balance. It's generally better to get rid of the debt as soon as you can anyway.
Other fees include late fees and returned payment fees. One thing you won't pay is a prepayment penalty.
That means you can pay your loan off early without an extra charge.
APR on the higher end
As far as the APR goes, OneMain offers a fixed APR range.
Because these loans are geared towards borrowers with poor to fair versus good or excellent credit scores, the APR range is a little higher than what you might find at some banks or online lenders.
That means a OneMain Financial personal loan might cost you a little more in interest, especially if you have a not-so-great credit score.
But, if you don't have perfect credit it may be easier to get approved with OneMain. And if you pay your loan on time each month, that could help build up your credit score.
The Minimum Income and Credit Score Needed
When you apply for a personal loan, the lender's going to consider how much money you make and your credit score.
This tells the lender two things: whether you have enough income each month to make the loan payments and how likely you are to pay the loan back, based on your previous financial history.
OneMain Financial does consider your income and credit score, among other things.
Unfortunately, the company doesn't disclose any minimum income or credit score requirements on their website.
But in general, expect to have a minimum credit score of 600 to 650.
Loan Processing and Funding
Technology makes it much easier to get a personal loan these days. You can apply for a loan with OneMain online in just a few minutes.
If your loan is approved, it's possible to get the funds the same day via direct deposit.
You can also pick up a check at a OneMain branch after the loan closing.
No Collateral Needed
OneMain offers both secured and unsecured personal loans. Secured loans require collateral but that doesn't have to be cash.
For example, if you're trying to get a loan to pay for car repairs you could secure it with your car title.
Once you fill out an application, a OneMain loan officer will reach out to you to discuss your loan options, including whether you qualify for a secured or unsecured loan.
What Sets OneMain Personal Loans Apart
The nice thing about getting a loan with a brick-and-mortar or online bank is that they can offer extra incentives to choose them over another lender.
For instance, if you've got a checking account at the bank they might knock a quarter of a point off your interest rate when you set up automatic payments to your loan.
Or you might get benefits like the ability to skip a payment one month after making 12 on-time payments.
OneMain's personal loans are more straightforward. In other words, there aren't a lot of bells and whistles.
The biggest selling points for these loans are that they're available to people who don't have stellar credit and the funding speed is super fast.
Personal Loan Application Process
Before you apply for any loan, it's a good idea to get the scoop on how to get approved.
Every time you apply for a loan or credit card, it's reported on your credit history.
Each inquiry can ding your score a few points so you want to focus on the loan that's the right fit.
For online application you'll need:
A valid, government-issued ID (like a driver's license or passport)
Proof of residence (utility bills, driver's license or a signed lease will work)
Proof of income (including pay stubs or tax returns)
OneMain will check your credit report and score.
They may also ask about your monthly expenses, including how much you pay for housing and what percentage of your income goes to debt repayment.
Increase your chances of approval
If you're planning to apply for a personal loan with OneMain Financial, there are some things you can do to strengthen your application. That includes:
Checking your credit report and score to see where you stand
Knowing how your credit score compares to the typical OneMain borrower's score can give you an idea of whether your credit's good enough to qualify.
Reviewing your expenses, including debt repayment
Having a big chunk of your income eaten up by debt each month won't do you any favors when applying for a loan.
If possible, work on getting your debt payments down to 30% or less of your monthly income. That can show OneMain that you have enough income to meet your loan payments.
Considering what you could offer as collateral if needed
Collateral isn't necessarily required to get a loan with OneMain but it could help strengthen your application.
If you're worried your credit score and income alone won't be enough, think about what you could use as collateral.
For example, if you own a home, a car or a boat, any of those could help you secure a loan.
The Competitors
You shouldn't commit to a personal loan without first seeing what else is out there. We've offered some other personal loan options to consider. As you compare personal loans, remember to focus on:
How much you can borrow
The APR range and whether the APR is fixed or variable
Any fees the lender charges, including origination or prepayment fees
How long you'll have to repay the loan
What the minimum income and credit score requirements are
Ultimately, the goal is to choose a loan that's the best match for your credit profile and borrowing needs.
Final Verdict: Is a OneMain Financial Personal Loan Right for You?
If you don't have great credit and you need money quickly, then the answer could be yes. Ideally, these loans are designed for people with fair to bad credit.
But, be very careful. You are paying for it in the form of a higher APR than what you'd get from the competitors.
Other online lenders have fewer fees with lower APRs, which will save you much more money in the long run (so long as you have the qualifying credit profile).