Rideshare Insurance: Do Uber and Lyft Drivers Need It?
If you're driving for Uber, Lyft, or other rideshare company, learn about rideshare insurance and getting the right type of coverage against car accidents.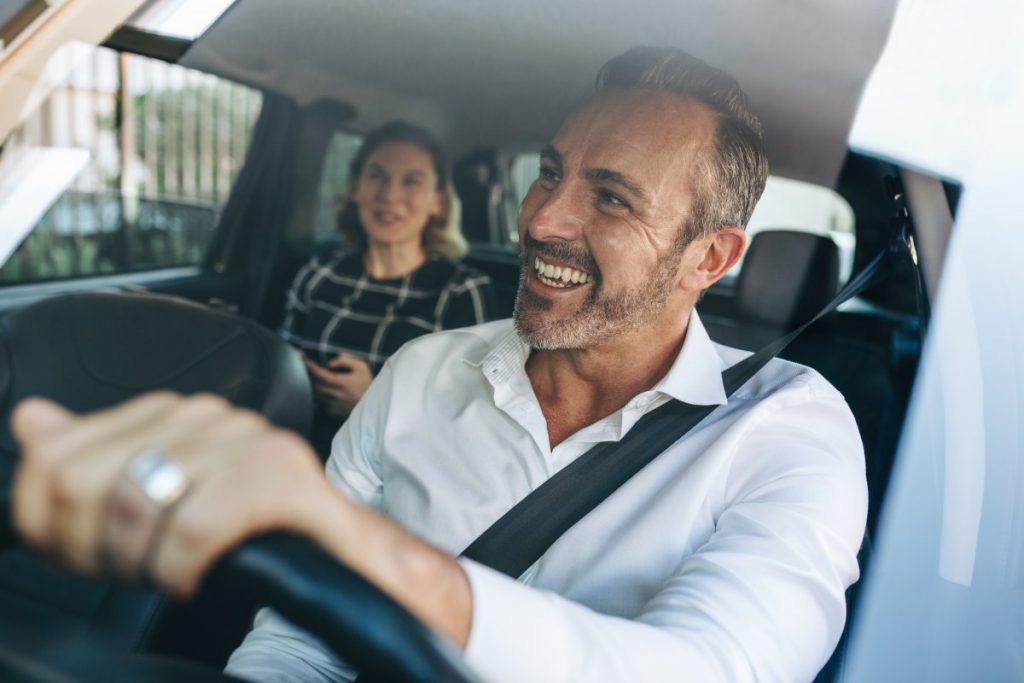 Unfortunately, that's not necessarily the case.
Instead of relying on standard coverages when you're driving for a company like Uber or Lyft, opt for additional rideshare insurance from a private insurance company.
Read ahead to discover more about how rideshare insurance works and whether you should invest in this supplemental coverage.
What is Rideshare Insurance?
Rideshare drivers mistakenly believe that they'll be covered through their personal auto insurance policies for driving passengers through Uber and Lyft.
That belief likely comes from the fact that the driver is using his or her own personal vehicle to do the transporting.
The tricky part:
When it comes to personal insurance is that it does not extend to commercial uses of your vehicle.
Whether you're transporting people, merchandise, or even working as a traveling salesperson, your personal auto insurance almost certainly excludes those activities specifically.
In fact:
If you are involved in an accident while performing commercial duties, your insurance carrier may even drop your policy for failing to disclose the commercial activity.
Personal vs. business
Put another way, personal auto insurance covers only personal use of your vehicle.
That includes more routine activities, like commuting to and from work or driving for pleasure.
Rideshare insurance is specifically designed for ridesharing activities. It covers hazards that occur while you are engaging in ridesharing, especially with regard to liability to your passengers and to other drivers.
Why Uber and Lyft Drivers Need Rideshare Insurance
Originally thought to be a gray zone between personal and commercial use of a personal vehicle, ridesharing has moved squarely over to commercial classification.
After all, you will be transporting people from Point A to Point B, for compensation, which makes it a commercial endeavor.
Personal auto insurance policies are not set up to cover accidents and other hazards that occur while you are using your personal vehicle for commercial purposes.
When ridesharing services initially began operating, there were no provisions for rideshare insurance.
Both rideshare companies and their drivers mistakenly relied on personal insurance to get the job done.
But as the industry has evolved, very specific rideshare insurance provisions have been developed, both by the ridesharing companies and by personal auto insurance providers.
Rideshare insurance by rideshare companies
In a typical ridesharing situation, the driver will have two types of insurance:
a policy provided by the ridesharing company covering the driver on the job
a personal policy that will cover the driver off the job, but also with certain provisions that relate to ridesharing as well
The coverage provided by Uber and Lyft is designed to work in phases, referred to as "periods", as in periods of activity.
The coverage works something like this (summarized from Lyft):
Period 0: You are inactive and covered under your personal auto insurance policy.
Period 1: Your app is on and you are in the queue to provide rides. At this point, your rideshare policy provides liability coverage only, not collision or comprehensive. You'll still be covered under your personal policy for damage to your own vehicle.
Period 2: You've accepted a request for a ride and you are in transit to make the pickup. During this time, your rideshare insurance is in full effect.
Period 3: You're transporting passengers, and your ridesharing insurance has you fully covered.
Per Uber, the dollar amount of coverage looks like this:
During Period 1 your coverage from the company will be 50/100/25, representing $50,000 in bodily injury per person, $100,000 in bodily injury per accident for all persons involved, and $25,000 in property damage per accident.
During Periods 2 and 3 you'll be fully covered. That will include liability of up to $1 million per incident, uninsured and underinsured motorist coverage, and comprehensive and collision up to the value of your vehicle.
However, be aware that specific dollar coverage limits are determined by the laws in your state.
Personal Auto Insurance Rideshare Coverage
The personal auto insurance industry has gradually entered into the rideshare insurance picture.
While they may not offer comprehensive coverage for rideshare drivers, they do offer important supplements that pick up where employer rideshare insurance stops.
For the sake of example, we're going to look at the rideshare insurance offered by Progressive.
They are one of several major auto insurance providers participating in the rideshare market, at least as a supplemental form of coverage.
Progressive offers a personal auto policy endorsement for rideshare driver protection in 35 states. The main purpose of the Progressive coverage is to offer protection during those times when coverage offered by the ridesharing companies is limited or nonexistent.
For example, Progressive's coverage may apply once a driver has logged into a ridesharing app but has not yet accepted an assignment. The Progressive policy will cover the driver until a ride request has been accepted.
Progressive also offers a commercial-for-hire livery policy. This is a commercial auto policy reserve for the businesses of transporting people through taxi services or luxury vehicles like limousine services. But rideshare drivers can also qualify for this type of coverage.
However, this type of policy is more expensive because it is exclusively intended for rideshare driving. However, you wouldn't need separate personal and commercial policies for business and personal use. Progressive offers this coverage in 38 states.
Costs of Rideshare Insurance
The cost of rideshare insurance varies by both state and the company you are obtaining coverage from.
The cost can range anywhere from $15 to $20 per month over and above the cost of your personal auto insurance premium, to as much as 15% to 20% above.
There are no rules of thumb here, so you'll need to get quotes from several companies to get hard numbers.
The Top Rideshare Insurance Companies
As more auto insurance companies enter into the ridesharing insurance space, competition is leading to more options with both providers and policy provisions.
If you are contemplating providing ridesharing service, you should start by checking with your current personal auto insurance provider.
But if they don't provide coverage, there are some big names in the industry that do.
Progressive
We've already covered what Progressive offers above.
But if you're shopping for an auto insurance company that also provides rideshare insurance, Progressives should be near the top of your list.
You'll need to contact the company directly to get specific information on options, limitations, and premium costs.
Geico
Geico is another leader in the ridesharing insurance space. Geico offers a Hybrid Policy that replaces your personal auto policy.
One of the advantages of this type of arrangement is that you can drive for any company, you'll be covered whether your app is on or off, whether you're on your way to pick up a passenger or just driving for personal reasons.
The policy will cover you for liability, property damage, and bodily injury.
They offer coverage in all states except Alaska, Georgia, Kentucky, Michigan, Nevada, New Jersey, New York, North Carolina, Texas and Utah.
Like Progressive, you'll need to call the company to get a premium quote. Unlike progressive, Geico doesn't offer ridesharing coverage as a supplement to your existing policy. You must purchase it as a standalone coverage.
Since Geico's Hybrid Policy covers all three phases of the ridesharing process, including transporting riders to their destinations, it's an excellent choice if coverage is not available from either Uber or Lyft.
Allstate
Allstate offers their Allstate Ride for Hire policy, providing affordable coverage they claim costs just "pennies a day".
The policy will protect you with your existing personal auto policy when you are not engaged in ridesharing.
But when your rideshare app is on and you're looking for riders, Ride for Hire covers in the gaps between your personal auto policy and the ridesharing coverage offered by Uber and Lyft.
And even once your rideshare policy is fully in force, Ride for Hire can help provide deductible coverage to lower your out-of-pocket expenses in the event of a claim.
State Farm
State Farm is another major personal auto insurance company that also offers rideshare provisions.
Similar to most other auto insurance companies, State Farm's rideshare provisions are a supplement to the policy offered by the rideshare company, and not a substitute for it.
Like Allstate, State Farm's deductible will provide you with the lower of the deductible on their policy or that offered by the rideshare company.
They also offer the benefit that you can communicate directly with State Farm, rather than the ridesharing company, when you have a claim.
State Farm's rideshare driver coverage looks like this:
The main disadvantage with State Farm is that their rideshare coverage premium is at the upper end of the range.
They charge an additional 15% to 20% on top of your regular personal auto insurance premium. But given the extra level of coverage they provide it may be worth paying the higher premium.
How to Buy Rideshare Insurance
Ask the rideshare company
If you plan to drive for a ridesharing company, the first order of business is to find out exactly what coverage the rideshare company will offer.
Ask your own auto insurance provider
The next step will be to contact your own personal auto insurance provider to see if they offer separate rideshare insurance.
If they don't, contact one of the companies listed above, or another known to provide a rideshare supplement.
However, the rideshare coverage provided by your personal auto insurance provider is set up, it should be designed specifically to cover any gaps in the policy offered by the ridesharing company.
The basic idea is to coordinate the two policies to make sure you're fully covered for both commercial and personal activities.
Cost
Finally, cost is always a factor when it comes to auto insurance premiums.
But since you will be driving to earn a living, it may not be in your best interest to go with the lowest cost coverage.
A better strategy:
Pay a little bit more, to make sure you're fully covered come what may.
There are enough variables involved in personal driving, and infinitely more when you engage in ridesharing.
For that reason, adequate coverage is more important than premium cost.
Key Takeaways
If you're going to engage in ridesharing, the first order of business is to make sure you have adequate insurance coverage.
That's usually satisfied with a combination of both coverage offered by the ridesharing company and a supplement from your own personal auto insurer.
Whatever you do, don't overlook this step.
A single accident, happening at the wrong time in the ridesharing process, could leave you completely exposed to the cost of both liability and damages.
That will more than offset any money you'll make from the ride-sharing venture.
In any business endeavor you engage in, you need to have a plan in place to minimize risk. That's exactly what rideshare insurance does. Make sure you get this right before you even take the plunge.