Flood Insurance: Find Out If You Need Coverage and Where to Get It
Find out whether you need flood insurance to protect your property based on area and risk of flooding. Learn where to get flood insurance.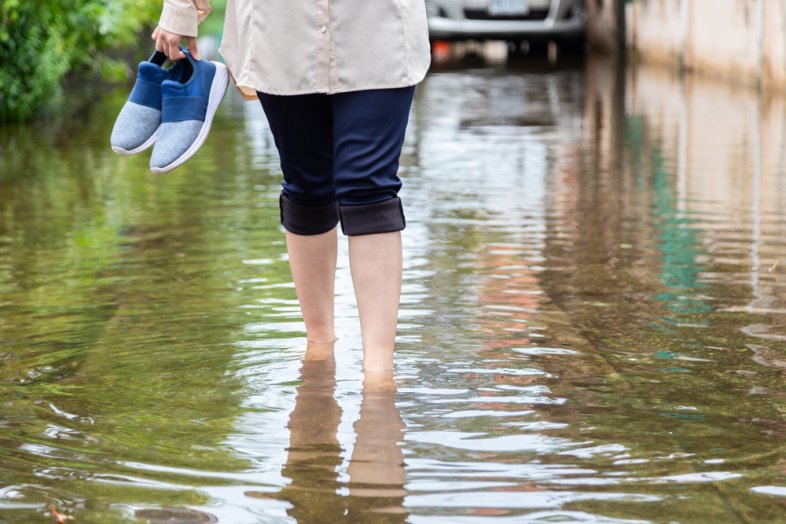 Most homeowners have a homeowner's insurance policy. In fact, these policies are often required by mortgage lenders.
A homeowner's insurance policy covers losses and damages to your house and personal assets. It covers losses from theft, fire, windstorm, and hail. Yet, a standard policy has its limits.
However:
One type of damage not typically covered under a standard policy is flood damage. 
This doesn't mean that you can receive coverage to repair your property in the event of flooding.
To do so, though, you'll need to buy a separate flood insurance policy.
What Is Flood Insurance?
Flood insurance is a type of policy created to cover losses and damages to your property and belongings as the result of external flooding.
This is flooding that doesn't originate from inside of the home. 
A standard homeowner's insurance policy will cover plumbing-related flooding. This is flooding that occurs as the direct result of a burst pipe or a broken water heater.
Both can cause flooding to the interior of a home. In which case a policy covers the cost to replace the drywall, carpet, other flooring, furniture, and appliances.
Sometimes, flood damage results from prolonged or heavy rain, melting snow, storm surges, or a blocked storm drainage system.
If so, your homeowner's insurance policy will not cover these damages or repairs.
This is where a flood insurance policy comes into play.
What is Covered?
Getting a flood insurance policy can reduce your out-of-pocket costs in the event of flooding due to an external nature. Water damage is costly.
In fact:
One inch of water can cause roughly $25,000 in damage. 
These policies not only protect your home. They also protect detached structures on your property such as a garage. 
You can also use a policy to replace or repair damages to your:
electrical system
plumbing system
water heater
appliances
carpeting
foundation
and other parts of your structure
As a bonus, flood insurance policies also protect your personal belongings. This allows you to replace your furniture, electronics, clothing, and other valuables.
The important thing to remember:
Flood insurance policy only applies to damages caused by external flooding.
So if a sewer line backs up on your property, your policy will only cover damages if this backup was a direct result of flooding.
It's also important to note that you don't have to be a homeowner to buy a flood insurance policy.
Policies vary depending on whether you're a homeowner, a renter, and even a business owner.
As a homeowner, you can receive a policy to cover your property and your belongings.
As a renter, you're not responsible to pay for damages to the building. So you'll only need a policy that covers the cost to replace your personal belongings like furniture, clothes, electronics, and other valuables. 
If you're a business owner, you can buy commercial flood insurance. This covers damages or losses to the actual building (if you own it), as well as the cost to replace your equipment.
Do I Need Flood Insurance?
Anyone can buy a flood insurance policy, yet some people have a greater need for one. 
Whether you need flood insurance depends on the location of your property. Some areas have a higher risk of flooding. In which case, you can't afford "not" to have a policy. 
To know whether you live in a high-risk area, check the Federal Emergency Management Agency's (FEMA) flood mapping tool.
Keep in mind:
If you buy a home in a high-risk area, your mortgage lender may require a flood insurance policy before issuing your loan.
This is along with a standard homeowner's insurance policy. This not only protects you, but also their investment.
Lower-risk flood areas
Now:
Just because you don't live in a high-risk area doesn't mean that you should skip a policy. Flooding can occur in low and moderate-risk areas, too.
According to FEMA, more than 20 percent of flood claims are filed by people who live outside of high-risk areas. So it doesn't hurt to have a policy.
If you don't have a flood insurance policy and your home sustains damages from flooding, you may have to pay the repair costs out-of-pocket. 
Federal disaster help might be available if the President declares your area a federal disaster. In this scenario, you might be eligible to receive a grant to repair your home.
Even so, this payout might be far less than what you actually need. Therefore, you'll still have some out-of-pocket expenses.
How to Get Flood Insurance
Whether your mortgage lender requires flood insurance, or you want to purchase a policy just in case, contact your insurance agent to get started.
You can choose between two types of flood insurance. This includes insurance through the National Flood Insurance Program (NFIP). Coverage is available regardless of whether you live in a high-risk, moderate-risk, or low-risk area. 
NFIP
The NFIP works with several insurance companies, who can write and sell these policies to you.
In all likelihood, the insurer that provides your homeowner's or renter's insurance policy might also sell insurance through the National Flood Insurance Program.
If not, use the NFIP's insurance provider locator tool to find an agent in your area.
Private flood insurance
Another option is to buy private flood insurance from companies not associated with the federal government.
These policies are underwritten by private insurance companies, but they offer similar protection. They'll cover losses or damages to your structure and your personal belongings. 
The benefits of choosing private flood insurance are that some policies offer more coverage and higher limits compared to NFIP policies.
And whereas a policy supported by the federal government typically has a 30-day waiting period from the date of purchase, private flood insurance policies may have shorter waiting periods. 
The downside:
Private flood insurance isn't available in every area.
Also, these policies tend to have much higher premiums.
When buying any flood insurance policy, keep in mind that these policies also have deductibles. This is what you must pay out-of-pocket before insurance will cover any damages or losses. These insurance deductibles can range from as low as $1,000 to as much as $10,000, depending on the level of coverage.
The cost of flood insurance also varies depending on location. In some places, flood insurance might only cost $500 a year. In other locations, the annual cost can be more than $1,000. 
You can pay the annual premium upfront. Or, your insurance provider might allow monthly premiums, sometimes through an escrow account.
Tips
Do you need flood insurance because of the location of your house? Are you're thinking about buying a policy as a precaution?
Here are a few tips to help you save money, and reduce the likelihood of having to use your policy.
Elevate your utilities
Keeping your HVAC system, water heater, and electrical panel elevated can lower the risk of damage in the event of flooding. In some homes, these systems are on the ground floor or in a basement.
Relocating to higher ground—like in the attic—or placing these on a platform reduces the risk of damage. This can help you receive a cheaper premium.
Elevate your property
If you live in a high-risk zone, elevating your property also lowers your flood insurance premiums.
Elevation is costly.
But if your property has been previously damaged by flooding, you may qualify for federal or state grant programs to help cover the cost of raising the level of your house.
If eligible, you may receive a grant up to $30,000.
Choose a higher deductible
Choosing a flood insurance policy with a higher deductible can also lower your annual cost.
Be mindful, though, you must pay this higher amount out-of-pocket before your policy covers any damages or losses.
Only choose a high-deductible plan if you have this amount in savings.
Check flood maps before buying a home
Before beginning your home search, check FEMA's flood mapping tool.
This provides information on high-risk flood areas in your city. Purchasing a home outside of these areas lowers the likelihood of flood damage.
Get flood insurance as a renter
Even though you're not responsible for damages to the actual building, flooding can destroy your personal belongings.
If you're a renter living in a house, condo, townhouse, mobile home, or the ground floor of an apartment building, talk to your insurance agent and request a flood insurance quote.
Final Word
Water damage directly related to flooding can destroy property.
It can cost tens of thousands of dollars to repair your structure and replace belongings.
Since a standard homeowner's insurance policy doesn't cover this type of damage, a flood insurance policy is the best way to protect your biggest asset and valuables.