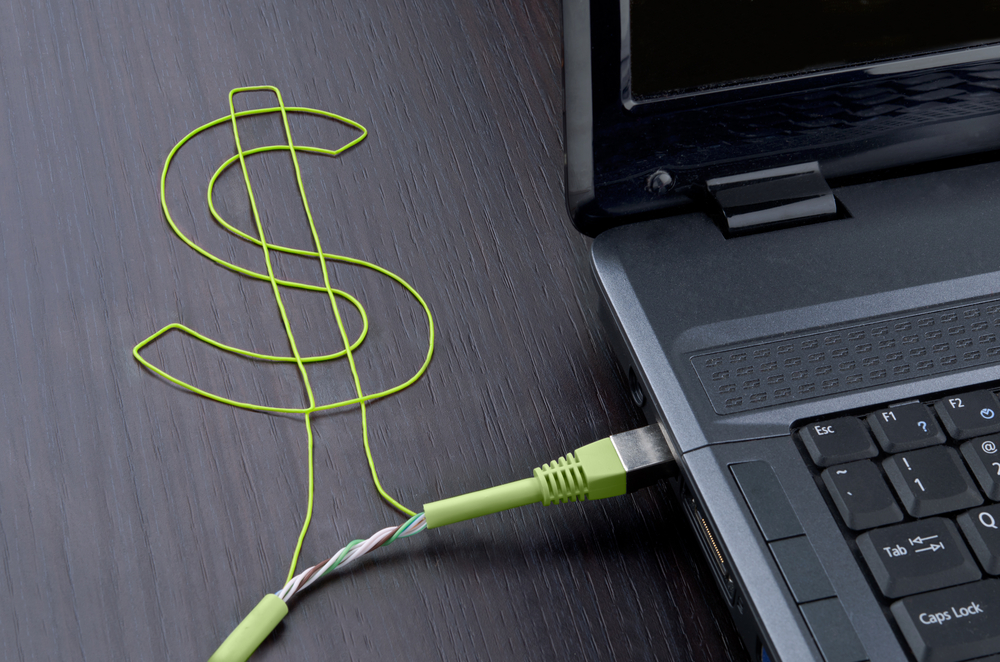 A wire transfer from your bank is one of the quickest ways to send and receive money both within the United States and throughout the world. MyBankTracker took a look at how much it costs for domestic and foreign wire transfer fees at the top 10 banks in the U.S.
Due to the extremely high speed of these transactions, the cost of wire transfers tends to be much greater than any other money transfer method. It also eliminates the possibility of scams that often involve the checks, which can take some time to clear. Here is a detailed comparison of the wire transfer fees charged by the 10 largest U.S. banks:
Like all banks fees, wire transfer fees can change. For PNC Bank customers, the cost of domestic outgoing wire transfers increased from $25 to $30, effective May 10, 2015. The fee increase puts the cost of PNC's domestic outgoing wire transfer closer to the fee charge by the biggest banks.
The most recent fee increase that occurred was at Citibank on May 5, 2015, when all wire transfer services at the bank became more expensive. The domestic and foreign incoming fees have been increased from $10 to $15. Outgoing fees also went up from $25 to $35 for domestic wire transfers, and from $40 to $45 for international wire transfers.
Wire transfer fee comparison
According to MyBankTracker's March 2015 analysis, all of the domestic wire transfer fees at the 10 biggest banks have remained the same as the previous quarter — with averages of $15.50 for incoming and $27.40 for outgoing transfers. The averages also stayed the same for both incoming and outgoing foreign wire transfers at $18 and $47.50 per transfer, respectively, at the 10 tops banks in the U.S. (Remember, these averages don't account for the upcoming PNC Bank fee hike.)
At any given bank, incoming wire transfers tend to be considerably cheaper than for outgoing ones, while domestic wire transfer fees are significantly lower than that of international transfers.
The highest wire transfer fee is $65 for each outgoing foreign wire transfer at BB&T Bank while the lowest fee for any type of a wire transaction is $15 — which is the amount charged by a majority of banks for both domestic and foreign incoming wire transfers.
Ways to get discounts on wire transfer fees
Note that the fees shown in the table above are reflective of transfers made in person at a branch and outgoing transfers sent in U.S. dollars.
This is noteworthy because the fee for foreign outgoing wire transfers sent in U.S. dollars is not the same as transferring money in foreign currency. Some banks — including Bank of America, Wells Fargo, Chase Bank and Capital One — will charge $5-$10 more if transfers are made in a different currency.
In general, banks will charge you $5-$10 less for making a wire transfer online through the bank's website rather than in person at a branch. In the case of Chase Bank, you will be paying $5 less for all outgoing wire transfers made through Chase.com, while Citibank will give you a $10 discount on all outgoing wire transfers made online.
If you plan to send money on a regular basis, either in the U.S. or overseas, you can set up repetitive wire transfers, which will give you a $5 discount on each item transferred. For instance, Wells Fargo offers domestic outgoing wire transfers at $30, but if you set up the repetitive wire transfer, each transaction will cost you $25.
Find out if your bank offers these services, by asking a customer service representative. You can search for your bank on MyBankTracker's Bank Profile page.
Domestic vs. foreign wire transfer
Domestic and foreign wire transfers differ more than just in fees. A domestic wire transfer is a way to electronically transfer funds between two bank accounts or to transfer cash within the U.S. — while foreign wire transfers will move your money anywhere in the world. This is why foreign wire transfers tend to cost significantly more.
Domestically, the cheapest way to wire money is pretty straightforward — it's usually a flat rate regardless of the amount transferred.
Foreign wire transfers
It is a bit more complicated when it comes to foreign wire transfers, also known as remittance transfers. This type of transfer is commonly used to send money to family members in foreign countries.
Foreign wire transfers take many consumers by surprise when they find out that the recipients have received less money than originally sent.
Currently, at the 10 largest U.S. retail banks, foreign wire transfers range from $40 to $65 per transfer. This amount depends on whether the transfer was conducted in-person or online, and sent in U.S. dollars or in foreign currency.
In addition to the transfer fee, senders should be aware that foreign wire transfer fees also come with additional charges they must consider — including an exchange rate, taxes, and correspondent fees.
Tip: To determine the best value, you should consider both the wire transfer fees and the exchange rate. The exchange rate can cut into the amount you are sending and depends on how strong the dollar is.
Rules and regulations
To prevent this unfair practice and to make the process more transparent, the Consumer Financial Protection Bureau (CFPB) created this regulation, which took effect in February 2013. It ensures more clarity in how the exchange rate is handled and presented to customers in the U.S. by all financial institutions.
Although the exact rate applied in the transaction will be unknown until the wire transfer is actually initiated, the consumer will be presented with useful information including the fees, exchange rate and net funds to be delivered, before completing the transaction.
When wire transfers are cheaper elsewhere
Many people turn to banks to wire transfer money, but depending on the type of transaction, other money transmission providers may be able to provide the same service at a better price — although there is no single method that is definitively cheaper than others.
Money transmitters, for example, usually impose foreign transfer fees based on the recipient's location, the amount transferred, and delivery time. That differs from banks and credit unions, which usually charge a flat fee.
Tip: Using a money transmitter can be especially advantageous for transferring amounts that are less than $1,000. Going to a bank is a better idea when you are transferring larger sums of money, usually between $1,000 to $5,000, because there's just a flat fee to worry about.
Wire transfers at credit unions
Many people are aware of the fact that wire transfer fees are actually cheaper at credit unions than at banks — a lot cheaper. In fact, many credit unions don't charge a fee for incoming wire transfers — both domestic and foreign.
According to a March 2014, analysis by MyBankTracker, the average fee for an incoming domestic wire at the 10 largest credit unions was $4.80, compared to $15 at banks, while outgoing domestic wire transfers cost an average of $17.30, compared to $26.40 at banks. The average fee for outgoing foreign wire transfers at the top 10 credit unions was $36.22, versus the average of $47.50 at the top 10 banks. The average costs of incoming foreign wire transfers at credit unions were $12.40 per transfer, compared to $17.50 at banks.
Essentially, all of the wire transfer methods will provide you with the same service — the deciding factor here will be accessibility and the cost. If you're someone who needs to make wire transfers regularly, it might not be a bad idea to consider switching to a credit union.
What is your cheap way of sending money to someone? How does it compare to bank wire transfers? Share your answers by leaving a comment below.