Pick the Right Southwest Airlines Credit Card for You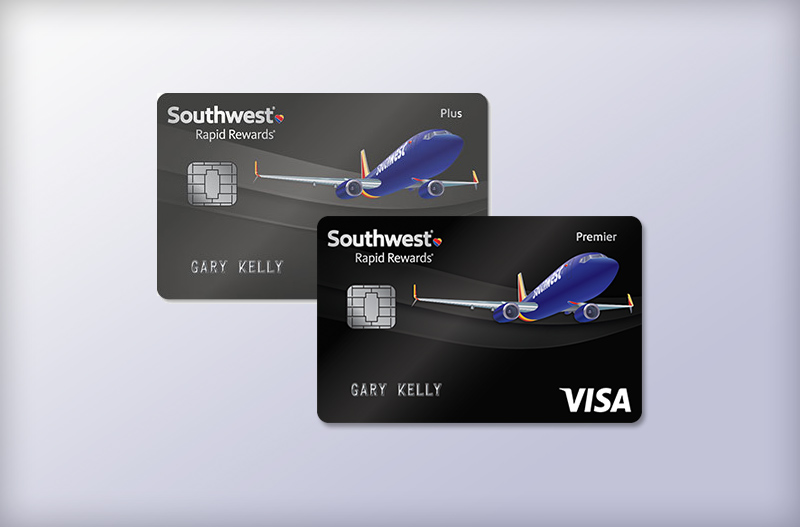 Southwest Airlines, known for its low airfares and lenient baggage-checking fees, is the third-largest U.S. airline with 3,200 flights per day and served roughly 134 million customers in 2012. With a rather competitive pricing model, frequent fliers might not need to ask for more. But, some Southwest customers might want more benefits and perks, which can be obtained by picking one of Southwest's two branded credit cards.
Rapid Rewards Plus card vs. Rapid Rewards Premier card
Southwest is partnered with Chase to issue the Southwest Airlines Rapid Rewards Plus and Southwest Airlines Rapid Rewards Premier cards. Both cards are very similar but there are minor differences that will drive your decision of choosing the right Southwest credit card.
The Rapid Rewards Plus card has a $69 annual fee, while the Rapid Rewards Premier card has a $99. Both offer 2 points per $1 spent on Southwest Airlines purchases made directly with the airline and on Rapid Rewards hotel and car rental partner purchases.
All other purchases on the cards earn 1 point per $1 spent. The most notable differences between the two Southwest cards have to deal with foreign transaction fees and annual membership bonuses.
Picking the right Rapid Rewards card
With the Rapid Rewards Plus card, you'll get 3,000 points on the anniversary of your card membership. For an additional $30 per year, the Rapid Rewards Premier card, offers 6,000 points after your membership anniversary and 1,500 "Tier Qualifying" points for every $10,000 in purchases (up to 15,000 TQPs annually). And, you don't have to pay any foreign transactions fees when using the card to pay for purchases overseas.
Due to a varying range of Rapid Rewards points required to earn reward flights, it is difficult to gauge the value of the 3,000 additional points per year. The points are worth less if you prefer higher-tiered reward flights. Meanwhile, Tier Qualifying points are used to earn a high membership class under the Rapid Rewards program.
"A-List" status vs. "A-List Preferred" status
An "A-List" member needs to fly 25 Southwest Airlines one-way flights or earn 35,000 TQPs per year. A-List members get priority check-in, priority security lane access, a dedicated phone line, standby priority and a 25 percent bonus on points earned on Southwest flights.
For "A-List Preferred" status, you need to fly 50 Southwest Airlines one-way flights or earn 70,000 TQPs per year. An A-List Preferred member get reserved check-in, free in-flight WiFi and a 100 percent bonus on points earned on Southwest flights, in addition to all the benefits of an A-List member. The Rapid Rewards Premier card makes it easier for you to climb the status ladder under the rewards program.
If you fly Southwest often and want the perks of the A-List or A-List Preferred memberships, the extra $30 may not seem like much to the added travel privileges, assuming that you're able to earn enough TQPs. Furthermore, if you use your credit card to make purchases during foreign trips, the extra $30 for the Rapid Rewards Premier card is worthwhile when you spend at least $1,000 overseas per year.