What Are Airline Award Flights for Travel?
Travel for free by learning everything about award flights, including the different ways that you can earn reward points and frequent flyer miles.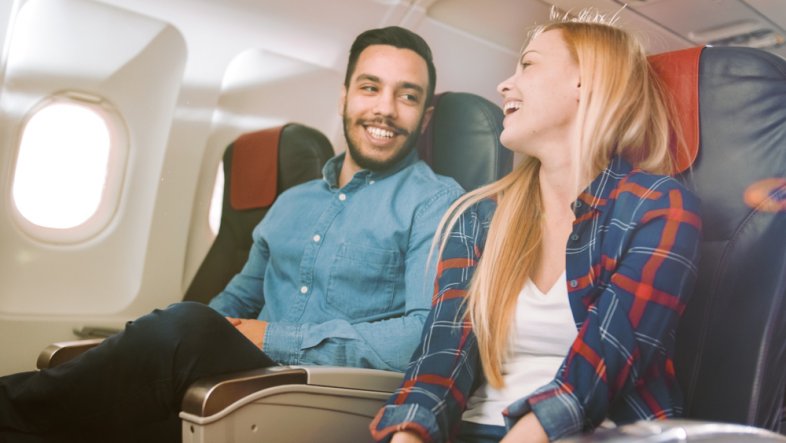 Simply put:
Award flights are plane tickets you can claim as redemption for points or miles.
You can earn those rewards through a frequent flyer loyalty or a credit card rewards program.
Rewards programs can vary greatly, but there are a few things that are relatively uniform across the board.
If you want to learn how to get award flights for next to nothing, here's what you need to know.
How to Earn Award Flights
There are several ways to get almost-free award tickets — you're typically on the hook for taxes and fees.
The more you know about your options, the easier it will be to get your next flight covered.
Fly with the airline
Every time you pay for a flight out of pocket, you can earn points or miles with that specific airline's frequent flyer program.
You'll need to join the program to start earning, though. It's usually free, and you'll just need to make sure to include your account number when booking your flight.
If you forget to include your number or opened your account shortly after a flight, though, don't fret.
Programs typically allow you to earn miles retroactively for recent flights (usually those completed in the last 90 to 180 days).
There's usually a deadline, though, so check with the airline to make sure you get the credit in time.
Credit card rewards
Most major airlines have a co-branded credit card that allows you to rack up points or miles with your everyday spending. Many even offer big sign-up bonuses cardholders can use to redeem for one or more flights.
On an ongoing basis, airline credit cards often offer bonus miles on purchases with the airline. You'll also typically earn a flat rate of 1 point or mile per dollar on everything else.
You don't need an airline's co-branded credit card to get award flights, though. General travel credit cards allow you to use your rewards to book award flights in two ways.
First, directly with airlines, and second, through their own booking platform. Some cards even allow you to transfer your rewards directly to frequent flyer programs.
Award flight certificates
Some airline credit cards offer a free companion certificate — you'll typically pay taxes and fees — that you can use to book an award flight for a family member or someone else on your reservation.
Depending on the card, you may get a certificate once a year when you pay your annual fee, or after you spend a certain amount in a year.
Online shopping portals
Many airlines have an online shopping portal that allows you to earn bonus miles when you shop at certain online retailers.
Simply visit the airline's portal and click through to your retailer of choice.
For example, the United MileagePlus X app also allows you to earn miles for in-store purchases. Pick your retailer, and you can buy an e-gift card to use at that store.
Rewards dining programs
If you eat out a lot, you could start racking up points or miles with your favorite airline.
The Rewards Network features dining programs with several major airlines.
All you need to do is sign up and register the credit card you normally use when you dine out. Then use that card at any of the program's participating restaurants or bars, and you can earn extra rewards.
Most of these programs offer tiered bonuses, giving people who sign up for the program's newsletter or eat at a certain number of participating restaurants each year more points or miles.
How to Redeem Award Flights
When it comes to redeeming airline or credit card rewards for flights, things can get complicated.
That's because every airline has its own rewards program and gets to decide the terms and conditions. The experience can also vary among general travel credit cards.
Frequent flyer programs
If you're looking to get an award flight directly through the airline's frequent flyer program, there are some things you need to know.
For starters, some airlines restrict how many seats on a flight can go toward award ticket holders. They may even black out certain days altogether, typically around holidays.
There's also no set value for an airline point or mile. Some airlines may tie the redemption amount to what you'd pay in cash, but others base it on when you book, how far you're flying and what class you choose, such as economy, first or business.
So if you're trying to get the most bang for your buck, you may need to compare multiple dates and classes.
If you don't have enough points or miles to book an award flight, some airlines will give you the option to combine rewards and cash for a discounted ticket.
General travel rewards
If you're redeeming points or miles with a general travel credit card, the process is often a little simpler.
With some programs, for instance, you simply use your card to book a flight with cash, then redeem your rewards for a statement credit against the purchase.
With others, you may book the flight through the card issuer's booking platform — these work similarly to big travel sites like Expedia and Orbitz.
Regardless of which option you have, you typically don't have to worry about blackout dates or award ticket restrictions.
That's because while it's an award ticket for you, the airline views it as a cash ticket, so the restrictions it places on its frequent flyers don't apply.
That said:
Most general travel credit cards typically give you a static value of one cent per point or mile. So a $500 flight would cost you 50,000 miles.
Because frequent flyer points and miles have a dynamic value that's based on how and when you book, you could potentially redeem fewer rewards for a more expensive flight.
Buying Points and Miles
If you're short the number of points or miles you need for an award ticket and don't have the option to combine rewards and cash, you can usually buy them from the airline.
The downside:
Buying miles is usually not a good deal.
For example, you may get an offer to buy 1,000 miles at 5 cents per mile, then turn around and redeem them for a fraction of that value.
As a result, buying airline rewards doesn't make sense unless you need to bridge a short gap or keep your rewards from expiring and don't have any other options.
Tips to Remember
Award flights can make it possible to explore new places at a fraction of the price.
But it requires some extra legwork to maximize the value of your rewards and avoid significant pitfalls.
Don't let your rewards sit
Saving up your points or miles for a big trip can take some time.
But if you're earning rewards without no plans for how to use them, it could backfire.
That's because airlines often devalue their frequent flyer programs by increasing the number of points or miles requires to get an award flight.
As a result:
Your rewards can depreciate over time if you never use them.
Keep in mind, though, that this isn't much of an issue if you have a general travel credit card because their rewards programs typically don't change much over time.
Know the expiration policy
The last thing you want is to rack up a bunch of rewards only to lose them because they expired.
While some airlines, such as Delta, don't have an expiration date on their miles, others will take your miles if you don't have any earning or redemption activity on your account for a set period, typically between 12 and 36 months.  
With general travel credit cards, on the other hand, your points or miles typically don't expire as long as your account is open and in good standing.
You will, however, forfeit your miles if you close the account or default on your debt.
Frequent Flyer Miles Are Often More Valuable With Pricey Tickets
If you're trying to squeeze the most value out of your point or miles, you may want to look at first and business class tickets.
As just one example, we found a roundtrip flight from Salt Lake City to Dallas in economy class for 25,000 miles or $299, giving us a value of 1.2 cents per mile.
On that same flight, you can book a first class ticket for 50,000 miles or $1,179, giving us a value of 2.4 cents per mile.
Because frequent flyer rewards programs are dynamic, these ratios won't always work out to be the same. But it can pay to do a little research.
Don't Put Your Eggs in One Basket
Airlines have frequent flyer programs to entice customers to stay loyal.
But in the long run, it generally doesn't make sense to stick with just one brand.
That's because that loyalty keeps you from shopping around for the best price.
By spreading your points and miles across multiple loyalty programs, it gives you more flexibility. Just remember to keep track of your miles.
Avoid Getting Stuck on Getting it for Free
Award flights are nice, but it may be worth it to pay cash if the deal is right.
Make sure to compare the cost of a flight in points or miles and cash to ensure you're getting a good deal.
The Bottom Line
If you travel regularly or want to start vacationing more, award flights can get you to where you want to go for as little as a few dollars in taxes and fees.
Earning and redeeming those flights, however, isn't always easy.
Take the time to research your options and learn about how various programs work.
It can take time to do this and earn enough points or miles to get your first flight. But the effort will be worth it once flying for almost free becomes a habit.